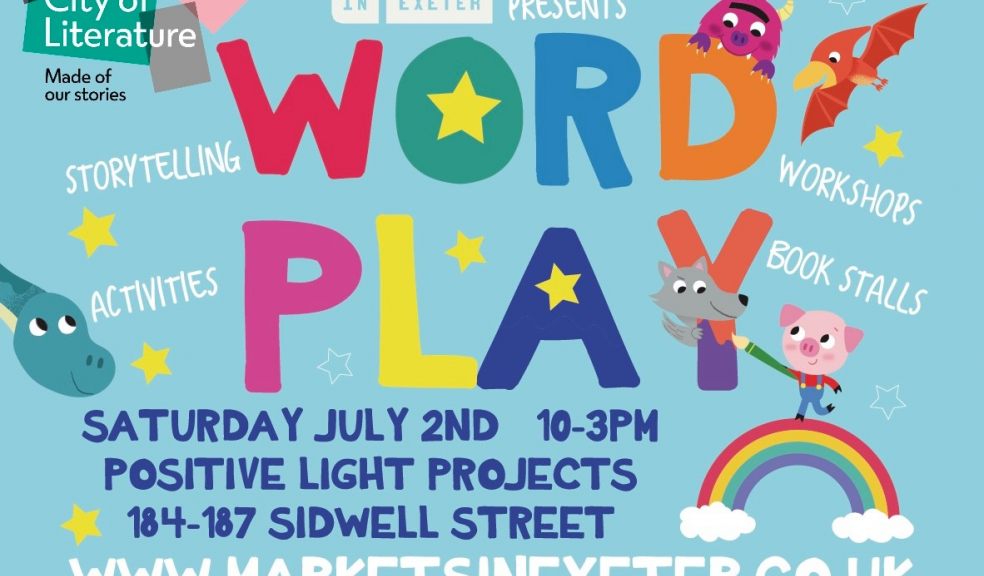 Word play: New one-day literacy event for children in Exeter
InExeter are pleased to announce a one-day event for children celebrating storytelling and the beauty of the written word. 'Word Play' will be at Positive Lights Projects on Saturday July 2nd between 10am and 3pm.
This free, family friendly event, celebrates literacy in all its forms, inspiring young minds to engage with reading and writing outside school through a range of workshops and activities designed to encourage creative writing and drawing.
Tom McLaughlin, local author, and illustrator of The Cloudspotter (Bloomsbury) and illustrator of the Captain Boots series of picture books (Puffin) will be running an interactive session which will include reading and drawing activities, as well as time for questions. Other attractions include a professional storyteller who will be performing hourly, showcasing interactive stories from around the world, poetry workshops run by Kev Payne plus dressing up, role play and creative stations for wand and puppet making.
Word Play has been organised by Lottie Stanley, InExeter Markets Manager. Lottie says, "Using your imagination is such an important skill. This event has been organised to instill a love of storytelling in children and to inspire the authors, poets, and illustrators of the future."
In addition to the activities, Waterstones bookshop will be there, Exeter Library will be promoting their Summer Reading Challenge and Library Services, a creative toy stall by Selva Designs plus refreshment stalls.
Word Play is a free event, aimed at children twelve and under. For more information, please visit https://www.marketsinexeter.co.uk/whats-on - there is an Eventbrite ticket system where people can register their interest if they plan to attend. Positive Lights Projects is located at 184-187 Sidwell Street.