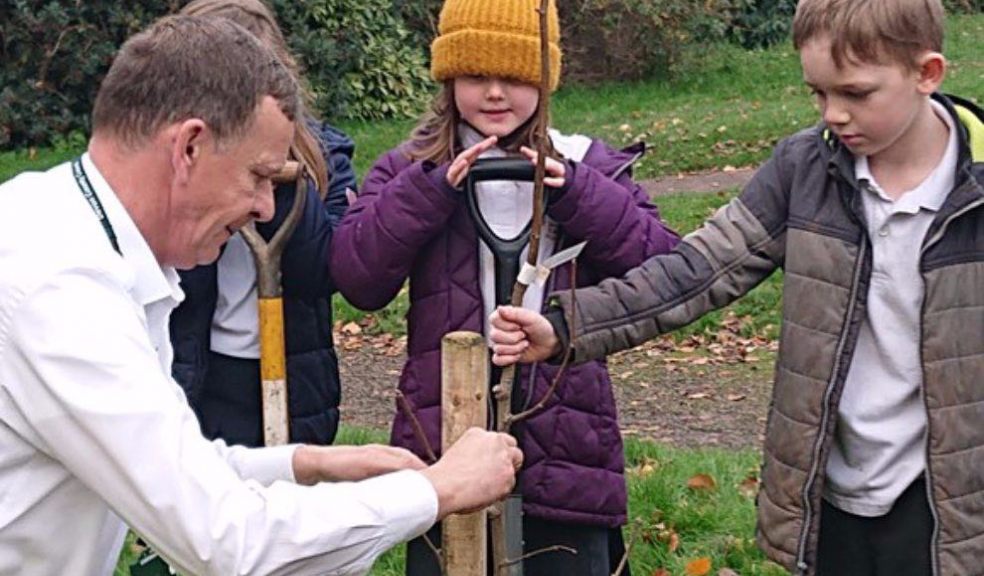 Tree planting initiatives take root
The County Council has teamed up with the Woodland Trust and the Devon Ash Dieback Resilience Forum to encourage communities and landowners to plant more trees.
Ten trees were planted in the grounds of County Hall last week by pupils from St Leonard's Primary School and members of the Devon Youth Parliament as the Council marked National Tree Week and joined the Woodland Trust's Big Climate Fightback.
It was also an opportunity to launch the new schemes. Devon County Council, in association with the UK's leading woodland conservation charity the Woodland Trust, is offering a limited number of packs of 45 sapling trees to give away to landowners who may be interested in establishing a small copse or planting-up a field corner. The packs contain a mix of native oak, rowan and birch - 15 of each. Spiral guards and canes are provided to protect against damage and planting instructions are also included.
Stocks are limited this winter, so those interested should apply early. However, future extension of the scheme should ensure opportunity for all to participate.
Applications need to be made online via the Devon Ash Dieback Resilience Forum website by Monday 6 January 2020 and applicants will be notified if they have been successful before the end of January. Planting must be carried out by Easter 2020.
A limited offer is also being made to Town and Parish Councils that may be interested in a commemorative planting of 'landmark trees' in prominent and accessible locations. This is to encourage community awareness of the vital role of tree planting in tackling environmental threats, particularly climate change, but also the huge loss of native ash trees through ash dieback.
Devon County Council, in association with Perrie Hale Nursery near Honiton, is offering a maximum of two trees per parish or town council. Communities can register their interest by emailing nature@devon.gov.uk stating name, parish/town council, contact details and- if you already know– a description of where you'd like to plant the tree.
Peter Chamberlain, Devon County Council's Environment Manager, said:"It's vital for us to massively increase the amount of new tree planting across Devon to counter the huge environmental challenges that we face. These modest schemes are being launched this winter to test possible ways of supporting such planting. But we'll developing bigger and better approaches in future years linked to the Devon Climate Emergency and in association with the Devon Ash Dieback Resilience Forum.
"Devon County Council is committed to the Devon Ash Dieback 3/2/1 replacement principle and we're keen for other organisations to sign up as well. Even those who don't have any diseased trees to manage can contribute to Devon's efforts to compensate for the effects of losing so many trees to Ash dieback."
These initiatives form part of the Devon Ash Dieback Resilience Forum's 'Devon Ash Dieback 3/2/1 Replacement Principle', which promotes the replanting of three trees for each mature specimen which is lost to the disease; two for semi-mature trees; and the replacement of one new tree for each young ash which is removed.
Devon Wildlife Trust, on behalf of the Devon Ash Dieback Resilience Forum, has developed plans for a £2.4 million project called 'Saving Devon's Treescapes. It is hoped that lottery funding might enable this to support the planting of 250,000 new trees in the county, outside of woodland areas.
For more information go to https://www.devonashdieback.org.uk/take-action/free-tree-schemes/