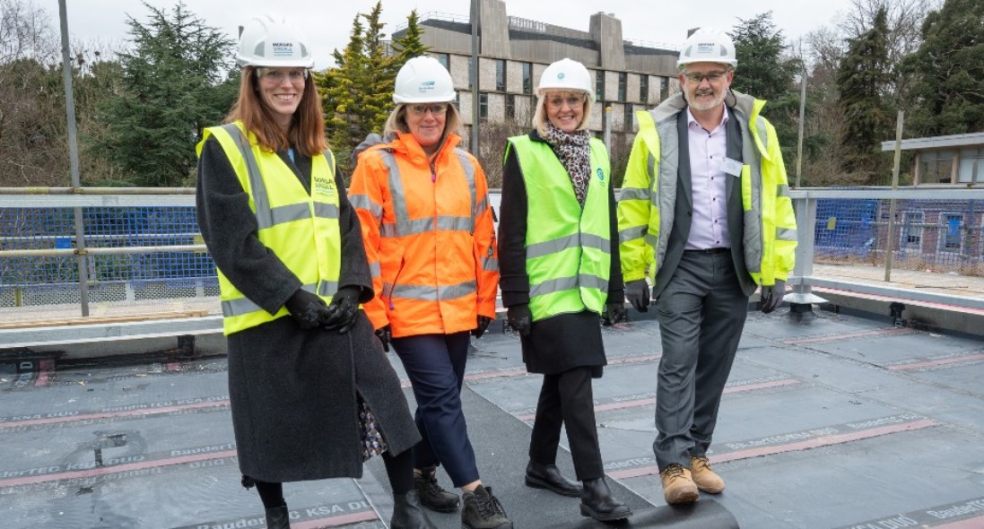 Topping out ceremony marks major milestone in water sustainability research Centre in Exeter
The University of Exeter and South West Water have marked the highest point of construction on a pioneering new facility, the Centre for Resilience in Environment, Water and Waste (CREWW), at a Topping Out ceremony on Streatham Campus.
Due to be complete by Autumn 2023, the new centre brings together academics from the university with industry experts in South West Water to explore and co-design solutions to the most pressing challenges facing the water and waste sector in the South West, the UK and the world.
Part funded by a £10.5m UKRPIF grant from Research England and investment from both partners, CREWW will be the first purpose-built, transdisciplinary research centre in the water sector, building on many years of collaboration with South West Water.
The Topping Out ceremony took place on Wednesday 1 March 2023.
Professor Lisa Roberts, Vice-Chancellor at the University of Exeter, said: "It is wonderful to mark this significant milestone in the creation of CREWW with our partners at South West Water and Research England. 
"The unique facility supports our 10-year Strategy 2030 to use our world leading research to provide solutions and lead meaningful actions against the climate emergency and ecological crisis.
"CREWW researchers are already making huge strides in collaborative, solutions focussed research in sustainable water and waste management.  The new centre will provide the teams and other external partners with access to the very best facilities to conduct research that will have a positive impact on the future of water supplies in the UK and across the globe."
South West Water will play a leading role in the development and success of CREWW, investing £21m into the collaborative programme over seven years, and beyond.
Susan Davy, Chief Executive Officer for Pennon Group, parent company of South West Water, said: "Seeing the CREWW building taking shape today symbolises the growing strength in our partnership with the University of Exeter and the vital research that will be carried out at the centre for many years to come.
"Globally the pressures from climate change facing our environment and security of water supply have never been greater and in bringing together the best minds, investment and resources, we can all play our part.
"With this new collaboration, we're also setting our sights higher, turning projects into viable solutions internationally and globally, and in turn driving commercial benefit, and investment back into the South West."
South West Water's Upstream Thinking project, a research project led by CREWW, is focused on investigating pollution sources and water management processes upstream in catchments. Research partners are working with landowners and land management organisations to implement changes to deliver huge benefits to the quality of drinking water, as well as ecosystem protection and enhancement, representing a truly progressive way of working to safeguard water resources for the future.
Professor Richard Brazier, co-director of CREWW from the University of Exeter, said: "The CREWW building has been five years in the planning, so it is wonderful to see it reach this point and exciting to begin to visualise the spaces within where we will undertake our ground-breaking research with South West Water and wider partners."
The CREWW centre will be in the heart of Streatham Campus, located on North Park Road, opposite the Laver and Harrison buildings and adjacent to the Amory building.
CREWW will accommodate state-of-the-art, specialist laboratory facilities and designated space to encourage collaborative research and training between academics and experts from the water industry, Government and Non-Governmental Organisations (NGOs).
From ensuring clean drinking water for everyone, all the time, to creating sustainable water networks and supply solutions, to preventing pollution in waterways, including microplastics, CREWW's research is focussed on making impactful positive changes that will make a difference to communities and ecosystems.
For more information about CREWW research, please visit www.exeter.ac.uk/creww and for regular updates on the CREWW building project visit: www.exeter.ac.uk/capitalstrategy/crewwbuilding