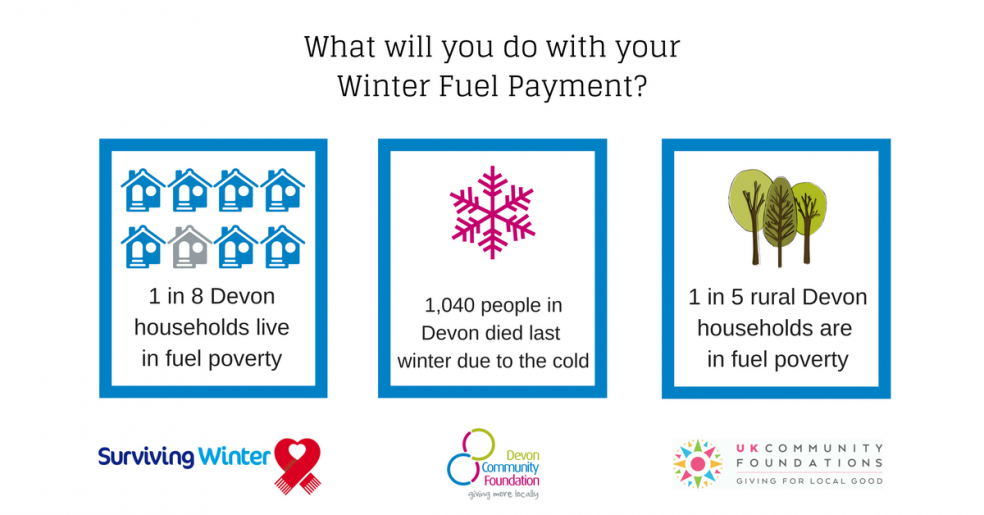 Thousands of vulnerable and older people at risk in Devon this Winter
A campaign to help the most vulnerable in our communities to stay warm and well this winter has launched. The Surviving Winter appeal asks those who feel they can, to consider donating to those who desperately need extra support during the cold winter months. Many previous donors have donated their Winter Fuel payment if they don't need it but want to make sure it is well used.
The figures tell a shocking story for older and vulnerable people in Devon living in fuel poverty. Over 1,000 older people are at risk of dying simply due to avoidable winter related illnesses and one in eight households are living in fuel poverty. In rural areas of the county, the number rises to one in five.
Directly addressing these harrowing facts, the Surviving Winter Appeal offers a simple way we can all make a difference to people in Devon suffering during the colder months. Over the last five years, thanks to the general public's support, the appeal has distributed nearly £40,000 in grants to individuals in need and community groups helping to keep them safe during the cold weather.
One of the most recent groups to benefit from support was Young at Heart. Lloyd Yorke who runs the club said, "The cold winter months are an extremely dangerous time for older people, especially those who live alone. We help by providing a warm safe environment and a hot two-course nutritious meal. We signpost the more vulnerable older people to appropriate services to help with their fears about heating costs."
Devon Community Foundation, the Charity behind the appeal, is urging anyone who feels they can afford to forego their Winter Fuel Payment or would like to help in any way, to donate to Surviving Winter and help those who may be left out in the cold either through increased isolation, fuel poverty or both.
Community Energy organisations across the county are among the first to step forward and support the appeal after seeing first-hand the need in the community, as well as the real desire from those who want to help. Gill Wyatt, chair of Exeter Community Energy said "The Surviving Winter appeal really matters. There are an increasing number of people struggling with poor health, insufficient money to adequately heat their homes with some of these homes being cold and damp too. The situation intensifies during winter. Donating your Winter Fuel Payment is a way of directly helping these people who are in need. ECOE is very glad to be part of this appeal helping to change people's lives."
Donate to the Surviving Winter Appeal online at: www.devoncf.com/give/surviving-winter/ or send a cheque made out to Devon Community Foundation to: Surviving Winter, Devon Community Foundation, The Factory, Leat Street, Tiverton, EX16 5LL. Don't forget to add Gift Aid and boost your donation by 25%, you just need to download and complete the form on the Foundation's website.