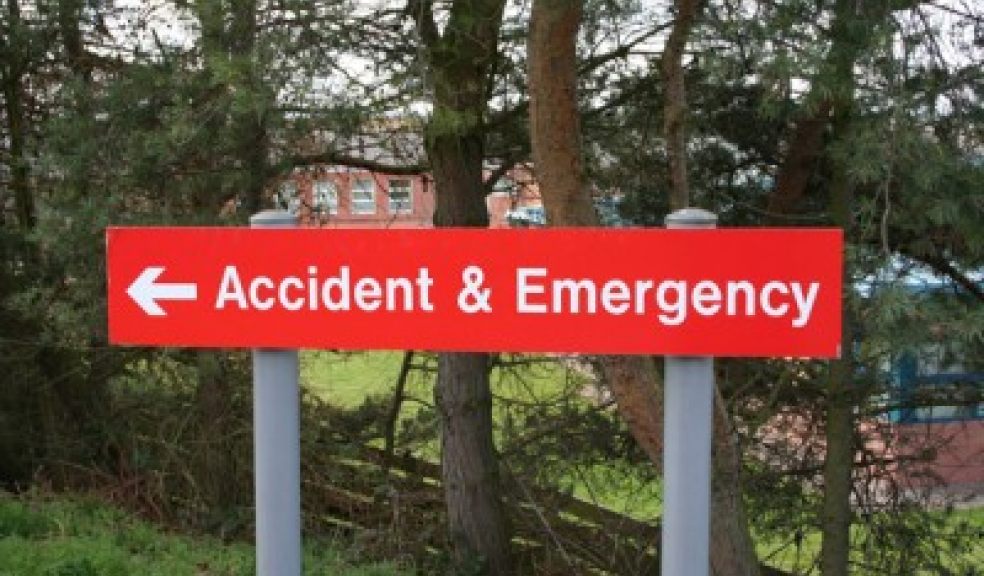 Stop and think before visiting A&E
"Stop and think before visiting A&E" – that's the message from doctors in Devon as the NHS gears up for the cold months ahead.

Doctors are urging people to visit or phone their GP practice, pharmacy or NHS 111 if it's not an emergency.

They are also calling for who have not yet registered with a GP practice to do this. Groups of people who have not yet registered with a GP practice include students, and those who have only recently moved to Devon or have moved to a different area of the county.

The number of people presenting to hospital emergency departments is already high during the first part of this year, even in the summer months, and reports from hospitals suggest many could have been better treated by their GP or community pharmacist.

It is easy to register at a GP practice. All you have to do is complete a GMS1 form, available at the surgery or often online. People can also find the location of their nearest GP practice on NHS Choices or by downloading an app 'is A&E for me?"

Northern, Eastern and Western Devon Clinical Commissioning Group (NEW Devon CCG) has joined with healthcare providers to relaunch the Choose Well campaign, aimed at helping people to get the best out of the NHS.

Dr Tim Burke, a GP from Devon and chair of NEW Devon CCG, said it was important that people chose the right healthcare service to meet their needs, which would also free up time at emergency departments for people who really need to be treated there.

"If people have a health need that's not an emergency they should look at using other health services," he said.

"Emergency departments are for life-threatening conditions and serious injuries. Before turning up there stop and ask yourself this question – 'could I see my GP or pharmacist about this?'

"If you have just moved to Devon or to a different area in the county remember to register with a GP practice as soon as possible. Without this you will miss out on all the health benefits associated with having a local GP service.

"The other types of non-emergency NHS services include local pharmacies, minor injuries units, such as at Tiverton, Honiton or Exmouth, and walk-in centres, such as in Exeter.

"People can also get self-care tips on the NHS Choices website at www.nhs.uk, and if in doubt they could phone NHS 111, which operates all day, every day.

"My advice to people is to think about how they can best look after themselves, seek advice and information early if they feel unwell, and not to leave it too late."

People are also encouraged to help themselves by making sure they take advantage of a free flu vaccination through their GP Practice if they are in an at-risk group.

NEW Devon CCG has reissued handy tips to help people choose the right NHS service for them.
Try your family or self-care - for minor illnesses, combine medicines for coughs, colds or flu with plenty of rest.
Pharmacist/chemist - pharmacists are trained to help people with minor illnesses and can advise on medicine that can be bought over the counter. Your nearest pharmacy can be found here: www.nhs.uk. Some pharmacies are open extended hours.
NHS 111 – for non-emergency health needs, which operates all day, every day, as well as help to find services. Go to www.nhs.uk or call 111.
NHS minor injuries unit (MIU) - for treatment of minor illnesses or injuries, without an appointment. For details of your nearest MIU, go to www.nhs.uk. The Plymouth MIU is based at the Cumberland Centre in Devonport, near Plymouth Albion rugby club – set your sat nav to PL1 4JZ.
Family doctor – Your local general GP surgery provides a wide range of family health services, including: advice on health problems, vaccinations, examinations and treatment, prescriptions for medicines, referrals to other health services and social services. Your surgery will make sure you get to speak to a healthcare professional on the same day if you have an urgent condition
 Hospital emergency departments or 999 – please only attend hospital emergency departments if you have an immediate and serious problem that cannot be dealt with by the other services. 999 only for critical or life-threatening situations.