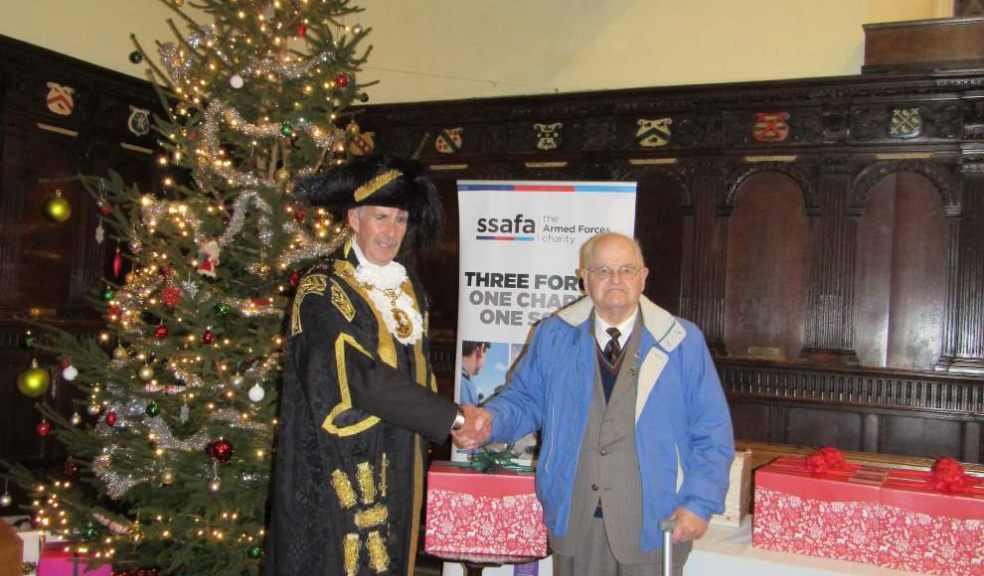 SSAFA donate Christmas hampers to local armed forces community
SSAFA, the Armed Forces charity has donated 60 hampers to local members of the Armed Forces community in need this Christmas.
The SSAFA Devon branch has donated 60 hampers and 28 gift cards across the county to those in need this Christmas across the local area.
On Tuesday 10th December, the charity hosted a hamper presentation at the Exeter Guildhall where the Lord Mayor Councillor Peter Holland presented ten hampers to local beneficiaries.
Corporate supporters were also in attendance on the day, including Fraser and Wheeler Estate Agents, Gilbert Stephens LLP Solicitors and Four Seasons Finance.
The Christmas hampers were created and delivered by local SSAFA volunteers, Terry and Barbara Cuthberston, with support from local sponsors and the Greendale Farm Shop. 
The scheme began in 2009 and the charity estimate that they have donated around 800 hampers since they began eleven years ago to local veterans and their families.
Terry Cuthbertson MBE, Branch Treasurer for SSAFA Devon said: "Our Christmas Hampers are a fantastic opportunity to give something to those deserving and in need. Many of our local veterans and family members will be spending Christmas alone, so this is something for them to have to enjoy over the festive period. We're now into our 11th year and we're growing every single year. We would like to thank all our supporters, including the Lord Mayor Councillor Peter Holland and local businesses, who continue to help us support the local Armed Forces community." 
SSAFA, the Armed Forces charity, provides lifelong support to anyone who is currently serving or has ever served in the forces, and their families. This includes both regulars and reserves.