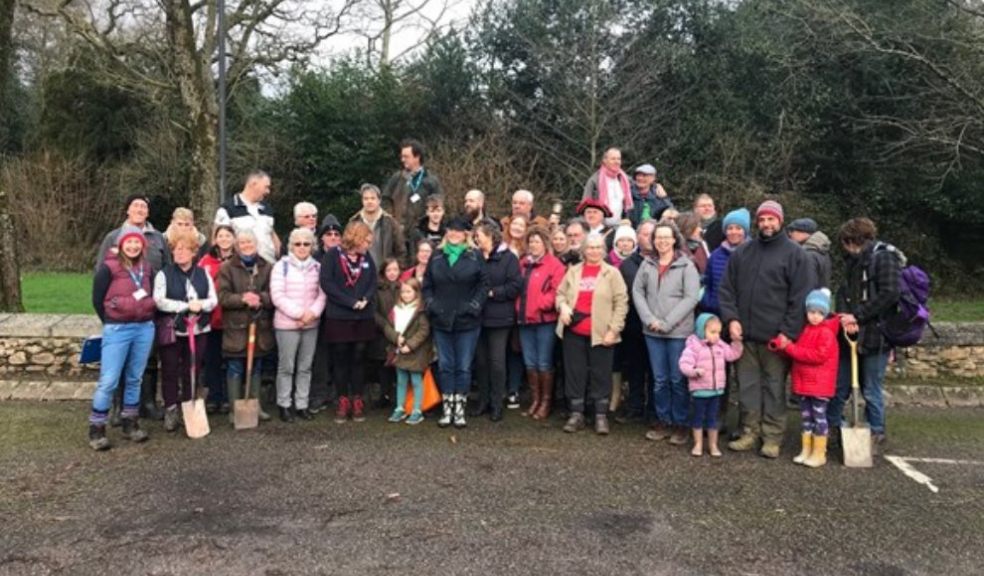 New trees for community orchard in Ottery St Mary
Over 50 volunteers of all ages teamed up with East Devon District Council officers, councillors and Greener Ottery on Saturday 11 January to help plant native West Country apple trees in a new community orchard in Land of Canaan, Ottery St Mary.
The project, which was organised by East Devon District Council's Parks service in conjunction with Greener Ottery and ward member Cllr Vicky Johns, is a reflection of both the council and local community's interest in sustainability and climate change.
The community orchard is the start of a bigger project to help support wildlife and nature in the Land of Canaan, and has proved a great way of bringing people together.
Young and older generations took part, helping to dig holes and to plant ten locally sourced native varieties of Devon and Cornwall apple trees, which will help with cross pollination.
Apples are an important food source for wildlife - bees will enjoy the pollen from the flowers, birds and other mammals like to eat the fallen fruit, while others like to eat the buds. The trees will also provide food for other insects, like caterpillars, which will encourage butterflies in summer. Of course humans are all welcome to come and pick from the crop, which will get improve as the trees grow.
Cllr Vicky Johns, ward member for Ottery St Mary, said: "I'm hoping that this is the start of a beautiful friendship between the Ottery community and East Devon showing what can be achieved when we all work together.
"The whole idea came about due to the environmental emergency that has been declared world wide and as a council we wanted to do something not only for the community but for the generations to come. Something that makes people feel that they belong and that they too can leave a positive footprint behind them. With the help of various local groups, individuals and streetscene we are planting local trees for local people and I am very proud to be a small part of that."
Members of the community also voiced their support for the project:
Chloe Jackson said: "It was great to help contribute towards local green spaces to make a small difference. I haven't planted trees before so it's a new experience and I would like to be involved more."
Stuart Lucas, said: "It's great to support the community orchard that we have wanted to get up and running."
Varieties of apple trees planted
Nine Square, Lucombe's Pine, Upton Pyne, Farmer's Glory, Pig's Nose, Tom Putt, Plympton Pippin, and Tidicombe Seedling.