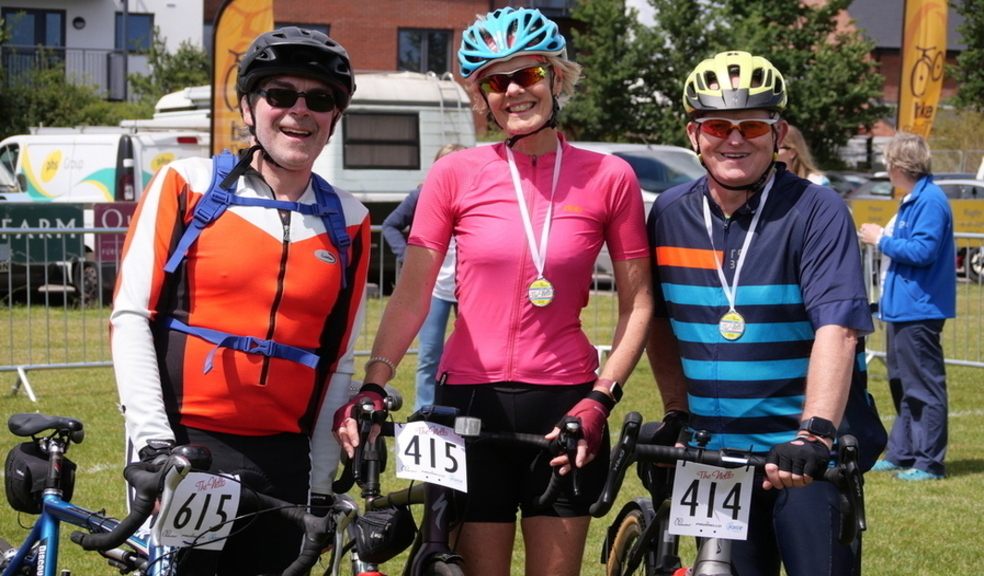 The Nello is back and amazing as ever!
The Nello, FORCE Cancer Charity's iconic annual cycle ride, returned in style on Sunday.
Nearly 800 riders signed up to celebrate the comeback of the charity's single biggest fundraising event of the year after COVID forced its cancellation in 2020 and 2021.
The atmosphere at Topsham Rugby Club was joyous as riders prepared to take on a 55 or 100 mile challenge.
Event organiser Sarah Daniels said: "The last time we were able to physically gather on this start line was in 2019 and it is superb to be here now. Today is monumental for us, showing that events can occur safely again."
It is the 23rd time the ride has been staged to raise funds for FORCE, which offers local support for anyone affected by cancer, and has made more than £1.2million since it was first held in 2000.
Glorious
The event is named in memory of restaurateur Nello Ghezzo, who rode with good friend Marc Millon from Topsham to Venice 25 years ago to raise funds and awareness about the importance of funding cancer support.
When Nello died, Marc set up the ride in his honour and he and wife Kim have taken part every year.
There was a festival feel at the rugby club when the cyclists returned in glorious sunshine to receive their medals and share stories of their exploits around the course.
Mary Tuckett from East Devon was visiting Australia when the COVID pandemic gripped the globe and had to stay put so completed the last two virtual Nellos Down Under.
Fabulous
But she was determined to make it back in time to take part in the 2022 event, her eighth time of riding FORCE's flagship fundraising event.
And she was very glad she did.
"It was the same fabulous atmosphere, amazing food and the volunteers are fantastic. You just don't get all of that with any other ride and it's all for a cause that affects us all," she said.
Volunteer Jane Martin was signing riders back in after they had completed either 55 or 100 miles.
"It was great to hear everyone say how fantastic it was to be back. Lots of people did it virtually in the last two years but they were so pleased to be doing it for real again," she said.
Fantastic
FORCE trustee and keen cyclist Morley Sage said: "It's been really special to see everyone back and enjoying the ride so much. It's brilliantly organised, the food is great and the volunteers are fantastic."
Bob Easton, 76, is a veteran of the Nello and completed the 55-mile course after riding the virtual event on his own for the last two years.
"It was very enjoyable and the food was as good as ever. You really couldn't fault anything. It was a challenge but there's plenty of encouragement when you're struggling and it was really nice to be back," he said.
Ruth Bagwell crossed the finish line with a beaming smile.
"It's been amazing as ever. It's so well organised, an amazing atmosphere and great to be with people again. I'll definitely be back next year," she said.
Super
Richard Hemington, Managing  Director of sponsors Cicli Pinarello UK, summed up the day as he returned to Topsham after 100 miles on the roads around the glorious Devon and Somerset countryside.
"Super day, super ride, super food, super volunteers. Perfect as usual and anyone who didn't ride has missed a very good event!"
"It's been just fantastic to hear so many lovely comments about the ride," said Sarah, who plans to step down after 14 years as Nello organiser.
"I cannot thank everyone enough for how special you have all made it. This ride has meant the world to me over the past 14 years. It has been a pleasure and a privilege."
She paid tribute to everyone involved in making the day a success including the dozens of volunteers, main sponsors Bike Shed and all the other local businesses who support the event.
The Nello is always the last Sunday in June so next year's will be on June 25th – so make sure it is in your diaries now!
To see our Nello picture gallery, go to www.facebook.com/media/set/?set=a.5509051562447530&type=3