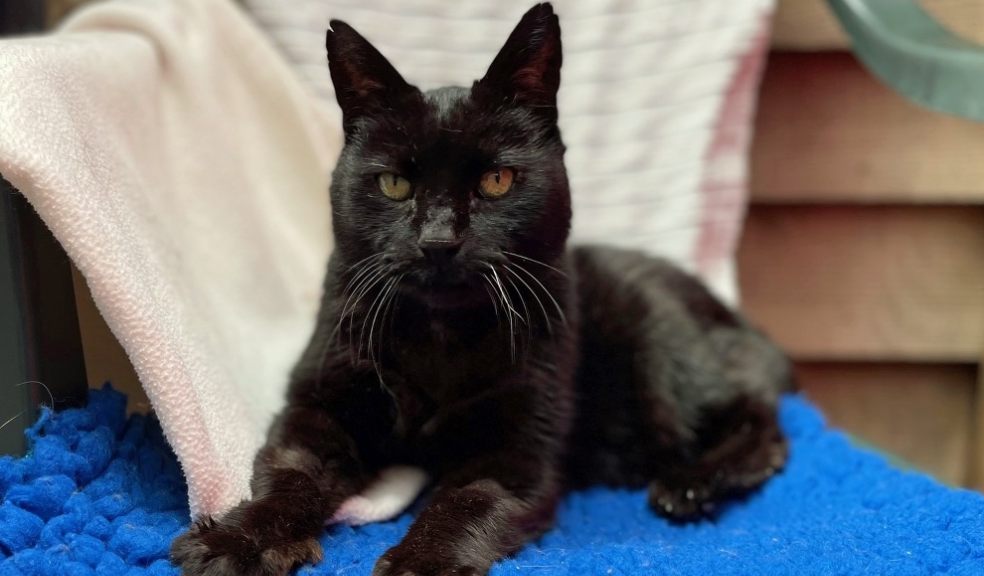 Mature moggie found sleeping rough is Exeter woman's purr-fect wake-up call
A senior cat who was offered a lifeline after he was found bunking down at night under hedges now provides an Exeter woman with the purr-fect wakeup call.
Fifteen year old Victor was found as a stray sleeping rough in piles of leaves in Exwick. It is thought he had been fending for himself for at least a year when a kind member of the public fed him and gained his trust in order to take him to Cats Protection's Exeter Axhayes Adoption Centre for help.
Jackie Phipp, Deputy Adoption Centre Manager, says: "Victor came to us in poor condition. His fur was dull, he was underweight and his mouth was in desperate need of some dental work. Our team at the centre gave Victor some much-needed TLC - grooming him, cleaning up his face and paws and spending time with him in his pen. He was a quiet cat who enjoyed a snooze and a head tickle. 
"Being an older cat with a few medical conditions under his belt we knew it would take a special person to adopt Victor. Fewer adopters are willing to take on an older cat and often put an age limit on the cats they will consider for rehoming. However older cats can make great pets and often settle into their new homes very quickly."
Cats Protection has found that over the past five years cats over 11-years-old have taken three times longer to home than kittens, even though they are more likely to be the calm lap-cat that so many adopters are keen to find.
This Mature Moggies Day (16 June) the charity is celebrating the benefits of older cats and Victoria Lewis, from Exeter, who adopted Victor in April knows first-hand what joy senior kitizens can bring to a home. 
Victoria says: "Victor looked so sad in his original advert, I thought he deserved to live out what life he had left in comfort. Within the first week Victor found his feet and he now rules the roost! If I don't wake up immediately, he sits on my pillow and meows and head butts me until I do. Victor is turning into a very affectionate lap cat and loves nothing more than having a cuddle. For his age Victor is surprisingly energetic and playful, he especially loves chasing after his toy mouse." 
For anyone looking to give a home to their own mature moggie, the centre currently has several older cats looking for their forever homes. One of which is Catkin who is 16 years old or the equivalent of 80 years old in human years. Catkin is known for his friendly nature and the centre's staff and volunteers are keen to find him a retirement home where he can enjoy his twilight years. 
Jackie says: "Catkin is a really lovely boy. He has early-stage kidney disease which is managed with a special diet and he doesn't let it distract him from his love of creamy cat treats, being brushed and sitting on warm laps!" 
To see Catkin enjoying his favourite activities visit https://bit.ly/CatkinPurrs  
For more information about caring for older cats visit www.cats.org.uk/mature-moggies or to find out more about Catkin and Exeter Adoption Centre visit www.cats.org.uk/axhayes