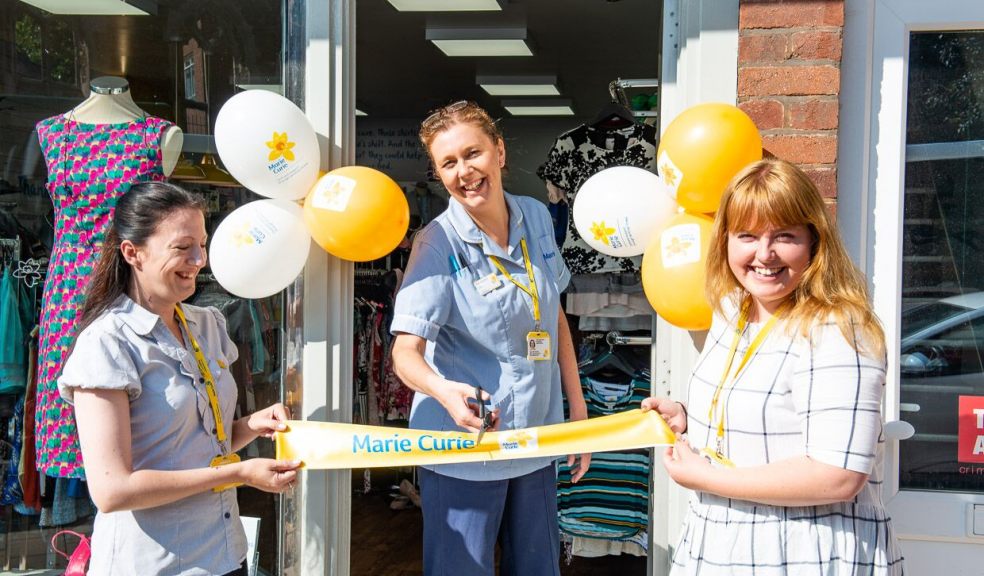 Marie Curie's first shop in Exeter opens on South Street
Terminal illness charity, Marie Curie, has opened a new shop in Exeter. The shop on South Street is the first the charity has opened in Exeter and will raise vital funds to help Marie Curie Nurses care for people living with a terminal illness.

The shop was officially opened by local Marie Curie Nurse, Linda Haynes, Shop Manager Vikki Coshall and Devon Community Fundraiser Connie Thomas who cut a ribbon and celebrated the opening of the new store.

The charity is urging shoppers in Exeter to shop and donate, and help support the 97 Marie Curie Nurses who work across Devon, currently providing care for almost 1,000 patients. Every £20 raised from the sale of pre-loved items in-store will help Marie Curie to provide care and support for people living with a terminal illness and their families.

Marie Curie also hope the shop will act as an information hub, to keep customers informed of the services Marie Curie provide locally such as day and night nursing care and a volunteer befriending service. The shop also aims to ensure the public are kept up-to-date with fundraising campaigns and opportunities to volunteer.

Vikki Coshall, Shop Manager said: "We're very excited to have opened the shop, and we hope everyone in Exeter will visit and find themselves a bargain.

"We want the shop to be a place where people can not only come to pick up clothing, accessories and homeware items but also be a place where people can connect with the charity and learn more about how we care for local people living with a terminal illness and their families."

Marie Curie Nurse, Linda Haynes, said: "The shop looks amazing, they've really done a good job with it and I would encourage everyone to visit. I've had a quick browse and I've got my eye on a few items myself!

"I've been caring for people in Exeter for 18 months now and have been fortunate enough to care for some amazing people. Myself and my colleagues wouldn't be able to do our jobs without local support, so your purchases really do make a massive difference."

Could you spare a few hours a week to volunteer? Or do you have any unused items looking for a new home? To find out more about the shop, donating items, or volunteering opportunities, call 01392 276 269 or visit in-store – Marie Curie, 92 South Street, Exeter, EX1 1EN.