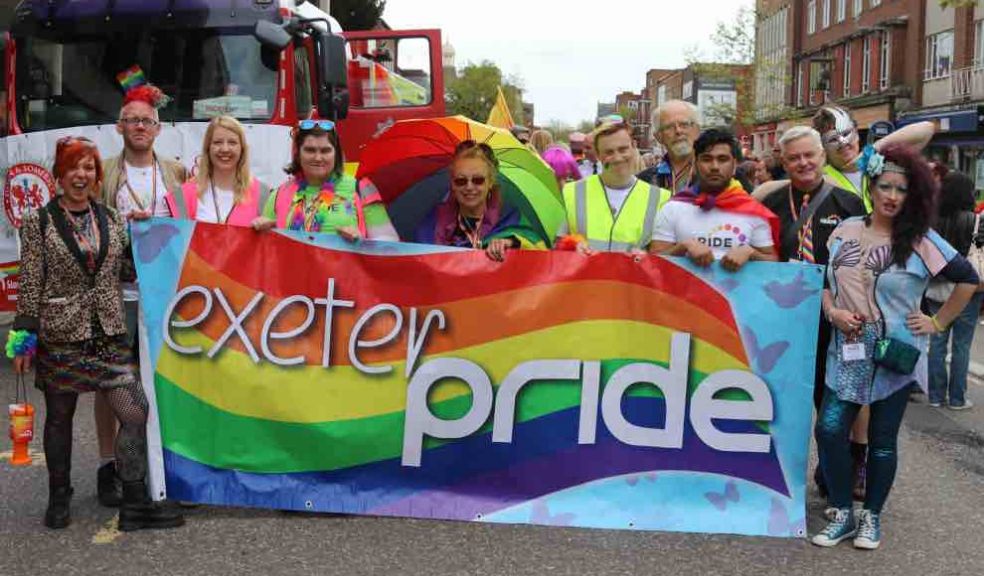 Lord Mayor to lead 11th Exeter Pride march
THE Lord Mayor of Exeter will lead the march and give a speech to mark Devon's biggest free celebration of the lesbian, gay, bisexual, transgender and questioning communities in the region.
Councillor Rob Hanford will start the largest rainbow flag parade the city has seen as part of Exeter Pride at noon on Saturday, May 11.
Organisers say it will be the biggest event to-date, with thousands of people taking part in the march in Exeter's High Street and watching the parade.
The march from the St Sidwell Centre in Sidwell Street will include community groups, firefighters, police, students, trade union and business groups and individuals.
It will include Street Heat samba band, Morris dancers, two 50-metre rainbow flags, roller skaters, dancers, a Devon County Council gritter lorry, a police car, ambulance, fire engine and LGBTQ+ football and rugby teams.
The Lord Mayor of Exeter will officially open the main stage at the end of the march.
Entertainment will include live bands and cabaret acts on two stages and there will be a marketplace with more than 80 stalls.
There will be a health zone, family zone, workshops, panel debates, gender diversity hub and talks, drumming circle, ceilidh and much more.
There will be information and advice from local, national and international organisations, as well as demonstrations and fun activities.
The evening will include a cabaret evening and DJ at Exeter Phoenix, admission by wristband only.
Adam Rank, Chair, Exeter Pride chairman, said: "Exeter Pride is Devon's biggest celebration of LGBTQ+ communities. We are delighted that Exeter Pride is returning for its 11th year on Saturday, May 11.
"It's been a privilege to have been involved with the 11th Exeter Pride. It has been hard work, but so rewarding to help make this the community event that we can all be part of. 
"We are incredibly lucky to have been able to build on the hard work of 10 previous committees, allowing us to continue as the grass roots community festival that we are.
"Our event in 2018 was judged to be such a success that we were delighted to have been awarded the Exeter Living Event of the Year award.
"This year we have a bigger and better event planned with all the favourites plus many more workshops and classes, 80 stalls, the gender diversity hub, a main stage and showcase stage and a fantastic evening of entertainment.
"For the second time Gandy Street has been licensed to allow for a real street party feel, with a drag catwalk competition.  
"Make sure you buy one of the annual Exeter Pride discount cards, which offer discounts at many venues across the city and also ensure you buy an Exeter Pride wristband.
"We are one of the largest free Pride events in the UK, and we do it all without large scale public funding or massive corporate sponsors. We rely on you, our supporters and our local partners and freely admit that we couldn't do it without you.   Please remember Exeter Pride is a registered charity.
"For us Pride is a day to celebrate, remember and show off our local LGBT+ community, as well as embrace our local Exeter community, because we are all part of more than one community. And this is Exeter Pride, proud of you, and proud of Exeter."
Alan Quick, the co-founder of Exeter Pride, said he was delighted how the annual event had grown since the very first Pride in the city in 2009.
He extended thanks to all those who had supported Exeter Pride since it began.
He said: "Without the support of previous trustees, volunteers, committee members, sponsors, partners and other supporters, as well as those currently involved, Exeter Pride would not be the tremendous annual event it is now.
"Year-on-year it has grown thanks to the active involvement of so many people.
"Those people have helped Exeter Pride fulfil its aims, to promote equality and diversity for the public benefit and in particular the elimination of discrimination on the grounds of sexual orientation and gender identity through awareness-raising, advancing community education, and by holding an annual LGBTQ+ festival.
"Whilst Exeter Pride is a celebration of how far we have come with regards to equality, the charity is also keen to recognise and to educate on LGBTQ+ history, contributions to culture, and raise awareness of on-going LGBTQ+ struggles in the UK and further afield."
For further information follow on Twitter: @exeterpride or Facebook: Facebook.com/exeterpride