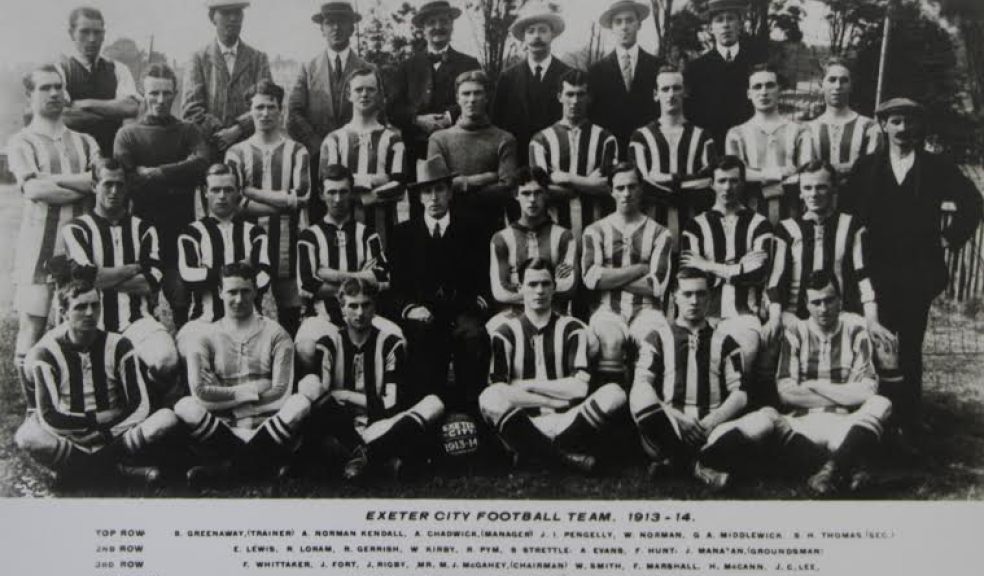 Legacy and impact of over 100 years of Exeter City FC to be showcased
The legacy and impact of more than 100 years of Exeter City FC will be showcased at home ground St James Park thanks to the work of University of Exeter academics.
Researchers are working with Exeter City staff, supporters, fans, current and former players to develop a rich archive, which includes film, photographs, sound, and artefacts, to showcase the fascinating history of ECFC and illustrate the role the club and Supporters Trust have played in communities.
The creation of the archive is possible thanks to a partnership between University researchers and the football club's staff and supporters. They see the creation of the archive as the first step towards the setting up of a public-facing research centre and museum space at St James Park.
Gabriella Giannachi, Professor in Performance and New Media in the department of English, PhD student Will Barrett, thirty-one undergraduate student interns and the University of Exeter's Digital Humanities team have already created a web archive for the club and supporters trust called Grecian Archive.
It has proved very popular, with researchers receiving enquiries from club supporters from all around the world as well as regular requests for information and offers of donations of artefacts.
Last year the research team worked with more than 60 senior fans, the Senior Reds, to capture their earliest memories about watching ECFC play football in series of films, all available in the archive. This prompted the club to set up a former players association and create a set of displays, now available in the hospitality area at St James Park.
Professor Giannachi said: "Our work is generating a great community archive.  We use the archive, both the physical and the digital archives, for all sorts of activities, including reminiscing, building a sense of community, teaching, raising awareness about heritage and even working with fans with mild dementia."
Former Exeter City striker Alan Banks, who was the first player to score 100 goals for the Grecians, has shared his memories of playing for the club, including scoring against Manchester United in 1969. Like other former players he has also shared his memorabilia with researchers, including photographs and programmes. Some items are already on display at St James Park, and will hopefully be seen in any museum space developed in the future.
Mr Banks said: "Gabriella and her team have done a fantastic job at helping make sure our fond memories will be preserved for the future. This has meant they can be shared with others, from all generations, and I hope it will encourage younger people to take a keen interest in Exeter City.
"I've tried to give as much information as I can, and at times it has been emotional. I know this has also been the case for other players and supporters who have been involved in the project. Some are in their 80's and 90's. They've been coming to matches since they were small children and it's been wonderful they have been able to share memories of coming to matches by tram or sneaking under the gates to get in."
Exeter City Director and Supporters Trust Trustee Paul Farley said: "Pictures, film and programmes are tangible, but we wanted to collect memories too. They are priceless. Once they have gone they are gone forever. This project has changed the way everyone in the club thinks about our history and engages with it.
"Now we have a fabulous archive, which we hope will be among the best in the world. By working with the University of Exeter we have been able to do this in a way which is outside the box.
"We are hoping the work completed so far will give us the materials for a centre and museum space, and we are actively trying to find a space for this at the moment."
The content of the collection includes donations and loans by former players such as Jimmy Giles and Dick Pym. Mr Giles was a favourite player at St James Park and the first player to win the Player of the Year Award for two seasons running, in 1971-2 and 1972-3. He also won the award in 1974-5. Mr Pym played when ECFC visited South America in 1914. His sale to Bolton in 1921 for the then staggering fee of £5,000 allowed ECFC to buy St James Park outright.
Staff from the FIFA Football Museum have recently visited Exeter City to learn more about how the club and University are working together.
Academics are now working on a new project to explore relationships between Exeter City players and fans with former and current players. Through workshops and conversations with fans and players they will explore how the two groups have supported each other, most recently seen during the match against Liverpool.
Professor Giannachi's new book Archive Everything: mapping the everyday, due to be published this year, analyses the changing nature of archival practices and suggests that archives provide a lens through which to experience and improve our everyday lives.