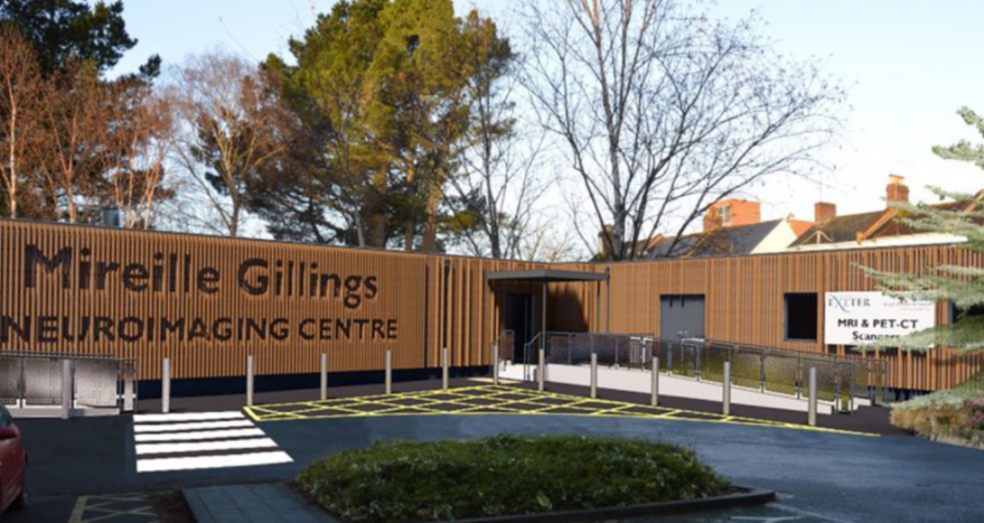 Lady Mireille Gillings to open Neuroimaging Centre
Global business leader and philanthropist Lady Mireille Gillings, PhD, will officially open the cutting-edge new imaging centre which bears her name on International Women's Day (March 8).
The University of Exeter Medical School's new Mireille Gillings Neuroimaging Centre was funded by part of a £10 million donation from the Dennis and Mireille Gillings Foundation. The gift also funded three Mireille Gillings Fellows in Health Innovation, supporting female academics in leadership roles. Two years on, each of the three Fellows appointed is in a senior leadership position.
The new Centre will enable researchers to build on current clinical trial expertise through innovative use of state-of-the-art brain-scanning technology and techniques and become the leading clinical trial centre in Europe for trials focussing on Parkinson's disease, dementia, and brain health.
The new facility incorporates the latest PET and MRI scanner and is already at the centre of research to help understand how the brain works, and to gain insight into how best to prevent and treat diseases including dementia and Parkinson's.
The new building, located at the Royal Devon and Exeter NHS Foundation Trust (RD&E) site, will help accelerate clinical trials for potential dementia treatments over the next five years. The centre is the latest example of the close partnership working between the University of Exeter and the RD&E.
Lady Mireille Gillings, PhD, Hon DSc, is the founder, Chief Executive Officer and President of HUYABIO International, a global leader in accelerating development of biopharma innovation from China.
Lady Mireille will unveil a plaque at the new facility at 10.50 am on March 8. She said: "This exciting state of the art neuroimaging centre will transform clinical research across South West England. It will enable Exeter to compete with advantage on the worldwide research stage to advance therapies for Parkinson's Disease, dementia and other debilitating conditions."
The three Mireille Gillings Fellows in Health Innovation are strengthening.as well as conducting research with meaningful health benefits. Frailty expert Professor Sallie Lamb is now Associate Dean for Research in the University of Exeter Medical School; Professor Soojin Ryu, who researches the biological mechanisms of stress, is Assistant Director of the Living Systems Institute; and cancer expert Professor Chrissie Thirlwell is Clinical Director of the new South West Genomic Medicine Service Alliance. 
Professor Clive Ballard, Executive Dean of the University of Exeter Medical School, is a world-leader in dementia research. He said: "I'm incredibly proud that our Mireille Gillings Fellows in Health Innovation and the Mireille Gillings Neuroimaging Centre are focussed on making an impact. The Fellows are all incredibly talented researchers and inspiring leaders, and the facility is enabling us to conduct really exciting and innovative trials, that we're confident will make a real difference with people living with neurodegenerative diseases such as dementia and Parkinson's. We can't wait to welcome Mireille and Dennis and showcase the exciting work we' re pioneering."
Professor Lisa Roberts, Vice Chancellor of the University of Exeter, said: "The incredibly generous support of Lady Mireille and Sir Dennis Gillings is enabling us to reach even greater heights of medical research excellence at Exeter. We're so grateful to them, and we're excited to see all that we can achieve to improve lives."