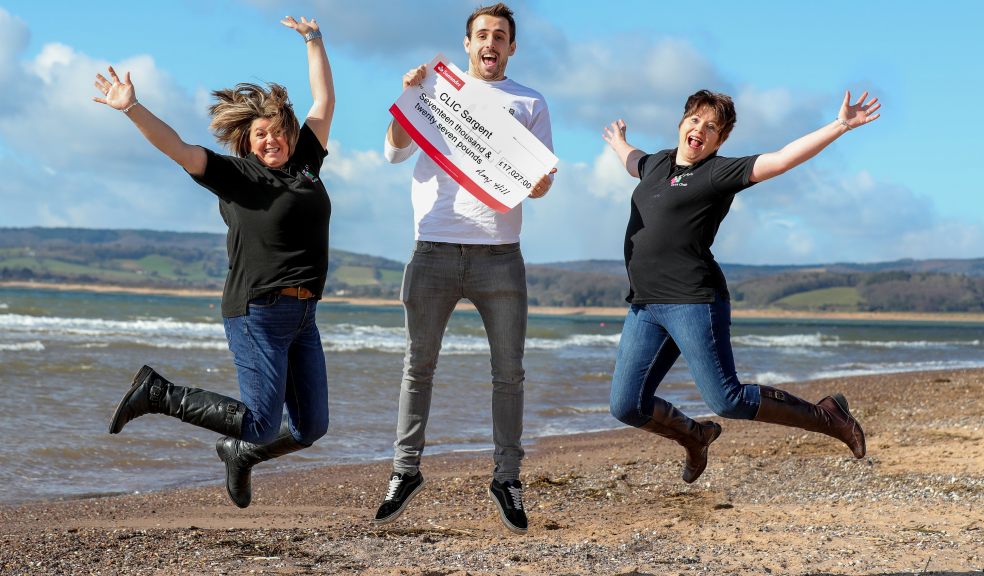 La La Choirs raise £17,000 for CLIC Sargent
On Friday 8th December 2017, La La Choirs held their third annual 'CLIC for Christmas' concert at Exeter Cathedral. Performing to another sold-out audience, they started the festive season off with a bang with a selection of Christmas favourites, old and new.
La La Choirs were joined on stage by the winning choir from their Devon Schools Choir Competition, Kingsley School from Bideford, as well as the CLIC Sargent singers, a group of young people who have all at some point been CLIC Sargent service users and have taken part in their music programme.
Through ticket sales and generous donations on the night, sponsorship from local businesses, plus crucial support and backing from Santander, they managed to raise over £17,000 for CLIC Sargent.
Sam Abrahams from La La Choirs said "Each year the CLIC for Christmas concert gets better and better and we are absolutely over the moon with the amount of money we managed to raise. We were very fortunate this year to have secured headline sponsors, Apple Taxis, whose support was invaluable and helped us achieve our target. We are also thrilled to announce that they have agreed to be headline sponsors once again and we look forward to working with them again this year.

Once again, my thanks also goes to the staff of the Exmouth branch of Santander who helped run one of the refreshment stands and managed to secure generous match funding. Fortunately, Santander have also signed up again for another year and we are already well into the planning for CLIC for Christmas 2018 which will be on 14th December!"
Steve Screech, General Manager for Apple Taxis, remarked "We were delighted to work with La La Choirs last year to raise money for CLIC Sargent - a superb charity which needs all of our support. The concert at Christmas rounded off a great year of being associated with La La Choirs and we enjoyed it so much we are doing exactly the same again this year.

We at Apple Taxis promote ourselves at being at the 'core of the local community' and with La La Choirs' help we were able to sing this from the rooftop of Exeter Cathedral!

Our relationship with La La has grown and grown and we are looking forward to another year of working with them and CLIC Sargent."
Jordan Anderton, CLIC Sargent fundraising manager for Cornwall & Devon said "To raise over £17,000 in one evening is absolutely incredible. The La La Choir, Kingsley School and the very emotional CLIC Sargent Singers put on a show that many will remember for years to come. In return the audience were incredibly generous. I would once again like to thank Sam and Claire for the countless hours of hard work that you put into making this event happen and to every singer and audience member for making it such a magical evening.

A cancer diagnosis means normal life stops for the child or young person, and their family. Treatment is gruelling and often happens many miles from home. Travelling for treatment is exhausting and expensive. CLIC Sargent provides these families with access to our Homes from Home programme, to help reduce the financial, emotional and practical burden of a young person's cancer diagnosis. Through the provision of free, self-catering, homely accommodation for families, just a short walk from the treatment centres, families are able to spend time together, as well as be in close proximity to the hospital – not having to journey to and from home which, for so many families, can be several hours away.

The money that the La La Choir have raised could fund a room in CLIC Sargent Home from Home for nearly 18 months. These homes from home save each family on average £2100. The money that the La La Choir have raised is truly life changing for the families CLIC Sargent support."
About CLIC Sargent
CLIC Sargent is the UK's leading cancer charity for children and young people, and their families. Today, 11 children and young people, and their families, will have life as they know it turned upside down by the news they have cancer.
Last year CLIC Sargent's care teams gave vital support to around 142 young cancer patients, and their families from Devon. Across the whole of the UK, CLIC Sargent supported around 7,200 children, young people and their families. We help them deal with the devastating emotional, practical and financial impact of cancer. And we help empower them to feel like people rather than patients, supporting families to hand on to a sense of normality when their world has been ripped apart. www.clicsargent.org.uk
About La La Choirs
La La is a family of community choirs that are open to anyone and everyone (18+). Our music ranges from pop to rock, soul to choral. La La Choirs began in Lympstone in September 2008 and is run by Sam Abrahams. The first sessions consisted of Sam and just a few friends. There are now four choirs with over 300 members on the books, who meet every week. The ethos of the choir is simple:  if you like singing and enjoy having a laugh then this choir is for you. Whether it's weekly, monthly or just when you can, you are always welcome.
La La are very popular locally and put on concerts for various charities every month of the year which have raised over £100,000 since they began. Sam and her members are very committed to sharing the joy that singing brings to them with others and use that to promote and raise funds for charities large and small where they can. www.lalachoirs.co.uk