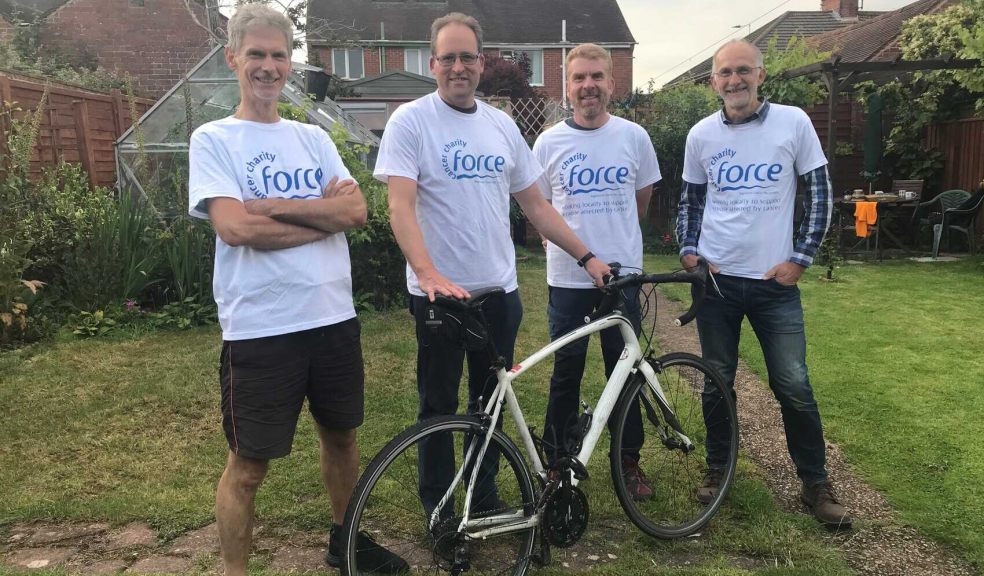 John leads cycle team on Tour de Devon for FORCE
A team of cyclists will embark on their very own Tour de Devon this week to raise money for FORCE Cancer Charity.
John Heathershaw from Exeter (pictured second left above) set himself the challenge of a coast-to-coast ride to celebrate five years of being cancer clear.
The father-of-two was diagnosed with a malignant melanoma in September 2015 at the age of 39.
FORCE helped him through months of treatment and subsequent complications in his mental and physical health.
"I hadn't ever really conceived of getting cancer," John admits.
"I was aware of FORCE because of their cycle rides but hadn't really thought it was something I would ever benefit from.
Alone
"When I was diagnosed – I got the results on my daughter's birthday - they gave me a leaflet but I wasn't sure it was something I could engage with.
"I felt so alone. But being around people who got it and had been around it and understood was tremendously valuable.
"I had counselling but just coming here (to the FORCE Centre) and having a cuppa after a consultation is what I really valued."
John planned his Tour de Devon for 2020 but COVID put paid to that.
So, he'll now set out from his home at 3pm on Thursday (September 16) to cycle 342 kilometres with 4,999 metres of ascents - or 212 miles and 16,400 feet in old money – over four days.
John, Associate Professor of International Relations at the University of Exeter, will lead a team of 10 friends.
Demanding
Three of them - locals Tim Roberts and Adrian Bailey and Michael Holwerda from Gouda in Holland -will accompany him for the entire challenge.
The other six will join them for part of the ride, which starts with a demanding 65-kilometre prologue loop to take in the South Devon coast.
On Friday the core team will ride from Exeter to Ilfracombe with a muscle-burning climb over Exmoor on the 102-kilometre route.
Saturday offers two options. The first, longer loop, takes the riders from their base in Ilfracombe on a 95-kilometre circuit including Lynton, Barnstaple and Croyde.
The shorter, 69-kilometre option avoids the coastal climbs around Lynton and goes cross country to meet the longer route at Blackmoor Gate.
The team will return from Ilfracombe on Sunday, covering the final 90 kilometres of the Tour.
Target
They have raised nearly £2,000 already – almost double their original target – via an online giving page, virginmoneygiving.com/Team/TourdeDevonSeptember2021
John completed FORCE's Nello ride as part of his training and has been covering up to 600 kilometres a month in preparation for the big event, which he admits gave him a good excuse to get a new bike!
The team is travelling light with all their kit in panniers and no support crew.
"We have varying abilities so team ethos will be important," said John.
"We've never done a tour before so endurance and fatigue will be factors."
He is a renowned expert in the politics and economics of former Soviet Central Asian states and spent three years living and working in Kyrgyzstan and Tajikistan as well as spending time in West Africa and the USA.
Important
His cancer journey was longer and more complicated than it should have been due to serious complications after his initial surgery.
"I was surprised how much it affected me. I had to have two months off work with stress and further time out due to treatment for cellulitis," he explained.
The support offered by FORCE was important as John, wife of 22 years Julia and children Grace (now 14) and Sam (12), came to terms with his diagnosis.
"It is a local charity, supporting local people and supported by local people as an adjunct to the NHS, offering things that we cannot expect the NHS to do," said John.
"There is a mutuality – people having the experience and giving something back.
"I wanted to do this (the Tour de Devon) to give something back."