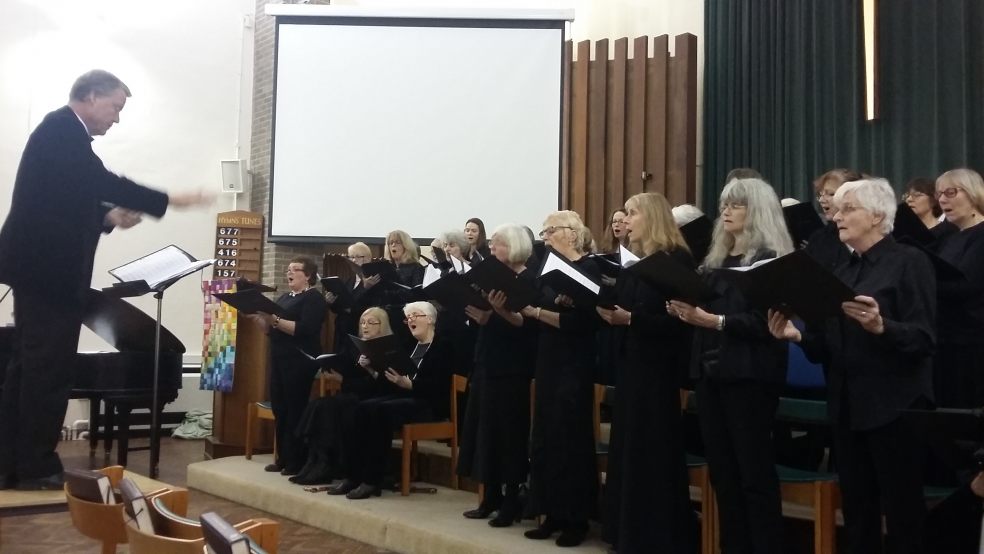 Holocaust Memorial Day commemoration in Exeter
Saturday 27th January saw the performance of a new work, SHOAH, by composer Philip Arkwright, Master of Music at Buckfast Abbey at Exeter's Mint Methodist Church as part of the commemoration of Holocaust Memorial Day, the anniversary of the liberation of Auschwitz-Birkenau on that date in 1945.  
This day is commemorated annually by communities across Britain. The name of the piece is from a Hebrew word, Sho'ah, meaning catastrophe or devastation, initially used to describe the genocide that took place.  By the end of the Second World War the Nazis and their collaborators had murdered six million Jews - and millions of others including Roma, Sinti, homosexuals and political opponents.
The theme of the commemoration was "The Power of Words" and the introduction and welcome was given by Barnabas Balint, a Regional Ambassador for the Holocaust Educational Trust and Holocaust Memorial Day Trust Youth Champion. We were reminded of the horror of the Holocaust and the need for it never to happen again but also of later genocide in Cambodia, Rwanda, Bosnia and Darfur and the ways in which such horrors start.
Stuart Raine then spoke about the life of Otto Deutsch (1928-2017) who came to England at the age of ten on the Kinderstransport having last seen his father on Kristallnach (November 1938) when a group of Nazis broke into his home in Vienna and took his father away and last seeing his mother on the station at Vienna where he was put on the train.  Both his parents and his older sister died in an extermination camp.
The climax of the evening was the performance of SHOAH. The two choirs involved were Brent Singers from South Brent and Xprecion of Cullompton College with conductor Richard Lea and Philip, the composer, at the piano. The work included words from the Psalms and non-scriptural text interspersed with readings and quotations by Ian Wintersgill telling something of the horror of the story leading up to the Holocaust.
Starting with Psalm 125, "When the Lord delivered Sion from bondage, then Psalm 129 "Out of the depths I cry..", Psalm 136 "By the rivers of Babylon there we sat and wept", Psalm 150 "Praise God in his holy place" were all sung by Brent Singers. These were followed by Psalm 22 "Adoani Roi" (The Lord is my Shepherd) and Psalm 6 "Lord, do not reprove me.." rendered by Xprecion and finally Psalm 26 "I will praise you Lord, you have rescued me and have not let my enemies rejoice over me".
A retiring collection raised money for the continuing work of the Holocaust Educational Trust.