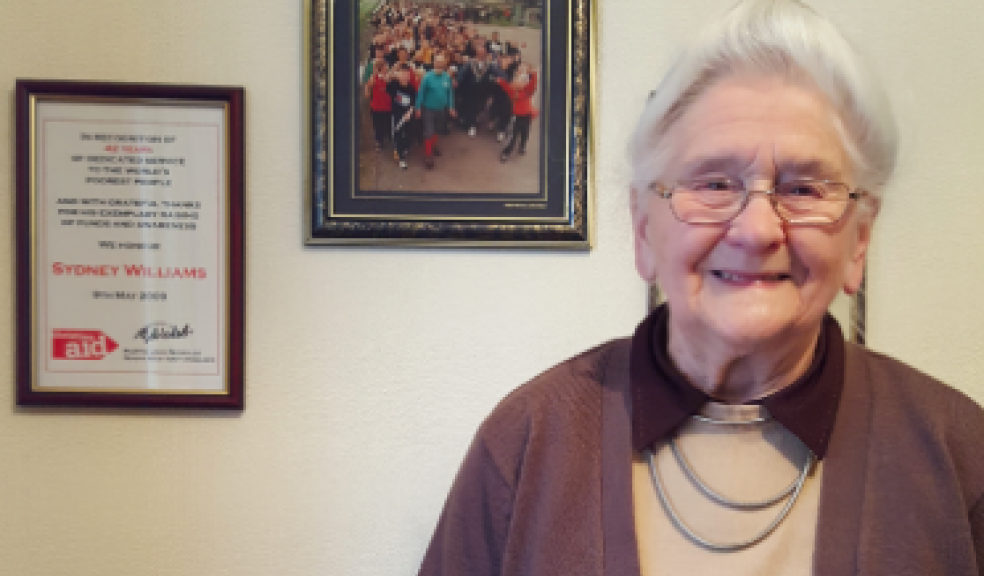 Generations unite as Devon fundraiser prepares for 50th walk
Schoolchildren and great-grandparents alike will take part in the 50th Newton Abbot walk for Christian Aid Week when a special Sydney Williams' Memorial Walk is held on May 20th.
The walk, which has raised over £367,000 over the decades to tackle poverty around the world, was set up by the late Sydney Williams and taking part in this year's event at Newton Abbot Racecourse will be his widow Dorothy Williams (90), their four children and a grandchild alongside generations of other Devon families.
Sydney, who died in 2010 aged 82, was inspired to make the world a fairer place after he saw first-hand the conditions of families living in poverty in Afghanistan, Pakistan and India. He went on to lead the walk for 42 years and develop it into a valued community supported by schools, families, local businesses and civic and faith leaders.
Member of the walk's organising committee Gill Bone said: "We have heard of two people who did the original walk taking part this year and my neighbour for example did the walk when she was a child, and now she's doing it again this year accompanied by her own young children.
"It's a tribute to Sydney and the desire in people to help when we know we have so much and others have so little.
"There's still time to sign up - the walk could be an opportunity for a school reunion for many people, as a lot of people attended the walk with their schools over the years. Why not get in touch with your former school-mates and have a slice of cake together on us on 20th May?"
Dorothy Williams, whose own children took part in the early days and are now aged 53 to 62, said: "It seems incredible that this is the 50th walk, the whole family is looking forward to it. I am hoping to be able to take part myself on the day and will certainly try but we will see!"
Sydney was a teacher at the former Newton Abbot Grammar School and his legacy of encouraging support from local schools, lives on.
Pupils at Kingskerswell Primary School will be taking part and Year 4 teacher Laura Twamley said: "We teach our children how to reach their full potential by living what we teach, by making a difference to others through the small things we do, including promoting and supporting Christian Aid.  
"Supporting the walk strengthens our community and brings us together for a very worthy cause! It's also a lot of fun!"
Dorothy taught Home Economics and Childcare at Coombeshead Academy and pupils from the school provide music to encourage the walkers each year.
Head of Media at the school, Andy Tyner, said: "We support the walk because of tradition.  This is something we have been involved in for a long time. 
"The walk provides an opportunity to bring every type of person together to work to a collective goal.  The young people who attend the walk develop an appreciation of how they can help and support other people with their own commitment and hard work."
The walk begins with an opening ceremony at 9.30am attended by the Chairman of Teignbridge District Council, the Mayors of Newton Abbot and Kingsteignton, the Newton Abbot Town Crier, a local church minister and a representative from Christian Aid.
Tea and cake will be served throughout the event and walkers have until 12:30 to complete up to a maximum of eight laps which equals ten miles.
Local sponsors Hammond & Shaw Surveyors, Sound and Visual Systems Ltd., and W. Cross & Co. Ltd. have all helped the organising committee cover the expenses faithfully for many years.
To find out more about the event click here or to register call 023 8070 6969 or  email Southampton@christian-aid.org
Christian Aid Week celebrates its 60th anniversary this year and runs from May 14th to 20th, highlighting the plight of those around the world with no safe place to call home.
You can help to change the lives of people trapped in poverty and affected by conflict and crisis this Christian Aid Week by donating online at www.caweek.org calling 08080 006 006, or texting 'GIVE' to 70040 to give £5.