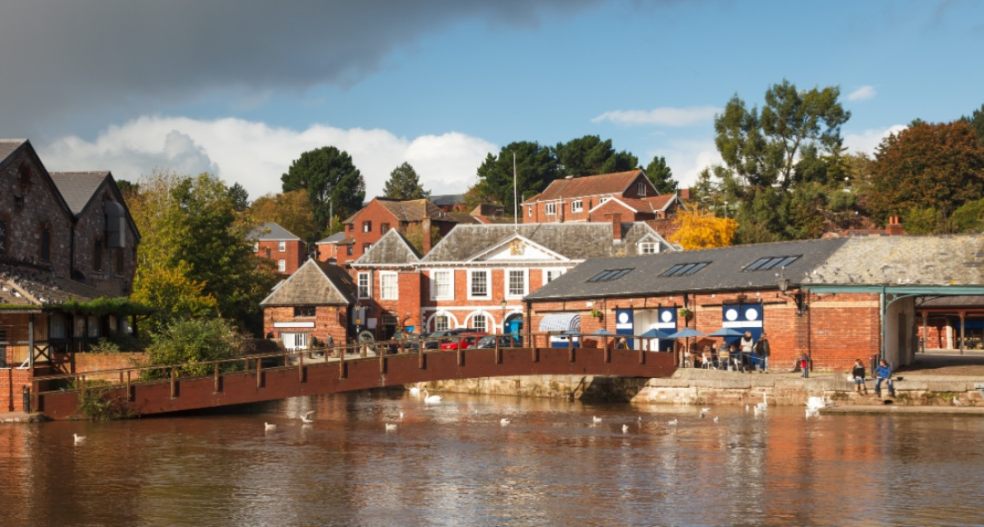 Five great dog walks around Exeter
Exeter is a modern, bustling, 21st Century city which, thanks to its compact size, river estuary, proximity to beach and countryside, offers many opportunities for dog owners and their companions. Although, like the rest of Devon, Exeter, Exmouth, Budleigh Salterton and the environs are described as 'dog welcoming' we all know there is often not much difference between dog friendly, dog tolerant and dog suspicious!
So, as with each new place you visit it is sensible to check out local restrictions on council websites and always respect your other visitors. For example the stunning Exe estuary, a haven for wading birds, has some understandable restrictions on dog walking in some parts. Your dog is generally fine on the beautiful Exmouth Beach during winter months but there are restrictions between 1st May and 30th September, when you need to keep to specified areas. By comparison sections of Budleigh Salterton Beach are dog friendly all year round.
Here are five suggestions for your visit or holiday to Exeter and surrounding countryside.
Walk 1. Exmouth Seafront
Difficulty: Easy, beach and paved areas
Length: Variable
Restrictions: Access to beach limited to specified times and/or locations.
Bonuses: Toilets, refreshments, wheelchair-friendly esplanade.
If, like us, you believe no trip to the coast is complete without a visit to the beach, you need to head to Exmouth seafront. Simply follow the road signs from Exeter. Dogs are allowed on the whole beach from 30th of September to the 1st of May. A visit in early October or a sunny April day can be glorious. A bracing December outing can be reinvigorating too but wrap up well. In the summer months you can still use the stretch of beach at the end of Queen's Drive. Again look for the signposts. The beach can get busy but there is quite a lot of it. Turning up at low tide is recommended, as there is even more beach to run around on. Then you can start your walk within 100m of Orcombe Point and walk around the cliffs towards Sandy Bay. Although parking is available all along the 2-mile stretch of beach, there is additional parking for 198 cars at Foxholes Car Park, which is close to the dog-friendliest Queen's Drive end of the beach.
Walk 2. Exeter Quay Canal
Difficulty: Easy, paved areas.
Length: Variable
Restrictions: Primarily lead walk, limited paid parking
Bonuses: Water on route, dog friendly pubs, and lots of choice for eating
One might say that this is not so much a walk, but more of an amble, and you choose the pace and distance. However, depending on your ambition, you can still get up a fair head of steam, especially if you head out to Powderham Castle, the imposing seat of the Count of Devon! Assuming you don't get waylaid at the dog-friendly Turf Hotel on the way that is. Generally this is a busy area popular with runners and cyclists, as well as the tourists looking at the quayside buildings that once made this such an exciting and bustling industrial area. There is still plenty else going on here throughout the year, including Dragon Boat Racing, Canoe races, craft fairs and food markets, so take care if your dog is very excitable. Also be wary about taking your dog off the lead in the fields in the more out of town areas, as there are deer associated with Powderham Castle. The excellent, and dog friendly, Double Locks gastropub is a great place to finish your amble/walk around this fascinating area. 
Walk 3 - Haldon Forest Park
Difficulty: You decide, but this can be hilly and muddy in places although there are wheelchair friendly options. 
Length: Variable
Restrictions: Paid parking
Bonuses: Free admission, off-lead areas, water, toilets, refreshments.
Haldon Forest Park is about 9 miles from the centre of Exeter and is owned by Forestry England. Some 3,500 acres of woodland with miles of trails for walkers, runners, cyclists and horse riders, it offers many opportunities for enjoyable outings with your dog. In the reasonably priced car park you can choose your route from the map on display and then you just follow the signposts. A short stroll or a more adventurous experience with hilly bits, you decide. Do take a towel or two with you as there are some muddy ponds along the way that your dog might be forced to explore! There are also some fun activities for smaller human beings. As with your dog, do be on the lookout on their behalf because the paths are shared with cyclists, horses and other mammals that can appear suddenly and cause surprise or danger. Dog owners are asked to bag any dog waste as the trails are well used. 
Walk 4 - Fingle Bridge and Castle Drogo
Difficulty: You decide, but this can be very hilly and there are steps on the longer routes
Length:  2-3 hours, 4.1 miles but you can explore too.
Restrictions: Largely National Trust Property. Car Park can get full.
Bonuses: Off-lead areas, water, toilets, refreshments, gift shops
Fingle Bridge and Castle Drogo are some 25 miles west of Exeter. Both facilities are now run by the National Trust and are located around the beautiful River Teign and Teign Gorge. Although there is parking and woodland access from the village of Drewsteignton, probably the best and easiest-to-follow walk starts at Castle Drogo itself: the last castle to be built in England and designed by the renowned 20th-century architect Sir Edwin Lutyens. The castle also has formal gardens designed by Lutyens. This walk follows the breathtaking Hunters Path high above the River Teign, and provides you with many opportunities to see local wildlife. This always provides you canine chum with opportunity to chase them too and, with steep drops around, do take care! The River Teign is a great treat for the water-loving hound, but you may need an extra towel. Also take care if the rivers are high. Otherwise this is doggy paradise but be aware there is livestock grazing in some areas of the estate, and dogs should be kept on leads in these areas.
Walk 5 - Brampford Speke
Difficulty: Easy but unpaved areas along river
Length: 3 miles plus
Restrictions: Some on-lead areas
Bonuses: Water, picnic area along river, pub
Brampford Speke is a small pretty village 4 miles to the north of Exeter. You can use this village as the base for a circular walk that will take about an hour, taking in the red sandstone cliffs that overlook the river Exe. Close by to Brampford Speke are the villages of Upton Pyne, with Stoke Canon, across the river, to the east. These can be incorporated into your walk. Footpaths are marked through fields that may contain cows, so take care of your canine companion. If you visit St Peter's Church in Brampford Speke and climb the medieval tower you, at least, will be rewarded by wonderful views of the River Exe and the surrounding countryside.
Andrew Long is a blogger, writer and website owner. He runs a dog harness and walking accessories shop called Wiggles and Wags.