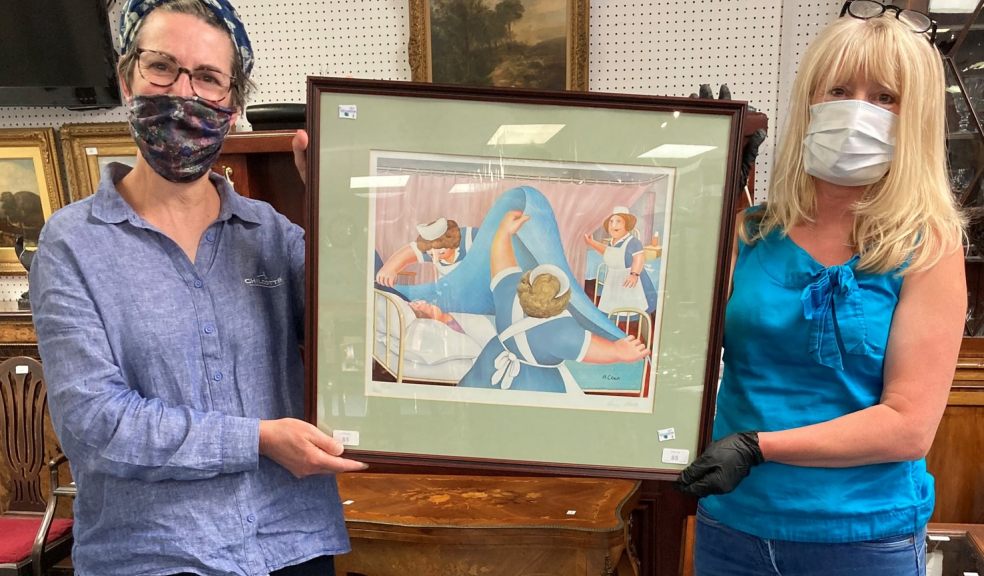 First post-lockdown auction takes flight with Angels
A picture by much-loved Plymouth artist Beryl Cook was the star of the show at Chilcotts first auction since lockdown measures were eased.
Signed in pencil by the artist, Angels sold for £440 and was bought by a local lady for her friend who works as a nurse in Cambridge. Chilcotts pledged the commission of £175 from the sale to the Honiton Hospital League of Friends.
Liz Chilcott says "We're really pleased to donate this amount to the League – these are difficult times for so many charities unable to run their usual fundraising events."
Overall, the first post-lockdown sale was a great success, putting any apprehension amongst the Chilcotts team well and truly to rest.
"It was clear early on that the sale would be busy in terms of people having items to sell, and busy in terms of people wanting to buy," Liz explains.
"On the day there were hundreds of prospective bidders joining us from the comfort of their own home."
The auction was streamed live, and even though no-one was in the sale room, auctioneers Duncan Chilcott and Jennifer Bell kept the traditional banter going, joking that the sale was rather like a football game with no spectators or an opera performance without an audience.
Strong prices were achieved, with one particular collection from the estate of a local collector including oriental pots, ceramics and Victorian glass 'dumps' performing particularly well with a total of £8,900.
Covid-19 measures put in place by the team worked really well, with hand sanitiser, masks and gloves readily available, plus Perspex screens for face to face discussions. Pre-sale viewings were busy, organised by 'appointment only' with regulated numbers to avoid queuing. After the sale, the buyers also made appointments to collect their purchases. Liz adds that the new WhatsApp method of valuing items is proving to be a great success.
"We've now invested in a dedicated smartphone for team members to use for this and similar social media apps – it's a great option for vendors who want to conduct business remotely."
The next sale is on July 25 and includes the contents of a prominent house in Torrington. "It took some organisation as the relatives of the deceased owner all live in Wales and at the time were unable to come over the border!"