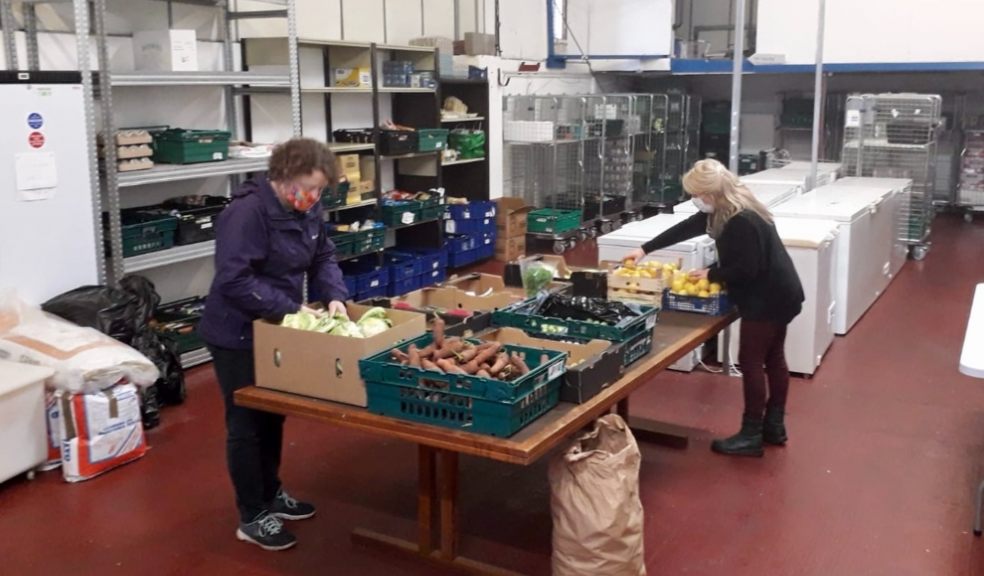 Fareshare South West launch core service into Exeter
FareShare South West, a charity who redistribute good quality, in date surplus food to frontline organisations supporting the most vulnerable, has announced that it is launching its core service into Exeter.
The announcement of this long-term support for the city and wider region follows crisis response work undertaken during the pandemic, when the charity delivered more than 200 tonnes of ambient food for use across Devon and Cornwall from their emergency warehouse in Ashton Gate Stadium, Bristol.
FareShare South West is partnering with Exeter Food Action to launch and operate its service, with eight key local frontline projects now signed up and ready to receive weekly deliveries of food support.
The expansion into the region has been made possible thanks to funding from Asda through Fight Hunger Create Change; a partnership between Asda, FareShare and the Trussell Trust which aims to have lasting impact on food insecurity across the UK. The retailer has invested £20m between both charities which has enabled them to invest in infrastructure and expand into new regions; including now Exeter.
Shelley Wright, FareShare South West's Devon & Cornwall Manager, says: "Even pre the pandemic, many people across Exeter were facing food insecurity. Launching fully into Devon, in partnership with Exeter Food Action, is a long-awaited plan coming to fruition – and all at a critically important time. Our emergency food support for the county was vital between March – July, but we know our core service, which uses surplus food – both fresh and ambient - from across the food industry is a long term sustainable solution to the food insecurity many face. The partnership with Exeter Food Action has allowed us to make strategic partnerships with key frontline organisations, thanks to their local knowledge and contacts, which in turn means our impact will be greater. I want to thank the ten pioneer frontline organisations who by signing up at this early stage, will no doubt shape the project. I'm excited to see the impact this community of frontline organisations can have, linked by their food coming from FareShare South West."
Jon Curtis, Exeter Food Action's Treasurer, says: "As an organisation we work hard to make sure good food from our food industry is not wasted and is instead used to feed those who are struggling to make ends meet. Our partnership with FareShare South West will help us do this on a much bigger scale, saving more food from waste and support hundreds if not thousands of people in our city and wider region. We are pleased that this operation will be operating from our Marsh Barton warehouse, with the support of our amazing volunteers and with FareShare South West's driver volunteers providing the deliveries to the warehouse. We can't wait to get started and to see how this grows and develops in the coming months."
Jo Warner, Asda's Senior Director for Community said: "We're delighted to support FareShare extending their service to the people of Exeter. Our Fight Hunger Create Change programme has supported thousands of local groups nationwide, providing access to good quality fresh food and investing in infrastructure and essential services to support the most vulnerable in our communities.
"Ultimately, our aim with the partnership is to change the face of poverty in the UK, providing much needed food to those in need and tackling the root causes of poverty to ensure nobody goes hungry".
The launch has also been supported by South West pasty makers, Ginsters, with the donation of two vans for transporting food, along with a generous donation of £15,000 from Exeter Chiefs, which has allowed for a chiller to be installed at Exeter Food Action's base. Ginsters and Exeter Chiefs support will allow fresh food to be redistributed across Exeter and beyond.
The eight initial frontline organisations receiving food are: Redhill's Primary School Exeter, Inclusive Exeter CIC, Rediscover Church Exeter, St Thomas Community Larder, St Petrocks, St Sidwells, Westbank Community Health & Care and Devon Partnership NHS - New Leaf Catering. Their first deliveries will arrive on Thursday 29th October 2020.