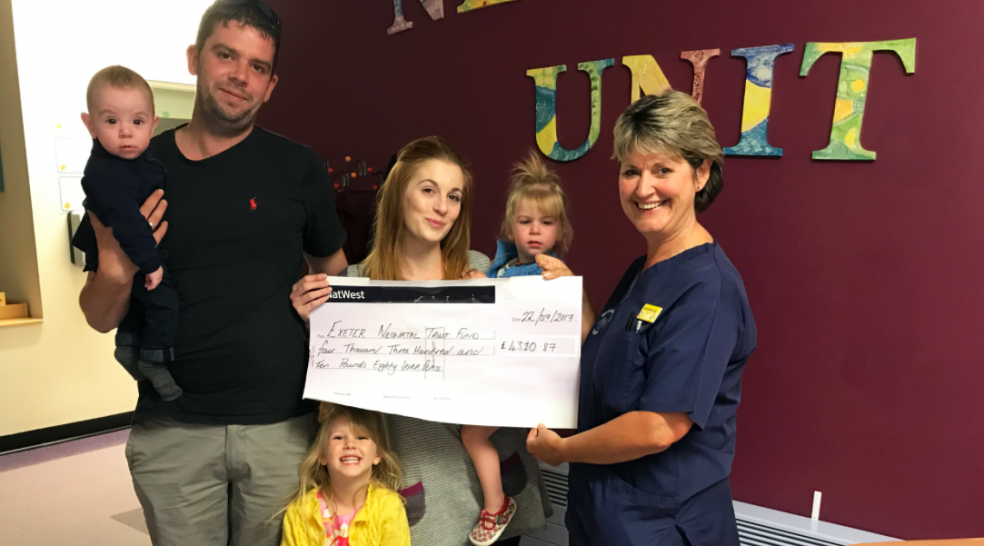 Family donate £4,300 to Exeter's Neonatal Unit
A family from Lewdown near Okehampton have raised over £4,300 for the Neonatal Unit (NNU) at the Royal Devon and Exeter Hospital, as a thank you for the help and support they received from staff when their little boy was seriously ill.
Chris Back and Crystal Jordan spent 66 days on the Neonatal Intensive Care Unit (NICU) with their son Jax who was born at 29 weeks, 11 weeks prematurely in December 2016.  The couple, who also have two other young children, were caught a little unprepared by Jax's surprise early arrival however they were helped through the ordeal by the staff on NNU.
"We were told to expect a lot of bumps in the journey and enjoy every day Jax was with us" said Crystal. "I had absolutely no idea what to think and how to cope but luckily Jax's nurse in charge, Sarah Backhouse seemed to be with me every heart-breaking step of the way. I can't thank the entire unit enough but especially Sarah for her exceptional support through the experience. Being in NICU that long we got to know all the staff and so much about the unit, this is when we decided we wanted to do a fundraiser for them as a thank you, to ensure others were made aware of the incredible job they do and how lucky we were that the unit saved our son's life."
With the help of Jax's Godparent Simon Chudley, the couple came up with the idea of hosting a charity darts exhibition to raise money for the unit. In June this year they invited premier league darts played Kevin Painter, AKA 'The Artist', as their special guest at the event in Okehampton's Charter Hall. The event was a great success and thanks to the proceeds from the event and a charity raffle, Chris and Crystal raised a grand total of £4,310.87 on the night.
Crystal added: "This wouldn't have been possible without the incredible support of our families and Jax's Godparents; we are very lucky that through such a time we were surrounded by so many amazing people who we can't thank enough."
The couple recently visited NNU with Jax to hand over the cheque to Sister Sarah Backhouse and to find out more about how their donation will benefit other families on the unit.
Sarah Backhouse, Sister on the Neonatal Unit, said: "We would like to say a big thank you to Chris, Crystal and all of their family & friends for such a generous donation to the unit. They have raised a fantastic amount for the unit, which we will use to help improve the environment for the parents and babies."