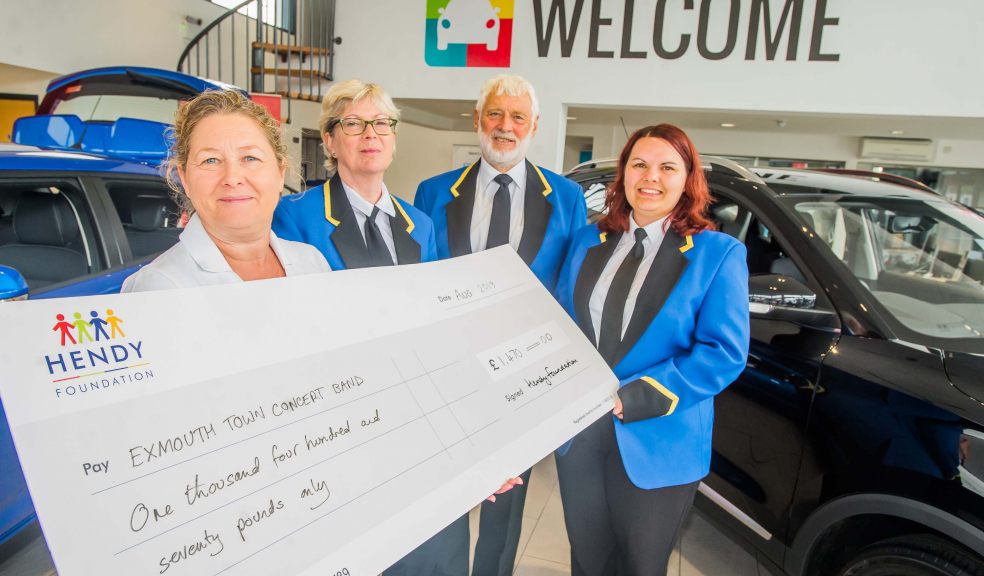 Exmouth Town Concert Band receives cash boost
Exmouth Town Concert Band has become one of the first beneficiaries of the Hendy Foundation which was set up to support charities and good causes.
The band has been given £1,470 by Hendy Foundation which will be used to buy jackets for new members.
"We're delighted with this donation to help the band as the jackets really help with our identity," said Kelly Hammond. "We are a community wind band providing entertainment to the local community by performing at a variety of events in the area."
Forthcoming events include free music in Remembrance Sunday where the band will lead the parade and its annual Christmas concert at Exmouth Pavilion.
Hendy Foundation trustee said the band also raises money through its performances and is a worthy recipient of the grant.
"It was great to meet band members Kelly together with new recruits Hilary Thomson and Paul Hiley who are so enthusiastic about playing music in the local community," said Alyson. "We look forward to seeing the new band members in their jackets."
Hendy Foundation is a dedicated charity to provide grants to local projects, people and charitable organisations in the areas in which Hendy Group operates.
It provides grants from £500 to £5,000 to organisations in Devon, Hampshire, Dorset, Wiltshire, Sussex, Kent, and Surrey with funding from Hendy Group which is donating £2 for every retail car it sells which is set to provide up to £50,000 in the first 12 months.
Details of Hendy Foundation and how to apply for grants are now online at www.hendyfoundation.org
Pictured left to right – Hendy Foundation trustee Alyson Marlow with Hilary Thomson, Paul Hiley and Kelly Hammond.