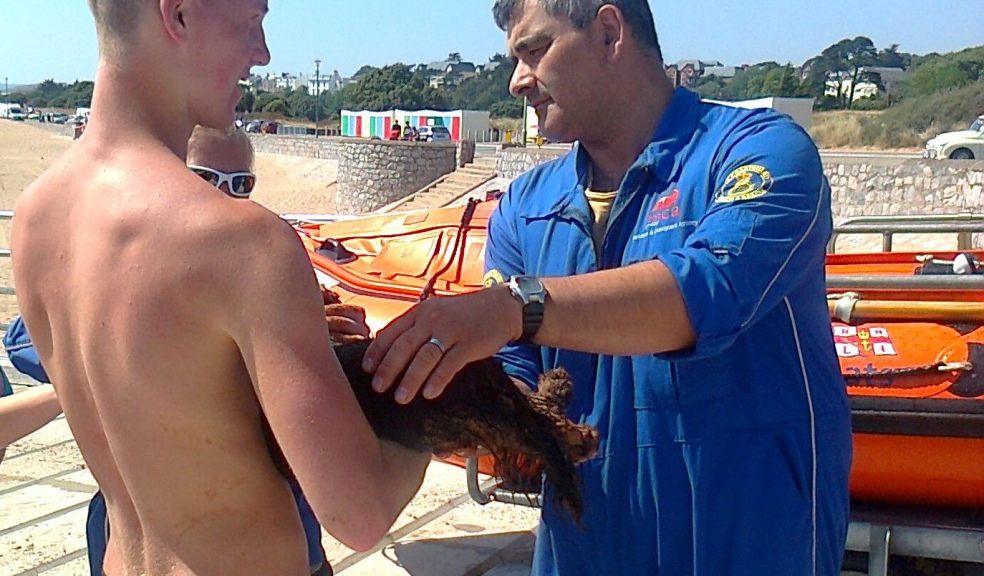 Exmouth RNLI rescue spaniel Missy after cliff fall
On 19 July at 3pm, Brixham coastguard tasked the charity's inshore lifeboat, George Bearman after a call from a member of the public. A dog had fallen from a cliff, close to the Geoneedle at Orcombe point.
Missy, a black spaniel was on a walk with her owner's relative when she ran towards the cliff edge. Missy, who was on holiday from Leicestershire, fell 50m onto the sandy beach below as high tide was approaching. RNLI crew volunteers Scott Ranft, Roger Jackson and Helmsman, Ian Taylor located the dog within six minutes after launching.
The young man had run along the cliff path to Sandy Bay beach and had made his way through the rising tide to find Missy. Both the man and his dog, who had now found themselves cut off by the tide, were taken back to the lifeboat station by the trio of volunteers. Awaiting coastguards took Missy to a local vet for treatment, as it appeared she had suffered a leg injury.
Volunteer Lifeboat Operations Manager, Kevin Riley issued the following advice;
"Dogs need to be kept their leads whilst walking on the cliffs, whether their owners are here on holiday or live local. In this case, the young man did the right thing and didn't follow the dog's path, in which case he could have found himself in more danger. Although he didn't intend to walk near to the water's edge, he was caught out by the rapid change of tides that we experience near Exmouth. Be prepared and be aware of the times of the tides – you can buy a tide table from our souvenir shop."
The vets treating Missy confirmed on Monday 22 July;
"The dog is stable, recovering from internal injuries and will almost certainly need an operation to repair broken bones."