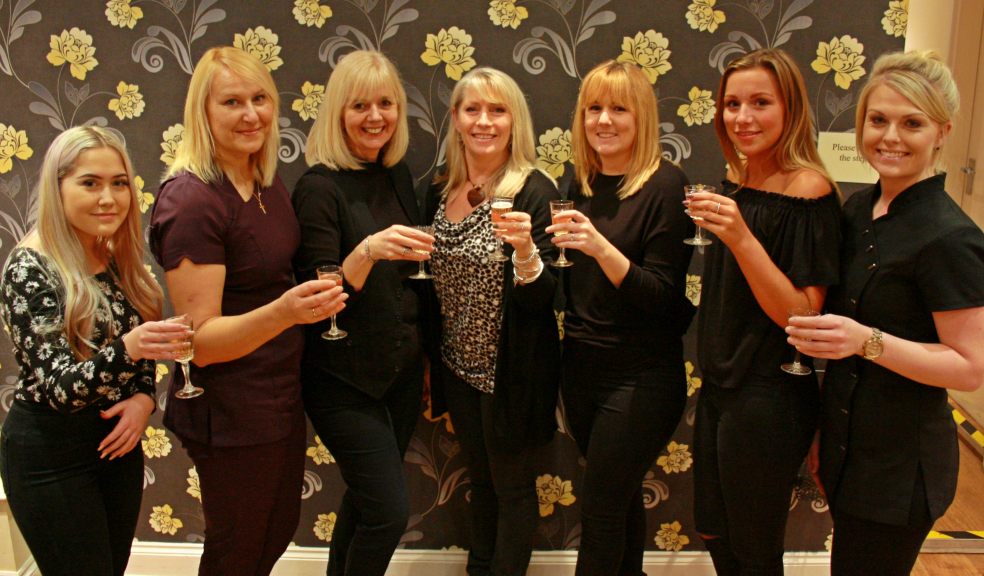 Exminster Hair and Beauty celebrates 10th anniversary
Exminster Hair and Beauty is celebrating its first big birthday after 10 years in the heart of the village.
The professional salon began its life in a converted garage, before moving to the centre of Exminster in early 2008.
Now its dedicated team offer a wealth of experience and talent in providing top quality hair and beauty services to all customers. 
Jane Tombs, who launched the business in July 1998, said she was delighted by the success of Exminster Hair and Beauty.
"It's been brilliant. That's because of our lovely clientele and our fantastic staff. I didn't expect to survive 10 years, so it's been all I could have hoped for and more!"
Jane trained to be a hairdresser aged 16, and now has three adult children.
She said: "When I started the business my children were very young, and I wanted to work within easy access of them. So, I opened-up the salon in my garage.
"The business grew and grew, despite me not really doing any advertising. People just walked-in off the street. It soon became a very busy business."
Jane heard of a business vacancy in the centre of the village, and she took the opportunity to relocate.
She said: "I cut the hair of the man who owned the building. He sadly passed away, but his son told me the business in situ at the time had given notice to leave.
"I would've been mad to turn down the opportunity. So I took the plunge and moved."
The salon continues to expand its hair and beauty services – and is widely recognised as a community hub.
Jane said: "There's a lovely community feel about the place. Often within the salon clients would know each and start chatting, and others wave as they go past.
"At the end of each day, we like to think we've made a difference to our clients and made them feel good. It's such a privilege."
Exminster Hair and Beauty offers hairdressing for all ages; men, women and children; as well as bridal hair and traditional wet shave barbering.
Beauty therapy treatments are available in a separate room adjacent to the main salon.
All appointments start with a personal consultation to achieve your perfect style.
• To find out more about Exminster Hair and Beauty, please visit exminsterhairbeauty.co.uk or www.facebook.com/ExminsterHB
• To book an appointment, please call 01392 834810
Pictured (left to right): Junior Assistant, Fran Palmer; Remedial Therapist, Violeta Mockaitiene; Hair Stylist, Sally Burke; Owner, Jane Tombs; Hair Stylist, Tasha Gatherum-Piper; Hair Stylist, Lizzy Morefield and Beautician, Rhiannon Bate. Remedial therapist, Adrienne Smith also works at the salon.