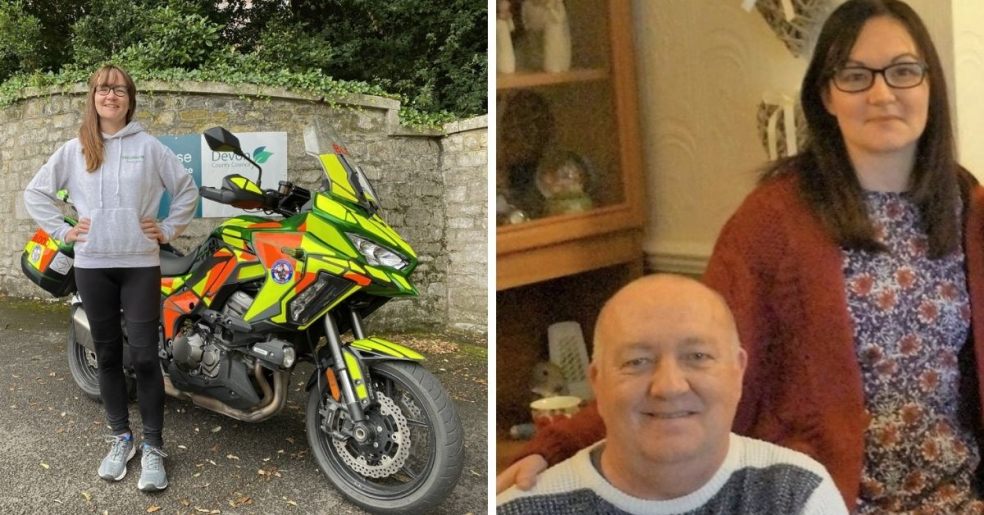 Exeter runner celebrates dad's life with trio of challenges for Devon Freewheelers
A trio of challenges in memory of a much-loved 'petrol-head' dad who died from Covid-19 will raise funds for the Honiton-based Devon Freewheelers. 
Mum-of-three Kelly Lawson, aged 42, of St Leonards, in Exeter, is gearing up for a busy spring when she tackles her own Challenge 62, as a tribute to dad David Meyer, from Chelston, in Torquay, who died from coronavirus in March 2020. 
Married Kelly, an accountant, will celebrate her 62-year-old dad's life by swimming, running and cycling during April and May, in what she expects to be an emotional and poignant challenge. 
Keen runner Kelly has already raised more than £900 of her £1,000 target for the Devon blood bikes charity through her JustGiving page, thanks to an earlier mini challenge supported by her running club members. 
Kelly's Challenge 62 – running and cycling 62 miles and swimming the same number of lengths – will include a run route in the grounds of Cockington Court country park, in Torquay.  
It is a special place which holds happy memories of time spent with her mum and dad. 
Kelly said: "I know dad will be with me every step of the way and will be proud. 
"Dad was a bit of a petrol head and he loved bikes, that's why I wanted to help the Devon Freewheelers. They have done an amazing job during the pandemic, and they are all volunteers." 
She added: "The year has just flown by. I just wanted to put my energy and focus into something positive. 
"I am quite excited. I think it's going to be hard, doing all the swimming. I can swim but I am a breaststroke kind of girl. 
"Running one of the routes is going to be hard and quite emotional. I want to finish at Cockington country park. I used to meet mum and dad at the cafe there. It means something to me, and mum can be at the finish line." 
Daniel Roe-Lavery, Devon Freewheelers CEO, said: "I am in awe of Kelly and her challenge to celebrate the life of her dad. I wish her every success. 
"When people do challenges like this it is amazing. She has already raised a significant amount of money for the Devon Freewheelers.
"We are so grateful to Kelly, and people like her, raising money for us when we can't because of the coronavirus restrictions." 
Kelly, who began running as a hobby around six years ago, boosted her original plan to jog 62 miles over three days, by including swimming and cycling as a nod to the interests of her husband Craig, and their 22-year-old son, Owen.  
Cyclist Craig will accompany Kelly when she tackles the 62-mile bike ride, while swimming teacher Owen will support his mum when she swims lengths of a pool. 
Members of Kelly's running group, Exeter-based Greenbow Running Club – including Devon Freewheelers volunteer Darren Thomas - and Craig's cycling friends plan to accompany the mum-of-three if Covid lockdown restrictions allow. 
"The support I have got from my family and friends has just been amazing," said Kelly. "It was supposed to be sixty-two-mile run, then thought 'I have got a swimmer and a cyclist in my family, so why not?'."  
She added: "Members of the running club will support me and are hoping to join me along the way - it just depends on the restrictions and rules." 
Kelly hopes to swim 62 lengths during the final weekend of April and cycle the planned distance over the first weekend of May. 
She will run 62 miles split across three weekends in early May, with routes expected to include Exmouth to Dawlish, Haldon Forest to Cockington Court country park and Teignmouth seafront to Exeter Quay. 
Donate to Kelly's Challenge 62, in aid of Devon Freewheelers, through her JustGiving page