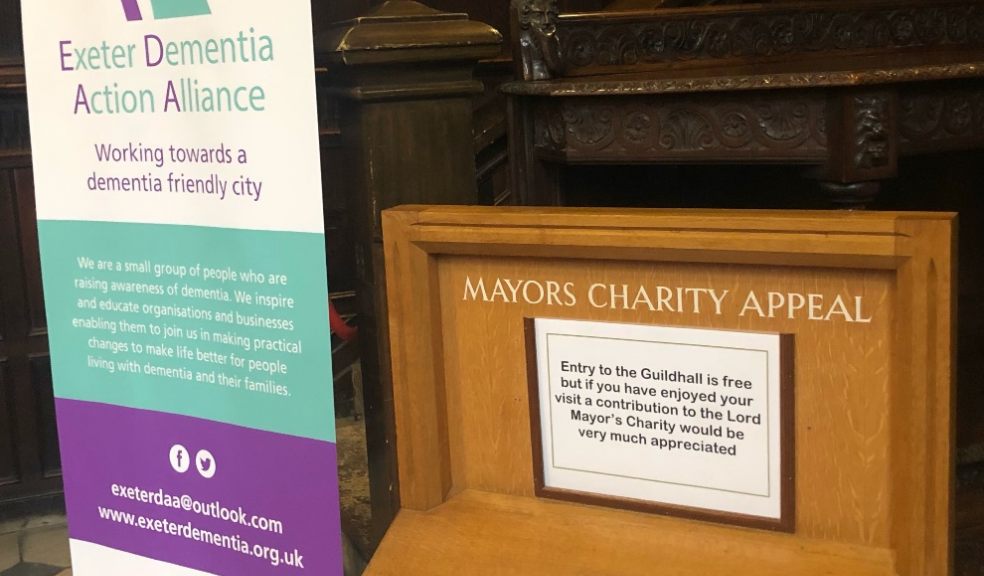 Exeter Dementia Action Alliance selected as The Lord Mayor's charity of the year
Exeter Dementia Action Alliance (EDAA) is a charitable foundation running a range of activities raising awareness of dementia and - alongside many partners and allies - working towards a dementia-friendly city.
They believe that Exeter should be a city in which every organisation respects and values people affected by dementia and makes practical changes to enable people with dementia to live independently and empowered to participate in the community.
The Exeter Dementia Alliance has been raising awareness of dementia across the city since 2015 and during this time has received local, regional, and national recognition for innovative approaches to the challenges placed by dementia on families and communities.
The Alliance has delivered over 160 Dementia awareness sessions reaching over 2500 individuals to organisations and community groups across the city. These sessions have inspired practical change such as dementia accessible signage, dementia friendly cinema screenings, a GP Dementia friendly pocket resource guide distributed across Devon, links with schools and care homes. Cartoonist Tony Husband has been a great supporter of  their work and together have created two fully illustrated calendars generating wide appeal as an exceptional educational resource.
Exeter COSY routes is our latest project, a well-being initiative accessible to all that circles the city at a marathon distance. The opportunity to absorb the scenery of our fantastic city whilst supporting our physical and mental health. It can be walked as part of a team building exercise, family or group of friends or on your own. At a distance of 26.2 miles encompassing 8 smaller routes a number of keen runners have enjoyed running it. Featured on Songs of Praise during Dementia Action Week in May in 2021 we are very proud of what we've created and intend to develop.  
Gina Awad said: "On behalf of our small team being selected as the Lord Mayor's charity of the year is the greatest honour. We are very grateful to be able to share our mission for the city, raise our profile and continue shining a light on dementia."
Gina Awad who founded and leads the Alliance is proud to share her new book 'United - Caring for Our Loved Ones Living with Dementia', illustrated by Tony Husband. It is a short read with a big heart following seven families sharing their personal stories of living with dementia.
"A beautiful and vividly moving book that brings home the challenges faced by or facing those with dementia and their carers" - Sir Tony Robinson
In addition to good bookshops 'United' will be available at the Lord Mayor's coffee mornings throughout the year (with 10% of the proceeds going to the Alliance) and on sale at the Royal Albert Memorial Museum (RAMM) from 2 June, publication date.
Pop along to the Guildhall on one or all of the coffee morning dates below at the beautiful historic Guildhall between 10am and 1pm. You will be able to enjoy a piece of home-made cake and a cuppa with all proceeds going to the work of the alliance.
Sat 11 june 
Sat 23 July 
27 August 
24 September 
22 October 
26 November tbc 
17 December (Christmas theme) 
28 January 2023
25 Feb 2023 
25 March 2023 
22 April 2023 
To find out more about the Exeter Dementia Action Alliance and the fantastic work they are doing for the community please visit the Exeter Dementia Action Alliance website