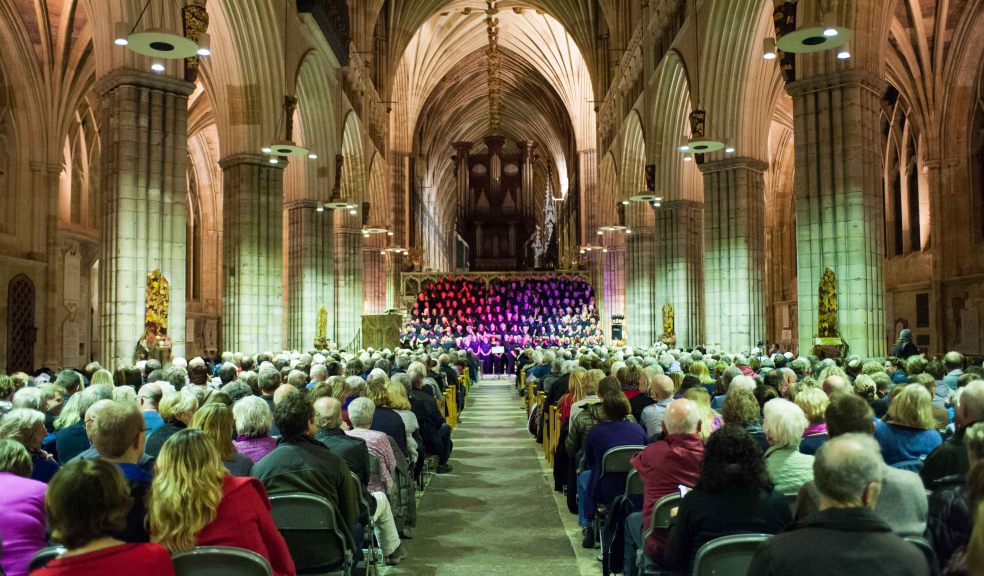 Following the phenomenal success of the concert last Christmas which raised nearly £10,000 for CLIC Sargent, on Friday 9th December, La La Choirs will again perform 'CLIC for Christmas' at Exeter Cathedral.
For the second year, the event includes running a Devon-wide secondary school choir competition with the winning school choir claiming a featured spot in the concert on the night. Entries were invited from secondary schools all over Devon. The standard of entries was excellent and the panel had a tough job whittling them down to the three finalists.
La La Choirs are now thrilled to announce that the finalists are:
The Park Community School, Barnstaple
Devonport High School for Girls, Plymouth
Teignmouth Community School, Teignmouth
The Park Community School were last year's winners. Gareth Roscoe, Head Teacher had this to say about last year.  "I can wholeheartedly endorse the Devon Schools Choir competition, held in partnership with La La Choirs. The Park Community School were fortunate enough to be the winners of this competition in 2015.  Students and staff involved thoroughly enjoyed the competition and the opportunity to perform with La La Choirs and other artists at the finale in Exeter Cathedral.  The benefits of the competition were shared across the whole school community with many parents, staff and students seeing and hearing our students perform. This is a great community event, raising the profile of making and enjoying music with the opportunity to perform in a fantastic venue. This has created many happy memories for our students (and staff) that will last for a long time.  It was a privilege to work alongside Sam and her team during the performances.  She is an inspiring individual who really brings music to life."
Sam Abrahams, La La Choirs' Musical Director said, "Park Community School were last year's eventual winners but they face stiff competition again this year and the prize could go to any one of the three. I am looking forward to hearing them all perform live and I know that my fellow judges and I will have a tough, but fun, job ahead of us.
Music is such an important way for young people to be able to express themselves and singing, particularly in a choir, has so many physical and mental health benefits. I am always so excited to see these youngsters up on stage using their talents and even the choirs that do not get to perform at the Cathedral can be really proud of themselves for getting this far."
The final of the competition will be held on Thursday 6th October 2016 from 10am at Southernhay URC. There is limited seating available for members of the public if they would like to come and watch the competition. Please contact claire@lalachoirs.co.uk for more details if you are interested.
Also performing alongside La La Choirs and the winning school choir on 9th December will be some acts who have been previously supported by CLIC Sargent, plus a special guest.  CLIC for Christmas tickets will be available at the start of September through the La La Choirs website at www.lalachoirs.co.uk. Tickets will be £12 for adults and £6 for under 16s.
About La La Choirs
La La is a family of community choirs that are open to anyone and everyone (18+). Our music ranges from pop to rock, soul to choral. La La Choirs began in Lympstone in September 2008 and is run by Sam Abrahams. It is a very popular and there are now four choirs with over 250 members on the books, who meet every week. The ethos of the choir is simple: if you like singing and enjoy having a laugh then this choir is for you. Whether it's weekly, monthly or just when you can, you are always welcome.
Sam also ran the Lympstone Milwives Choir who featured on the first and second Military Wives Albums and performed with Russell Watson, Katherine Jenkins, in front of the Queen, selecting girls to perform at the Jubilee concert in London and record the 'Sing' EP. Sam began working with the Milwives when she directed a surprise song for Gareth Malone on the final episode of the three part series.
About CLIC Sargent
CLIC Sargent is the UK's leading cancer charity for children and young people, and their families. Today, 10 children and young people, and their families, will have life as they know it turned upside down by the news they have cancer.
Since 2005, CLIC Sargent has been there for thousands of children, young people and families. We help them cope with the shock of diagnosis and the often intense treatment that follows. We help them deal with the devastating emotional, practical and financial impact of cancer. And we help empower them to feel like people rather than patients, supporting families to hand on to a sense of normality when their world has been ripped apart.
Last year we supported 132 families in Devon and funded specialist nurses and social workers across the county. We are currently only able to help two out of three children and young people with cancer across the UK with our vital support. Our aim is to be there for every child and young person when they need us most. www.clicsargent.org.uk