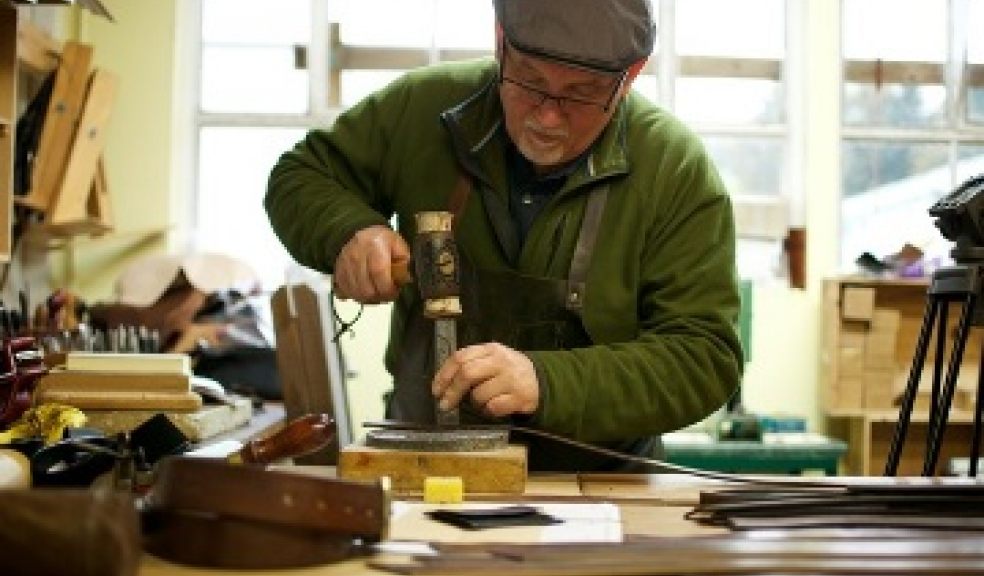 Celebrating local pride and heritage
Devon Guild of Craftsmen have been awarded over £136,000 to support a tour of their exhibition and community project Home Ground, which explores the link between crafts, local industry and English football clubs.
The leading contemporary crafts organisation based in Bovey Tracey was one of 11 successful projects announced as part of Arts Council England's Strategic touring programme funded by the National Lottery.  The programme supports arts organisations to tour high quality work so more people can experience and enjoy it.
Home Ground is an exhibition and community project that explores local identity, working with football clubs with strong craft industry origins.  The three-year project consists of two touring exhibitions, Home Ground and Souvenirs from Home, linked by a community development project.
The participatory project will work with football supporters and local communities, marrying their enthusiasm for their club with ideas of local distinctiveness, history and a sense of place.
Football clubs taking part in the project include Stoke City (The Potters), Sheffield United (The Blades), Walsall (The Saddlers) and Macclesfield Town (The Silkmen) with a further two clubs to be announced.  Devon Guild of Craftsmen will work in partnership with each club to facilitate workshops for groups and communities. These will look at ideas of heritage, local materials and craftsmanship with new audiences and tell stories of the clubs' histories through commissioned work and a series of craft-based workshops that create local 'souvenirs'.
Adrian Hurst, Head of Community at Stoke City FC, said: "We are happy to support and be an active partner in the Devon Guild's participatory project and exhibition tour of Home Ground.  Stoke City Football Club's long association with the Potteries Industry provides the perfect platform to engage community groups and I look forward to exploring how - alongside other partners - we are able to provide new opportunities to explore and celebrate our heritage."
Alongside Stoke City FC, Devon Guild of Craftsmen will bring together partners Middleport Pottery (supported by the Princes Regeneration Trust) and The Potteries Museum and Art Gallery to support the project, which will take place during the British Ceramics Biennial in 2015.
The exhibition Home Ground will first open in Bovey Tracy in September 2014 before touring to the reception area of each of the participating football clubs.  It will showcase the work of contemporary artists/craftsmen who use locally distinct and sourced materials and/or recycled materials in their work.  Producing pieces which reflect and sustain their locality and its culture, the makers will show how important materials, industry and heritage are in creating a sense of place and identity.
A compelling celebratory exhibition Souvenirs from Home, to be previewed at the Devon Guild, is planned for the end of the project in the autumn of 2016.  This exhibition will celebrate the participants' achievements using video, stills and written testimonials to document the personal and emotional impact the exhibition has had, alongside the new souvenirs that have been produced.
Erica Steer, Executive Director, Devon Guild of Craftsmen said. "We are looking forward to bringing the best contemporary craft to new audiences across the country. The Home Ground project builds on our extensive experience of touring exhibitions but this time we will be visiting new and unexpected venues, working with our local partners, exhibition audiences and participants to explore their heritage, encourage innovative ideas and develop skills. We are delighted that Arts Council England are supporting our project."
Phil Gibby, Area Director, South West, Arts Council England, said: "The Strategic touring programme is designed to encourage collaboration between organisations, so that more people across England experience and are inspired by the arts.  In short, we want to make sure that high quality work is seen and enjoyed by as many people as possible.
"The Devon Guild of Craftsmen has an outstanding reputation for making and producing work of the highest quality and we are delighted that this award will introduce new audiences to their innovative contemporary crafts.  By forming strong and sustainable partnerships beyond the crafts sector, the Guild will also have built a meaningful legacy for the future.!"