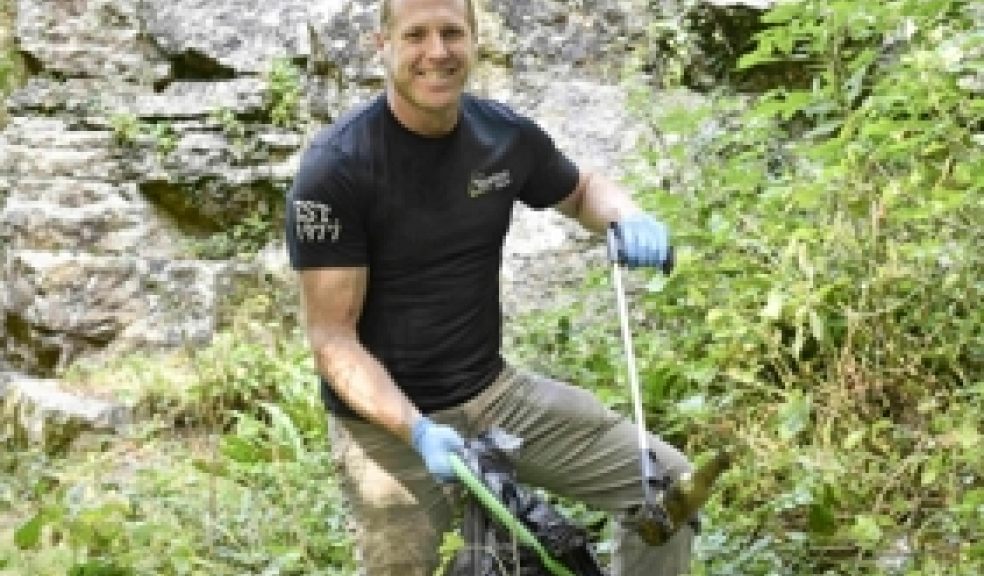 Call to help litter pick and tidy-up at Chudleigh Rocks
WALKERS, hikers, climbers and families from Devon are being asked to come out in force to help clear litter and tidy-up at a popular beauty spot near Exeter next month (January 27, 2018).
Taunton Leisure – Exeter, which is on Fore Street in the city, is organising the litter pick at Chudleigh Rocks (south side) on Sunday, January 27 from 10am until 4pm.
Store Manager, Nick Baron, who is a keen climber, explained: "We're hoping lots of people from the walking, hiking and climbing community join us for this event, as well as families, and anyone who enjoys the great outdoors and wants to help keep the area litter-free.
"There are several areas that need work on them, some bits are fine for all comers, such as litter picking at the base of the crag and also across the top where the general public walk around, as well as removal of vegetation at the base of the crag at ground level. Other areas will require the assistance of experienced climbers, for example, tackling the abseil routes to clean vegetation, particularly ivy, from the less popular lines.
"We also need climbers to 'Climb and Clean' as many of the easier routes have some vegetation that can be removed while actually climbing them. If the weather is good, this should give people the chance to get a bit of a climb in as well as helping out, which is an added bonus.
"We're happy to provide bags, litter picking sticks and industrial-strength gloves for people to use and, also, free tea, coffee and soft drinks for helpers."
Chudleigh Rocks, which is close to Exeter, is one of the best crags in Devon and it, and the surrounding area, represent a Site of Special Scientific Interest (SSSI).
"It's really important to help keep the crag clean and tidy, so it can be enjoyed by visitors, young and old and of all abilities, whether climbing or walking in the area.
"Made up of compact limestone, Chudleigh is exclusively a traditional climbing venue and it holds a special place in my heart. It's a great place to learn to Trad climb. I did many of my first Trad leads there and still go and repeat the crag classics nearly every year.
"Surrounded by trees the crag is well sheltered, so if the weather is looking grim up on the moor it can be a good venue to visit. It also dries fairly quickly after rain too.
"There are lots of climbing routes on the crag and the new (2018) South Devon guide is pretty much definitive and extremely well produced. The Rockfax suggests a small number of the routes, Dave Hendersons 'Javu' has a selected guide and the South Devon Mountaineering Club have an online guide as well, which is pretty good too, so anyone who has not been before should take a look at these.
"I would recommend the area to anyone who is a keen climber and hasn't tried it yet. One thing to remember though, the caves under the rocks house many species of bat, which are protected, so please take care and treat the crag with respect otherwise access could be limited or lost altogether.
"Hopefully lots of climbers will come on the day to help with the litter pick and tidy-up, so we can help keep the area in good condition for people to enjoy for generations to come."
Taunton Leisure on Fore Street in Exeter has been helping its customers get the right clothing, footwear and outdoor leisure equipment for more than 40 years.
Customers travel specifically to visit the store as it is well-known and respected for its specialist expertise and skills. It is particularly known for its climbing know-how and has team members who are experienced in wild camping and bush craft.
From walking boots to climbing shoes or tents to outdoor cookware, Taunton Leisure supplies more than 3,500 products online or in-store and has friendly knowledgeable staff on hand to offer expert advice too.
Taunton Leisure – Exeter partners with climbing and mountaineering organisations and, also, has an extensive Tent Showroom covering more than 3,000 sq/ft.
The company, which has stores in Bristol and Taunton as well, stocks well-known brands such as Altberg, Rab, The North Face, Vango, Outwell, Osprey, Mountain Equipment and Meindl.
It also provides niche products and is the only retailer in the UK to sell Snow Peak Titanium Cookware.
The Taunton Leisure – Exeter litter pick at Chudleigh Rocks (south side) takes place on Sunday, January 27 from 10am until 4pm.
For more information, please visit Taunton Leisure on Fore Street in Exeter or www.tauntonleisure.com. Alternatively, please call 01392 410534 or connect via https://www.facebook.com/TauntonLeisure/ or https://twitter.com/tauntonleisure.