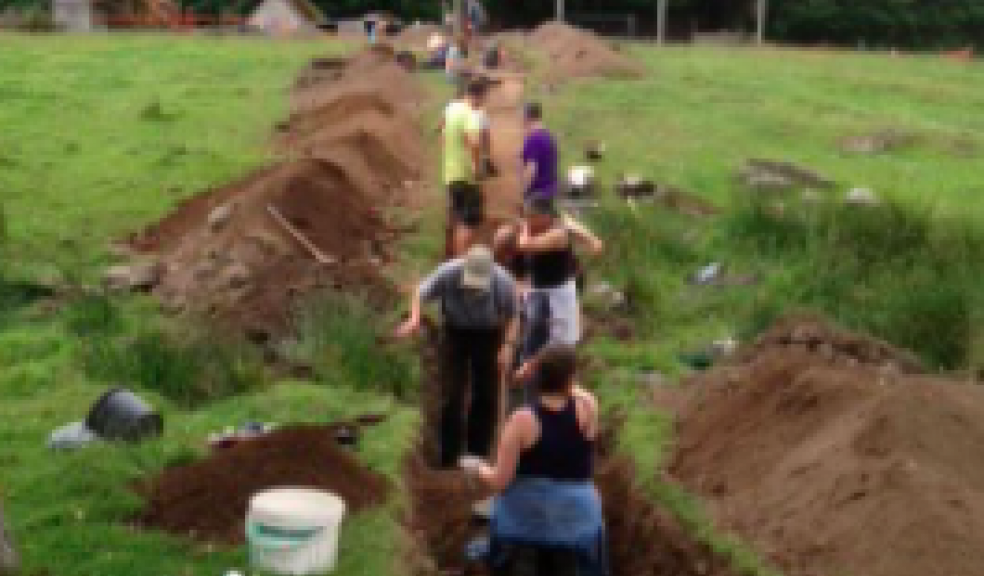 Archaeologists lead community dig on lost Dartmoor Manor
From Monday 27 June until Saturday 2 July 2016 archaeologists will be returning to the site of North Hall Manor in Widecombe-in-the-Moor to continue investigations into this intriguing site.
This will be the third season of excavation. The first phase in 2012 targeted the medieval manor site and revealed wall footings, boundary works and pottery that strongly suggest a high status medieval building once stood in the area.
The excavation this year will continue to investigate some of the features unearthed in previous digs with the hope of finding out more about their age and use.
The excavation is very much a community project and local volunteers will be undertaking the majority of the excavation works closely supervised by professional archaeologists. Local school groups will also be visiting the site and lending a hand. Last year we had over 100 local school children visit to learn more about their medieval heritage.
The public are invited to come along and discover what has been found at the site on an open day to be held on Saturday 2 July from 10:30 to 16:00. There will be site tours, family activities, displays and a chance to see what has been found.
Andy Crabb, Archaeologist, Dartmoor National Park said: 'The team are very excited to continue the community excavation at North Hall later this month. With a week of digging to look forward too we hope, with our eager local volunteers, we will shed more light on the features we started to unearth last year which include a stone building, evidence for wooden structures, a moat, as well as some intriguing features that appeared on an aerial photograph.'
This series of excavations is the culmination of many years of research undertaken by local historian Peter Rennells into the location of the Medieval Manor of North Hall and would not have been possible without his dedication and determination.
The excavation is organised by Dartmoor National Park and funded by the Heritage Lottery Funded scheme, Moor than meets the eye which is helping people to discover the Dartmoor Story.