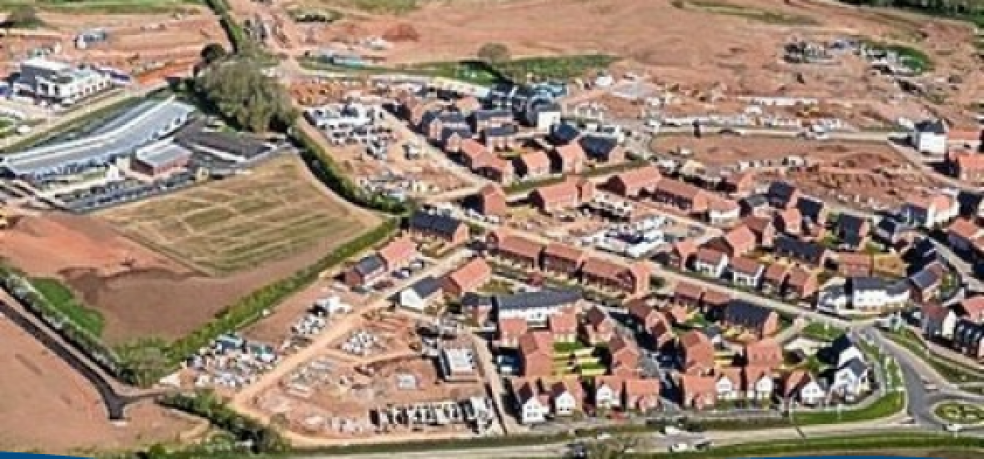 Aerial view shows how fast Exeter's growing
These stunning aerial photos show how the developments in the Exeter & East Devon Growth Point are rapidly taking shape.
Captured by Still Imaging, the pictures provide a unique perspective on how huge investment in creating homes and employment opportunities is transforming the landscape to the east of Exeter.
Construction at the new town of Cranbrook is continuing apace. Since May last year, more than 400 homes have been started, with around 200 completed so far. Up to 6,000 homes are expected to be built by 2026.
Just off Junction 29 of the M5, work has started on the first building on Exeter Science Park, the new headquarters of Exeter-based developers Eagle One and sister company Blue Cedar Homes.
About £240m is expected to be spent on developing Exeter Science Park over the next 20 to 25 years.
The £210m Skypark development, next to Exeter International Airport, aims to provide 1.4m sq ft of office, industrial and manufacturing space. Plans were submitted for a 24,165 sq ft facility for the South Western Ambulance Service NHS Foundation Trust in April.
Construction work has been completed on E.ON's £3m energy centre, which will supply both Skypark and Cranbrook.
Hilton Worldwide recently created 55 jobs with the opening of its 120-bedroom Hampton by Hilton hotel at Exeter Airport, opposite the Flybe Training Academy.
Other developments in the area include a huge new Sainsbury's distribution centre. At 550,000 sq ft, it will be the largest building in Devon, roughly two-thirds the size of the Morrisons distribution centre beside the M5 at Bridgwater. The depot is due to open next year, with up to 450 jobs due to be created once it is operating at full capacity.
A package of transport infrastructure works paved the way for the developments, including £11m of improvements around Junction 29.
The £9m Clyst Honiton bypass is nearing completion, and when it opens this summer will enable goods vehicles and other traffic to access Skypark, Cranbrook and the supermarket depot from the A30 without passing through the village.
Andy Wood, projects director for the Growth Point, said: "There has been tangible progress on each of the strategic developments in the past 12 months, which is fantastic.
"Housebuilding rates have been ahead of expectations, which is testament to Cranbrook being a popular place to live with a good school.
"In the coming year I expect to see continuing progress on the jobs front, with the first jobs at both Skypark and Science Park as the objective."