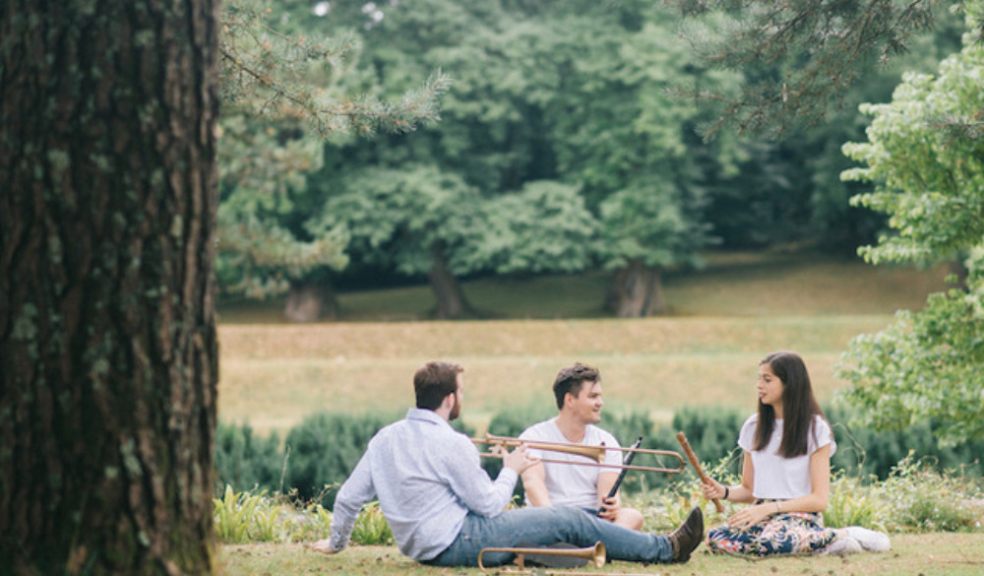 2020 Dartington Summer School & Festival course programme announced, curated by new Artistic Director Sara Mohr-Pietsch
Dartington Music Summer School & Festival 2020
25 July – 22 August 2020
Dartington Hall, Devon
Dartington Music Summer School & Festival is delighted to announce its 2020 course programme, curated by new Artistic Director, Sara Mohr-Pietsch. 
The 2020 event promises a transformative summer of shared music-making, bringing together a unique community of amateurs, professionals, audiences and volunteers on the magical Dartington Hall estate. 
Sara Mohr-Pietsch was announced as Artistic Director last year, adding to her significant career as a BBC Radio 3 broadcaster and writer. Her programme will open up the worlds of classical, folk, jazz and experimental music to a wider audience than ever, with a huge array of courses and workshops on offer for all ages and abilities, taught by an impressive line-up of international performers, composers and writers.
Mohr-Pietsch's first programme boasts several new elements to broaden participation and engagement. A new strand of work, Future Sounds, will bring writers and radio-makers together to open up a conversation about music. A strong commitment to new work will see composition teaching introduced in each of the four weeks, and two major works commissioned for community choir. Dartington will also team up with a host of national partners in 2020, including Café OTO, Royal Philharmonic Society, The Nest Collective, CoMA and Soundart Radio, to enrich the Summer School experience and invite the wider world in. 
Creating a family-friendly atmosphere is an essential part of Mohr-Pietsch's direction, and the 2020 programme includes Dartington's first-ever short course for parents and children, as well as a week-long children's choir, and one-off music workshops for infants.
The month-long programme is divided into four individually-themed weeks:
WEEK 1 marks the 400th anniversary of The Mayflower's voyage with three American composers. Nico Muhly makes first visit to Dartington as composer-in-residence, Moira Smiley teaches Appalachian song, and Native American composer Raven Chacon leads outdoor performances. Other headline artists include countertenor Iestyn Davies, vocal ensemble Stile Antico and viol consort Fretwork. 
WEEK 2 celebrates the cross-over between folk and baroque music. Two of the UK's leading baroque ensembles make their Dartington debut with residencies: conductor John Butt's Dunedin Consort, and violinist Rachel Podger's Brecon Baroque. The Nest Collective brings its Fire Choir and Campfire Club to Dartington, and fiddler Aidan O'Rourke leads the first ever folk composition course. 
WEEK 3 offer an immersion in Beethoven's music, marking his 250th anniversary. Highlights include a performance of the complete Beethoven piano sonatas in 24 hours, bringing together amateur pianists with leading artists Martin Roscoe, Ivana Gavric, Tom Poster and Florian Mitrea; and a new commission from composer John Barber and writer Hazel Gould for massed voices, inspired by Beethoven's Ode to Joy. Dartington's acclaimed conducting course will be produced in partnership with the RPS Women Conductors programme. Other headline artists include cellist Matthew Barley, violinist Thomas Gould, mezzo Kitty Whately and pianist Joseph Middleton. 
WEEK 4 celebrates experimental music, including a festival performance of Duke Ellington's Sacred Concerts, led by jazz bandleader Peter Edwards and Nu Civilisation Orchestra, and a new strand of experimental music courses in partnership with London venue Café OTO. Other headline artists include gospel choir Black Voices, composers Cassandra Miller and Christopher Fox, Quatuor Bozzini, soprano Juliet Fraser, vocal ensemble EXAUDI and pianist Sarah Nicolls. 
Sara Mohr-Pietsch says: 'My first experience of Dartington Summer School 25 years ago was life-changing, and it's my pleasure to be able to invite people of all ages, backgrounds and musical experience to come and take part in a similarly transformative summer of shared music-making in 2020.  I'm looking forward to bringing together an incredible line-up of the finest international artists to teach our vibrant programme of courses, including composers, instrumentalists, writers and thinkers.'
Full week course passes, individual course passes and day observer passes are available. Booking for residential courses open from 2nd December. Courses can be booked through Dartington's website dartington.org/summerschool or by telephone on +44 (0)1803 847080. 
The full concert programme will be announced in March 2020.
Artists and organisers are available for interview. Press please contact Anna Beketov, Damson PR, anna.beketov@damsonpr.com, +44 (0)20 3981 5200.