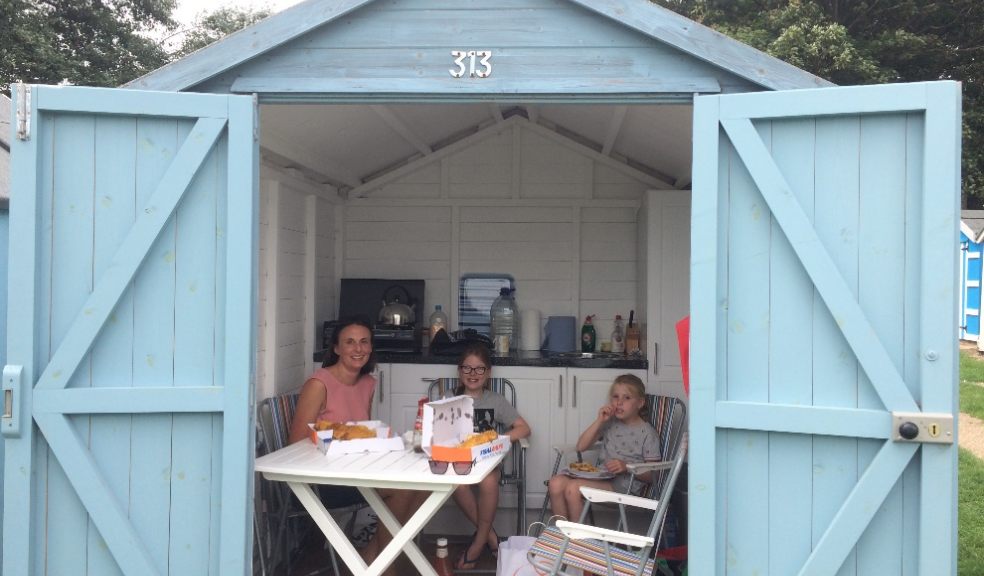 UK's Beach Hut of the Year 2021 competition invites a new season of beach hut stories
Every Hut's a Castle: The hugely popular competition celebrating the UK's iconic and much-loved coastline havens has returned for its second year, with Beach Hut insurance specialists, Ryan's Insurance inviting owners to enter to win over £1000 of prizes.
This year, in collaboration with both Millie's Beach Huts, and the bestselling British author and scriptwriter, Veronica Henry, the competition is calling on the UK's 20,000-plus beach hut owners to compete to become the prestigious winner of the 'Ryan's Beach Hut of the Year 2021' – with entries judged on beach hut uses and the difference they make to people's lives, rather than simply aesthetics.
Veronica Henry, who is launching the latest in her series of her Beach Hut novels, 'A Day at the Beach Hut' on 10 June, commented: "The beach is one of my favourite places to be and the beach hut is a wonderful haven to relax and unwind, recuperate and get creative. My new book is a collection of short stories and recipes all designed to transport you to the golden sands of Everdene – the perfect mix maybe for beach hut owners to find inspiration and the words to craft their entries into this year's Ryan's Beach Hut of the Year competition.
I'm really delighted to be joining the team of judges at Ryan's and Millie's Beach Huts and I can't wait to get stuck in to reading about all the amazing uses people put their huts to, especially over the past year when finding a place where we can see that life is still happening all around us has been so much more important.
A massive wave of demand
Beach huts – already a hugely popular destination for many – have had a massive boost in popularity in the past year, with prices rocketing by a massive 40 per cent plus as demand has soared ahead of another summer of staycations.
Vicky Gunn, owner of Walton-on-the-Naze based beach hut rental business, Millie's Beach Huts, and judge for the competition, said: "Demand for a day out at a beach hut is higher than ever due to the pandemic and dates are being snapped up as soon as they're released. Each time we've released a batch of dates, they've sold out in record time, even on mid-week, off-peak dates.  We expect further releases to go even quicker.
"Beach huts are also increasingly popular in the media and it was great to feature last year on the BBC 2 TV show 'Interior Design Masters with Alan Carr', during which we revamped three of our huts."
The huts revamped on the show, included Millie's Beach Huts' most popular rental, 'Harley', now decked out as a retro 1950s diner.
"I bought Harley four years ago for £10,000 and it's now revalued at more than four times that investment. The joy and comfort that a beach hut can bring is in huge demand!"
That joy and comfort is a beach hut benefit that last year's winner, Axminster and Lyme Cancer Support, agrees with. Their beach hut, which is funded by the Ammonite Grant, awarded via Lyme Regis Town Council – a donation from the producers of the new British movie starring Oscar winner Kate Winslet, Ammonite – provides a haven for people in the community living with cancer.
Speaking for Axminster and Lyme Cancer Support, Mary Kahn said: "We were delighted that our 'little shed by the sea' won the best beach hut award from Ryan's Insurance last year. Our beach hut is more than a wooden shed by the sea. It is a refuge for the anxious, the sick, the bereaved and those who want to spend valuable time with family. It was wonderful to have what we do recognised."
Open for entry
The Ryan's competition, which is open now and runs until 6 September, will celebrate best beach hut uses, however small or grand they might be, exploring beach hut owners' stories – from restoration projects and storm damage come-backs through to family weddings, creating a sanctuary for recovering from illness or escaping life's daily stresses, and even raising money for charity or realising a life-long dream.
Entry is free, quick and simple, with owners of beach huts from anywhere in the UK encouraged to complete a 200-word summary explaining why their beach hut is best, as well as up to four supporting pictures.
Winners will be announced on 27th September, with a first prize of £300 plus one year's free insurance and a luxury hamper, as well as a winner's plaque and a £150 donation to the winner's local Beach Hut Association or a charity of their choice if not an association member. Runners up will also be celebrated, with second prize of £200 plus plaque and a third prize of £100 plus plaque.
Tracy Healey at Ryan's and a judge for the competition, said: "Last year's competition was a huge success and we loved reading all of the entries. We had so many to read and, knowing beach hut use will be even greater this year based on the insurance enquiries we receive and their popularity in the news, it's great to welcome Veronica Henry to our panel of judges. We're all already looking forward to reading all the submissions later this summer."
The Ryan's Beach Hut of the Year 2021 competition, including the entry form, all details and terms and conditions, can be found here.