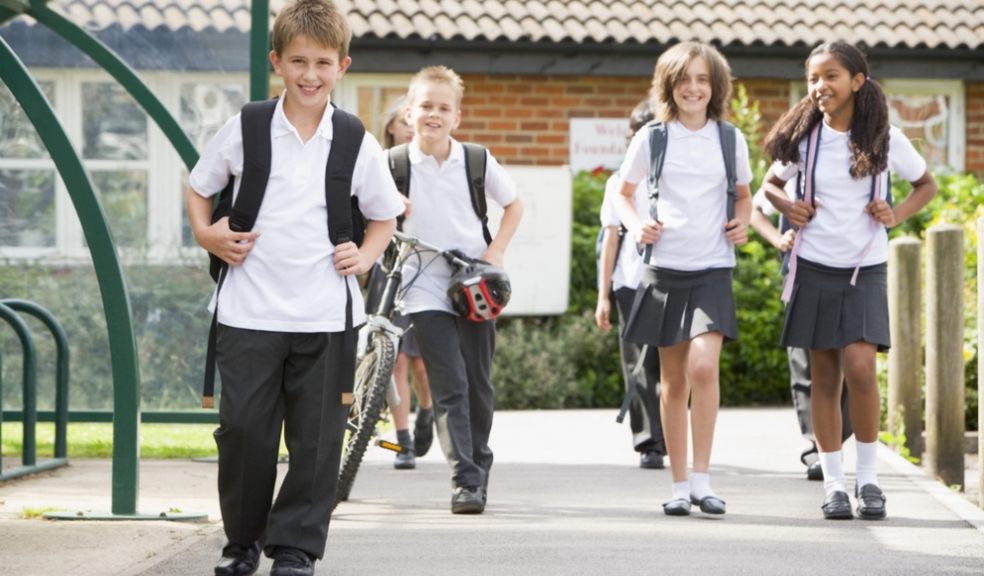 "School Streets" adopted by three Devon primary schools
Three Devon primary schools will be starting their new academic year with the introduction of permanent changes to the environment outside of their school gates.
From tomorrow (Wednesday 8 September), Bradley Barton Primary in Newton Abbot, Ladysmith Primary in Exeter and Whipton Barton Federation in Exeter, will adopt the "School Streets" measures to restrict traffic outside the schools during drop off and pick up times.
The schools have been taking part in a scheme trial over the past year. They found that restricting motor vehicle access outside the school entrance at the start and end of the school day reduced congestion and pollution. This, in turn, created a calmer, safer and more pleasant environment, allowing children to travel to and from school in more active ways.
Devon County Council is making the measures permanent following positive feedback to its consultation earlier this year on the School Streets closures.
The trial received strong support from parents, school staff and local residents, with the results of the consultation across the three schools showing that 86% of those who responded wanted the school streets to be made permanent.
Perceived benefits included a sense of greater personal safety, more room for social distancing and reduced congestion. Some parents said they now feel more confident in letting their children walk to school, and teachers noted that children settled in class more quickly, leading to a better learning environment.
Those who took part in the consultation also said that their travel habits changed after the introduction of the School Streets scheme, with a 20% reduction in car use for school journeys and an 18% increase in active travel modes.
Councillor Stuart Hughes, Devon County Council Cabinet Member for Highway Management, said: "School Streets is a fairly straight forward way of encouraging people to walk and cycle, and these three pioneering schools have shown over the past year that it works. These schemes are helping to tackle congestion and reduce carbon emissions outside of the schools and the pupils and their parents are improving their health and wellbeing at the same time."
Councillor Phil Bullivant, County Councillor for Newton Abbot North, said: "Since the start of the scheme at Bradley Barton School I have had the opportunity, every Monday and Friday to close the road outside of the school. I therefore have been able to see how effective the scheme has been and am delighted that the benefits will now be maintained to protect the children coming to and leaving the school."
Councillor Su Aves, County Councillor for St Sidwells and St James, said: "I began the conversation with the Ladysmith Schools' headteachers, the police, residents and highways officers back in 2018 about the safety of children travelling to school. The traffic has always been very congested at drop off and pick up times. The anxiety of this led to unsafe driving and some vehicles stopping in inappropriate places putting children at risk when crossing the road. I am so pleased that the school street is being made permanent. This change is popular with parents, residents and staff at the schools, as many have told me when I have visited the school. The atmosphere in Pretoria Road has completely changed for the better. It has been wonderful to see the safe and calm arrival of children at school which is so important. I hope more families will now enjoy walking or cycling to school and leave their car at home. I also hope that those that do need to drive will now leave enough time to park a distance from the school and walk in calmly."
Councillor Danny Barnes, County Councillor for Heavitree and Whipton Barton, said: "The trial of the School Streets scheme has delivered some excellent results to promote active travel and improve the local environment, and I'm pleased that our local community has given it such positive support. Further schemes supporting walking and cycling will be consulted on via the Exeter Streets consultation which will be live this week. We want to encourage everyone to have the opportunity to lead healthier lifestyles and by doing so we can all play a part in tackling the climate emergency."
The County Council is launching a second phase of consultation on creating calmer and quieter streets in Heavitree and Whipton. The online consultation is available at https://placebuilder.io/exeterstreets/heavitreeandwhipton 
The Exeter & Cranbrook 'Live & Move' Sport England programme is helping more families become active in everyday life and will be encouraging more schools to take part in the School Streets initiative.