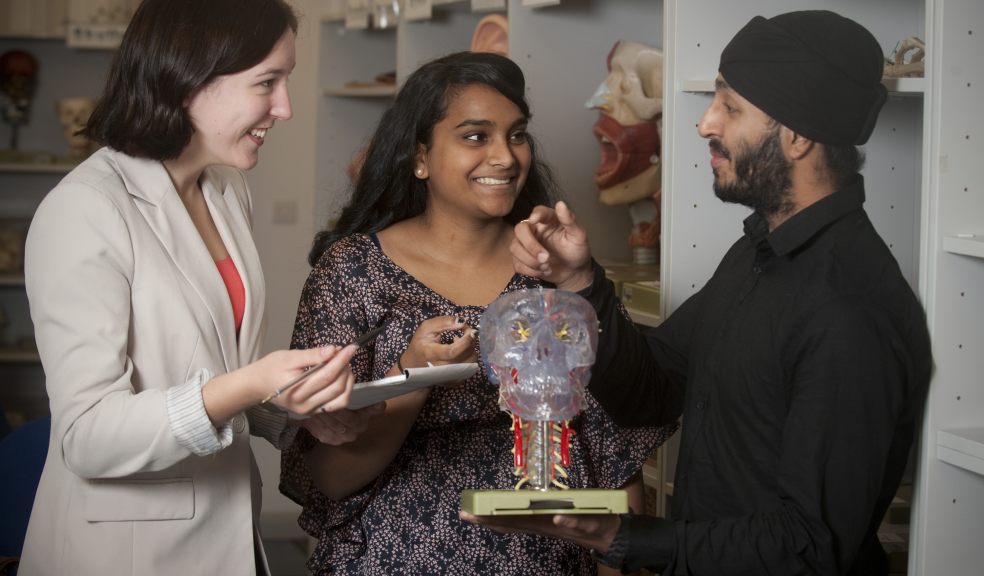 Medical School welcomes first Medicine students
The first intake of Medicine students have embarked on the path to becoming a doctor at the University of Exeter Medical School.
The class of 2013 is made up of 130 students have enrolled for the five year degree which will see them working in NHS Trusts across the South West.
Professor Steve Thornton, Dean of the University of Exeter Medical School, said: "This is a real milestone for us, and we're extremely excited to welcome our first Medicine students. The NHS is under extreme pressure from an increasingly aging population amid squeezed resources. Our ethos is to train the leaders of the future to rise to this challenge. Our graduates will be ready for practice on day one, and will be adaptable and dedicated to a lifetime of learning. We know that they provide vibrancy and a fresh perspective in health trusts across the South West, and that their contribution is invaluable to patient care."
Praveena Deekonda, age 20, has travelled from her home in Toronto, Canada, to study at Exeter. She said: "I chose Exeter because I was extremely impressed with the design of the curriculum. The University of Exeter Medical School's teaching is based around solving problems which clinicians would encounter in the work place. Teaching is in small groups and designed to encourage independent thinking. I thought this would help me develop the teamwork skills needed for working in healthcare teams. I can't wait to get settled and meet my classmates and tutors!"
The students will begin their studies at the University's St Luke's campus, and many will later take up placements with partners at hospital Trusts in Truro, Exeter, North Devon and Torbay.
Sanam Grover, 19, is moving from Middlesex to study at Exeter. He said: "I'm really looking forward to getting started. I love the scenery, and the fact that the St Luke's campus is right in the city centre. It's extremely student friendly."
The Medical School is also looking forward to welcoming its largest ever intake of Bachelor of Clinical Science students. Around 66 students will start the course this year. In June, the first cohort of 23 students graduated with flying colours, with nine out of ten students achieving 1st or Upper Second Class Honours.
The newly formed Medical School builds on the success of Peninsula College of Medicine & Dentistry, a 10-year partnership with Plymouth University.