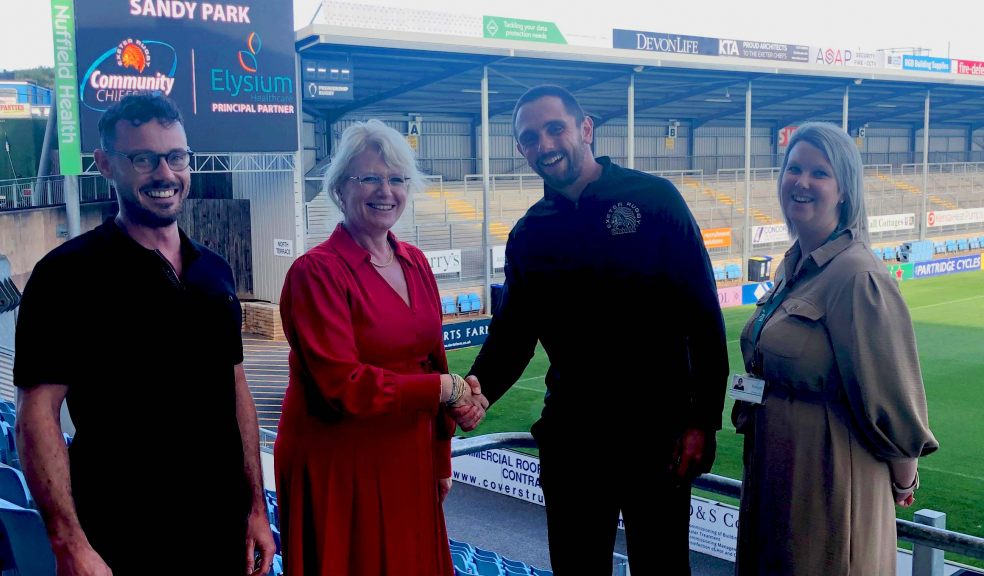 Elysium Healthcare make a conversion with Exeter Chiefs
Elysium Healthcare, a young and dynamic independent provider of Mental Health, Neurological, Learning Disabilities & Autism, Children & Education and Private Patient services, has secured key sponsorship of the Exeter Chiefs for the 2021-2022 season.
The partnership reflects the joint missions of the Chiefs and Elysium in providing Mental Health support to people living in the Exeter area, with Elysium recently launching two new services in Exeter and the Chiefs offering Mental Health Awareness sessions to local schools in the past.
Promoted to the Premiership for the first time in 2010, the Chiefs have become one of the leading clubs in the Premiership, winning the championship title twice and reaching a further four finals. In October 2020, the Chiefs won the Champions Cup,the top prize in European club rugby union.
At the official launch ceremony,  Tony Rowe OBE, Exeter Rugby Club chairman and Chief executive, said: "As a club, we are thrilled to welcome Elysium Healthcare on board as our new main Community sponsor. In sealing this partnership, it was imperative that we found a partner who shared our vision that encompassed all the great work we do as a club within the local community.
"Like ourselves, Elysium Healthcare know how important it is for people of all ages within the community to lead an active and healthy lifestyle. What our community team does with programmes such as HITZ, Project Rugby, Land Rover Premiership Cup, Super Saturdays and Train Like A Chief really does make a difference and it will only be bolstered by the backing we now have from our new sponsors."
Aron Struminski, Community Development Manager for the Exeter Chiefs, said: "In what has been a hugely challenging time for all of us over the past 18 months, we have seen first-hand the impact Community Chiefs can have across the region in helping deliver our wide-range of programmes. Having the support of Elysium Healthcare means we will not only be able to continue all of that hard work, but we can add to it and help make a real difference to people of all ages."
Joy Chamberlain, CEO at Elysium, commented "We are absolutely delighted to be partnering with the Exeter Chiefs – it's a wonderful example of how two companies can unite to support people in need and make a real difference to their lives. The work that the Community Chiefs do within the local community, supporting the health and welfare of young people, is truly inspiring and embodies Elysium's pledge to deliver the kind of services that people deserve."