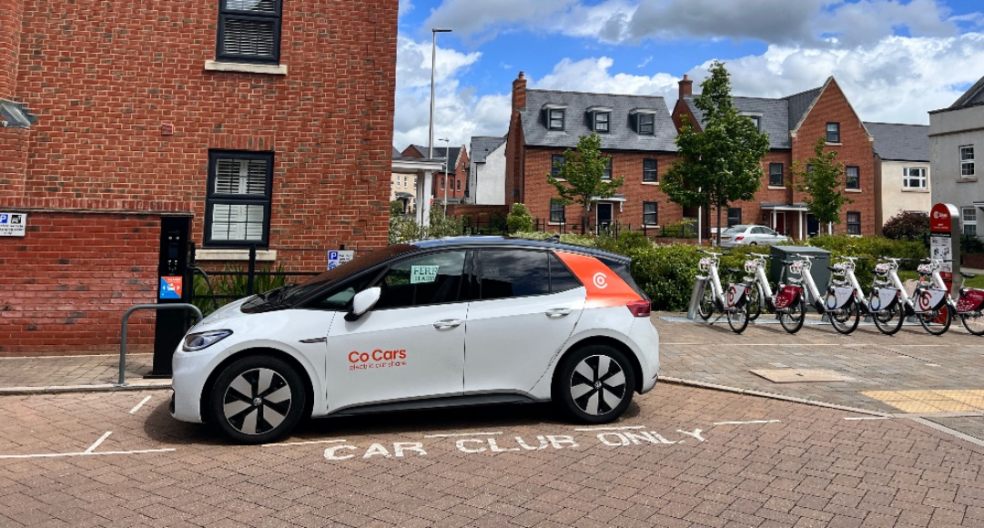 Exeter family saves over £3,500 by ditching private car and switching to car club
Households can save hundreds of pounds every year by switching from a private vehicle to car club membership, new research has revealed.
Mark Richardson, 50, a foodbank manager from Exeter, has told how he and his family saved £3,500 since giving up their private car in 2020.
The new research by Collaborative Mobility UK (CoMoUK) comes as the charity launches a new tool which tells people how much money, carbon and calories they could save by using car clubs, bike share schemes, walking and cycling.
CoMoUK has created the Travel Better Tool - which is available for people across the UK at www.travelbetter.org.uk.
It asks about journeys taken both during the week and at the weekend, how many miles are travelled and by what mode of transport, and information about vehicle occupancy - with users presented with recommendations for shifting to more active and sustainable methods where suitable. 
CoMoUK has also highlighted how shared transport options can help families navigate the cost-of-living crisis.
With the rising cost of living reaching crisis levels across the country, the cost savings that shared and sustainable transport can provide are expected to be a key attraction of the tool. CoMoUK's most recent report on car clubs highlighted that 73 per cent of users saved money against owning a car.
Overall membership of car clubs in the UK grew by 24 per cent in 2021 to 784,122, with more than 116,000 privately-owned vehicles removed from the roads.
The new research shows that the average annual cost of owning a new Ford Fiesta on a lease is £3,801, including fuel, insurance and tax. But using the same vehicle through a car club membership would cost only £1,678.60, saving £2,122.40.
Owning an older car outright costs an average of £2,524-a-year, meaning a car club membership would save £845.40.
Rachael Murphy of CoMoUK said: "Shared transport like car clubs, ride share and bike hire schemes help to reduce the overall number of vehicles on the road network, and encourage active travel like walking, wheeling and cycling.
"Our new Travel Better tool demonstrates how people can travel more sustainably, and highlights the benefits to their health, as well as showing how they can reduce their carbon footprint and save money.
"In just a few simple steps, users can find out where their nearest bike share schemes are and learn more about using car clubs and ride share.
"I'm struck by what shared transport users have shared about the financial freedom they've achieved by being part of a car club or bike share scheme.
"Amid the cost-of-living crisis, our new research shows that households could save hundreds of pounds by switching to car club membership.
"Domestic transport also remains the largest source of emissions in the UK, and decarbonising road transport is crucial to meeting climate crisis targets."
Co Cars member Mark Richardson, 50, a foodbank manager from Exeter, saved thousands of pounds in his first year of not owning a car.
The Richardson family – including Mark's wife Claire and their son Ally (14) and daughter Frankie (12) - have been using Co Cars since their car broke down in January 2020.
"We decided to give it a try as we were already thinking of trialling it," Mark said.
"Then our son came home and said that Co Cars had come in to their school to do a talk.
"We were already considering what differences we could make to be more 'green' as a family - and this seemed to make sense.
"Since that day in 2020, we have saved over £3,500 and we have got another car off the very busy Exeter roads.
"We and the kids are really bought in to the ethos. It models a more communal and less individualistic way of living, and we really wanted our kids to see that in a practical way.
"We use Co Cars for essential trips and go out one day most weekends for about five hours.
"We always get to drive a clean car and we never have to service or repair it."