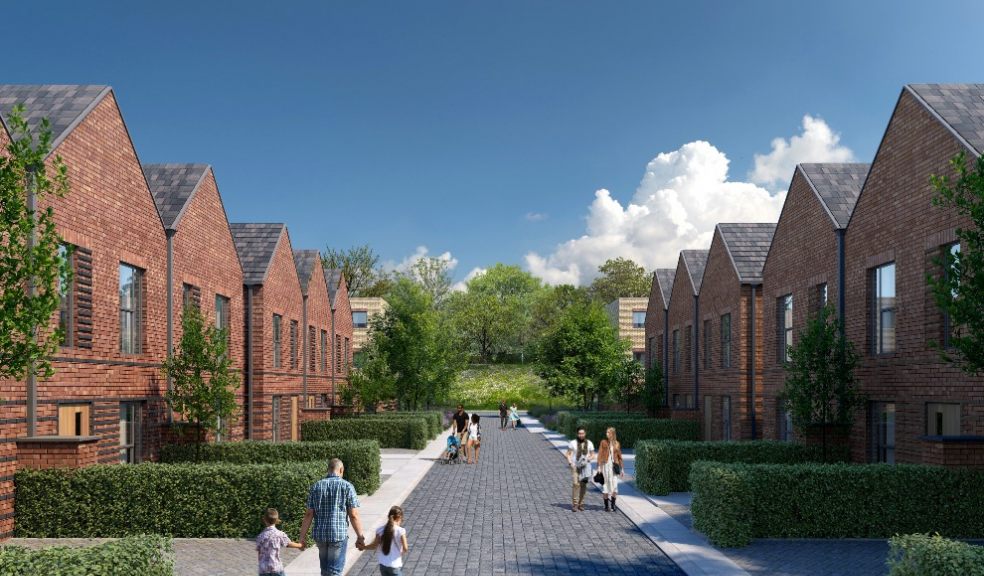 Ilke Homes secures significant development site in Exeter
Leading modular housing firm plans to deliver 165 new homes at Exmouth Junction, Exeter
Leading modular housing company ilke Homes has secured a development site for 165 new homes on Phase 2, Exmouth Junction, Exeter from Eutopia Homes.
The scheme, which will be delivered on a brownfield site that has laid vacant for many years, will comprise 165 new homes, comprising a mix of one and two-bed apartments and two, three and four-bed homes - subject to receiving final planning consent.
The site, currently owned by Eutopia Homes, was most recently used as a self-storage yard and historic uses include former railway sidings, a concrete depot, and a coal distribution centre. 
In March 2021, Exeter City Council (ECC) resolved to grant outline planning permission for the site for a total of 400 new homes and 65 retirement units. The application submitted by Eutopia Homes reflects a high quality designed scheme and promotes a lesser reliance on cars for other modes of travel, coupled with ECC's condition that buildings must achieve at least a 19 percent reduction in carbon emissions compared to 2013 building regulations, truly sets the scheme apart from other traditional schemes within the city.
Thanks to ilke Homes' pioneering use of volumetric production methods at its 250,000 sq. ft factory in Knaresborough, North Yorkshire, where all houses are built on a production line, all houses will achieve an Energy Performance Certificate (EPC) rating of at least a 'B'. Furthermore, given that most of the work takes place offsite, ilke Homes will also be able to half the emissions produced during the construction program.
Upon completion, it is proposed that all the homes will be available for either social rent, affordable rent or shared ownership and underpinned with the same National Homes Building Council (NHBC) accreditations that traditionally built homes offer. This will make it easy for residents to insure and mortgage their new homes.
Due to the efficiencies of the firm's accredited delivery method, ilke Homes has been able to create a proven track record of unlocking brownfield sites to deliver much-needed housing across the UK. In March, ilke Homes announced that it had successfully gained full planning permission to transform a derelict trading estate in Herefordshire into a 120-home affordable-led development for leading housing provider Stonewater.
Additionally, following a competitive tender process, ilke Homes was also selected to redevelop a nine-acre brownfield site in Arnold by Nottinghamshire County Council, which marked the first time the council had released land for factory-built housing development.
Thanks to precision-engineering techniques, the homes being delivered at Exmouth Junction will be some of the UK's most energy-efficient. By achieving at least a 'B' EPC rating, the homes will be more energy-efficient than 92 percent of the UK's housing stock. 
The energy performance of each home also translates into huge cost savings for residents, who could save hundreds of pounds on energy bills each year, as it is far cheaper to heat and power one of ilke's homes compared to a traditionally built home due to increased levels of airtightness.
Homes manufactured in a factory can be built in half the time of those built using traditional construction and result in better quality buildings with fewer defects. Building homes in factories will be crucial to quickly upscale the delivery of affordable housing, as the UK looks to kickstart the construction industry's recovery in the wake of the Covid-19 pandemic.
Eutopia Homes are responsible for the master plan of the whole site and the delivery of the build to rent phase. Eutopia Homes will also provide the infrastructure for ilke Homes to access and develop phase two. 
Tom Heathcote, executive director of development at ilke Homes, said: "This scheme marks our first major development in the South West and signifies to the market that ilke Homes is well-positioned to deliver as part of wider multi-phased developments. 
"We're particularly delighted to be working with Eutopia Homes on this fantastic design led scheme, and we are very much looking forward to playing our part to help transform and regenerate this redundant brownfield site for the benefit of the wider community.
Scott Hammond, CEO at Eutopia Homes, said:  "This 15-acre site is one of the few remaining large scale brownfield development opportunities within walking distance of Exeter city centre and the University, so it's great that, by bringing ilke Homes on board, we were able to unlock this site for the development of much-needed housing.
"One of the main reasons we selected ilke Homes was the benefits that modular construction can bring to speed of delivery across a large site. Our commitment to Modern Methods of Construction made a partnership with ilke Homes the natural fit and we look forward to working with them on this exciting project ."
Nicholas Rumble, director of residential development at JLL Bristol, said: "We're delighted to help unlock this development site at Exmouth Junction for the delivery of 165 well-designed homes to the area. Huge credit to all at ilke Homes and Eutopia Homes for their continued hard work."