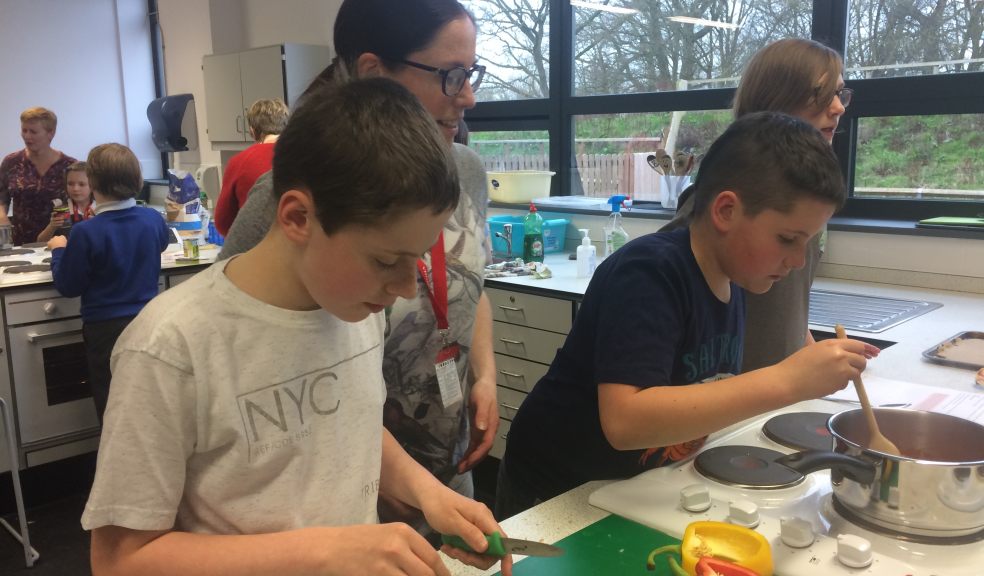 Budding Cranbrook chefs cook-up a feast at 'Cranbake'
A group of students aged 11-13 and their families from Cranbrook Educational Campus have taken part in a 'ready, steady, cook!' style series of healthy cooking sessions provided by Axminster charity HALFF (Health and Local Food for Families).
Funded by East Devon District Council via NHS England's healthy new towns programme, 'Cranbake' gave students and families a chance to cook a variety of meals together as part of a four week course.
Parents were surveyed and feedback included: "After school on Wednesday afternoons, we made delicious meals in the school kitchen, like yummy homemade pizza which was very easy to do, healthy no-added sugar banana and oatmeal bars and a really scrumptious cheesy tuna pasta bake.
"At the end of each session, it was great to all sit down together to eat and enjoy the meal we had just prepared."
Parents also said the sessions were great for bonding as a family and provided good ideas about healthy meals. Everyone agreed they would love to attend more sessions.
The classes were led by HALFF cook Bernadette Johnson, who said: "I shared ideas and tips for healthy day to day cooking and eating.  It was lovely to see each family coming together to follow the recipes, creating the dishes and having fun at the same time."
Head Teacher Steve Farmer said: "The Campus is really pleased to work with HALFF and East Devon District Council.
"Our students and families gained new skills and were excited to explore new recipes for healthy eating. It means that students and their families have started to talk more about what they eat, and how to eat more healthily."
Mark Williams, East Devon District Council's Chief Executive, said: "It's encouraging to see the Cranbrook Healthy Town programme in action, with some really innovative ideas being implemented. Recent examples have included a live digital radio broadcast and a brushing club teaching dental care, both at the Education Campus.
"It's all too easy to cut corners with meals when people are short of time and have busy lives. These cookery-skills classes show that it can be easy to create nutritious meals and that it is enjoyable for families to cook together and eat together."
Two priorities of the Cranbrook Healthy Town programme focus on healthy schooling and innovative health messaging. The aims of 'Cranbake' matches those of HALFF: to make eating well easier for everyone by providing cooking-skills sessions and nutritional information.