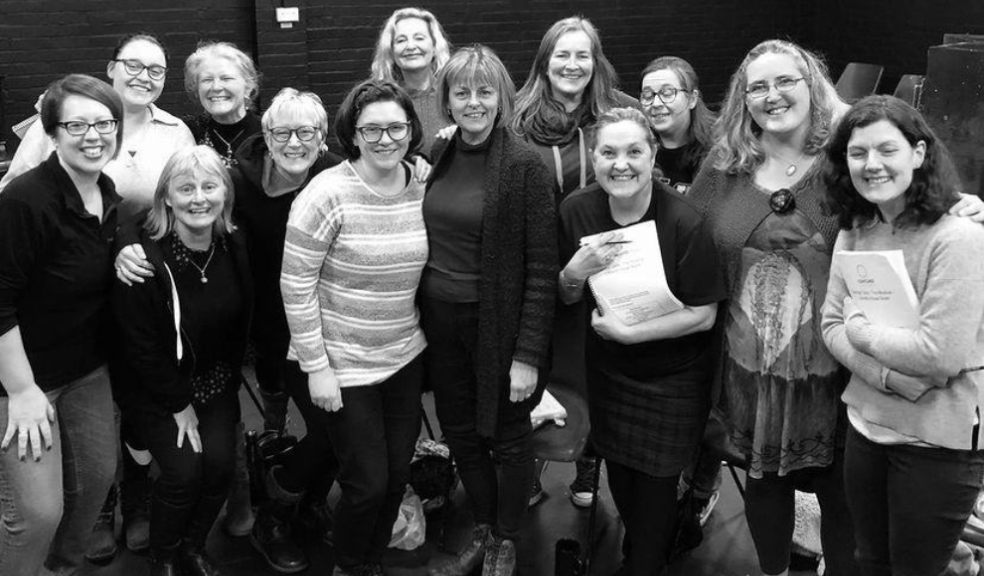 Ladies bare all in the name of charity
Receiving fantastic 5 star reviews in the West End, Gary Barlow and Tim Firth's award-winning musical comedy Calendar Girls is coming to the Northcott Theatre, Exeter, 11-16 April 2022, brought to you by Exeter Little Theatre Company (ELTC).
An Exeter based amateur company, ELTC have been entertaining audiences with Musicals, plays, comedies and annual Pantomimes since 1954, however, the Covid 19 pandemic has meant as with so many theatrical companies, they have been unable to put on a production for the last two years. Calendar Girls will mark a high profile return to the theatre for their performers and production team.
A bigger venue may require 'significantly bigger buns'
ELTC usually stage productions at the Barnfield Theatre, but, due to the Barnfield being closed for refurbishment, the opportunity to perform at the Northcott was presented and the company jumped at the chance to perform in a larger venue.  Having performed two Farndale farces for one-night only as part of Northcott Community Week in the 1990's, Calendar Girls will be ELTC's first full-scale production at the Northcott Theatre.
The musical tells the true story of Yorkshire's own Calendar Girls – a group of ordinary ladies who achieved something extraordinary. 
In 1998 Angela Baker's husband, John, was diagnosed with the blood cancer Non-Hodgkin lymphoma. Sadly, John's treatment is unsuccessful and he passes away after just a few months. Following their loss, Angela and her friends set about creating the now infamous calendar as something for Angela to focus on and also to prove John wrong – he said they'd never do it! 
Through the sale of calendars, the group aimed to raise enough to buy a new sofa for the hospital where John was treated. They were amazed when the calendar attracted international press attention. So far, they've raised millions for Bloodwise (formerly Lymphoma & Lymphoma Research), the blood cancer charity they have been long associated with. 
The true story of the Calendar Girls launched a global phenomenon; a million copycat calendars, a record-breaking movie and stage play. Their story continues to inspire with Calendar Girls the Musical.
Based on the play written by Tim Firth, and on the motion picture written by Tim Firth and Juliette Towhidi - Calendar Girls the Musical, book by Tim Firth and music and lyrics by Gary Barlow, has coined the term "craughing" – the act of crying and laughing at the same time. Audiences are saying "I've laughed at musicals, I've cried at musicals, but I've never cried and laughed at the same time." 
The cast of 19 ELTC members, comprising 12 female and 7 male performers, includes familiar faces from many Exeter and local theatre companies.
Rehearsals are well under way, in the experienced hands of local director Joe McNulty. Joe has worked across the county directing for companies in Torbay, Teignmouth, Dartington, Exmouth, Crediton and Exeter. No stranger to treading the boards himself, Joe has been performing for over 42 years. Joe also directed ELTC's 2012 production of the play Calendar Girls, a huge success for the company and he is delighted to be working with such talented performers on this production.
ELTC are pleased to welcome Joanna Walling as Musical Director.
Joanna has worked as a professional vocal coach and Musical Director for over twenty years in Birmingham and the South West, with her role as vocal instructor for Yamaha Music Schools taking her across Europe. She is thrilled with the fantastic talent and personalities in this cast and urges you to buy your tickets - not a show to be missed!
With this production, ELTC is proud to be supporting Force Cancer Charity in their 35th anniversary year and hope to raise funds for this well deserving nd valuable local charity.
For more information about Force Cancer Charity, including ways to support them, or to access their services, visit https://forcecancercharity.co.uk
For more information on ELTC Exeter Little Theatre Company visit https://www.eltc.org.uk/
Book now and don't miss this new musical comedy. With unforgettable songs written by the great Gary Barlow, including 'Yorkshire' and 'Kilimanjaro', be prepared to laugh, cry and be uplifted all at once by this glorious musical, where these ladies prove that there's really no such thing as an ordinary woman.
Tickets are available from the Northcott theatre box office; 01392 726363
https://www.exeternorthcott.co.uk/events/calendar-girls/