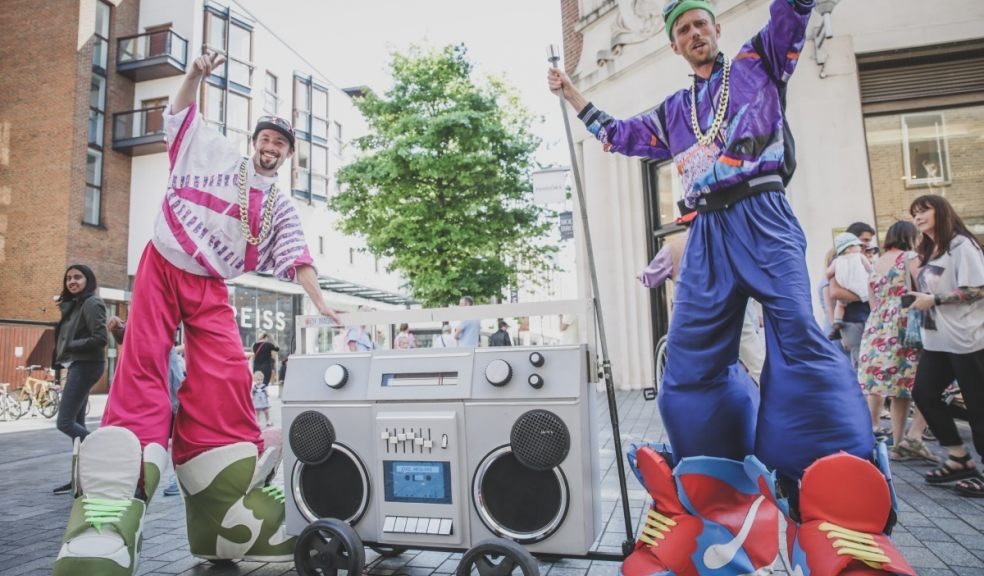 Exeter Street Arts Festival 2020 to go ahead
Exciting announcement from local organisation MIDI with a call out to all!
Music in Devon Initiative (MIDI) is a non-profit community interest company, who exist to provide opportunities for musicians in Devon. They have successfully brought the city centre streets of Exeter to life each year for the last four years with the ever-popular Exeter Street Arts Festival! But then, COVID hit and all plans for their 5th birthday celebrations this year came to a halt…Until now!
An annual event held on the last bank holiday Saturday of August, this year the ESAF organisers are planning to hold all activities outside in line with new government recommendations, activating space in the city in a safe and interesting way by bringing music, art and street culture back for free to everyone.
As an organisation, Music In Devon Initiative usually pays 100 or so artists, a team of freelancers, university interns and volunteers to pull the festival together. It usually takes 11 months to organise venues, programming, promotions, websites, social media platforms, pitches, traders, sponsors, promotions and headliner negotiations. Altogether it costs around £30k to put on. This year, the MIDI team are starting with zero budget and have 6 weeks – which is where you come in!
They are calling out to performers, artists, arts organisations, local government and local business to come together with the MIDI team and bounce back out of lockdown as a city together under the umbrella of Exeter Street Arts Festival on Saturday 29th August. If you want to get involved in any way please email info@musicindevon.org.
In order to raise the funds needed to put on the festival this year, MIDI have released a special crowd funder which you can find here: bit.ly/ESAF20. All necessary plans are in place to deliver a scaled down, but nevertheless inspiring event to bring the city back together as we emerge from lockdown and all within a fraction of the budget ESAF usually requires.
Since lockdown the Devon music industry has seen cancellations of all live shows, incomes evaporating, careers on pause and the loss of jobs and contracts. MIDI's aim with this crowd funder is to ensure all of the monies raised go towards artist fees and festival production as a way to help pump some much-needed life blood back into our valuable yet deprived arts network.
But it can't happen without support from the city it serves – from YOU.
MIDI are asking people to donate what they can, and to share their crowd funder far and wide across the city. MIDI's small but passionate team of curators are able to move fast, and whilst currently they have zero budget what they do have is a huge wealth of local talent, ideas, knowledge and experience ready to blast a healthy dose of live music, art and street culture back through the city's arteries!
Join the MIDI team in helping bring Exeter Street Arts Festival's fifth birthday to the city of Exeter!
Email: info@musicindevon.org
Share: bit.ly/ESAF20
Exeter Street Arts Festival coming Saturday 29th August 10am – 6pm
https://www.musicindevon.org/
Twitter: @MusicInDevon | Instagram: @MusicInDevon  | Facebook: Music In Devon