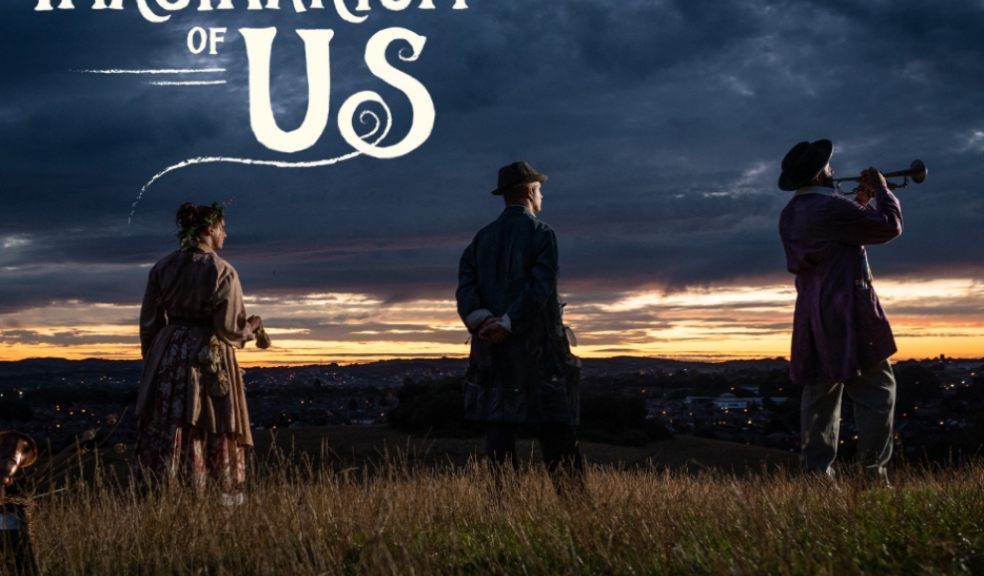 Burn the Curtain's new outdoor project brings magic to Exeter's local parks with The Imaginarium of Us
Exeter-based outdoor theatre company, Burn the Curtain believe that any place can be magical, and any one of us can create magical moments.  Their new community project 'The Imaginarium of Us' is proof of this, as they've been working with the community and some great local artists to create a fantastical museum celebrating things that are special to us in the green spaces Exeter folk know and love.  Collaborating with audiences is at the heart of what they do, helping them to celebrate the places that they love, as well as tell great stories.  As shared public space is becoming scarcer, they feel that is their role to remind people of the beautiful places close to where they live, and to underscore the value of these places, and the sheer joy of sharing simple things in shared space- creating memorable stories and events to achieve this.
The Imaginarium of Us is a place that exists outside of time and space - just for you. Part exhibit, part performance, in it Burn the Curtain will celebrate the extraordinary and the everyday and your hopes and dreams.  Performances will take you on a mysterious and magical walk, where you'll be guided by Curiositors through weirdly wonderful exhibitions, mad machines, unique music and bizarre objects – you'll see your park in a way that you've never seen before!
There is a 15% local discount code to people who live near Ludwell, Mincinglake and Riverside Valley Parks (email with your postcode to kerrie@burnthecurtain.co.uk).  The hour-long walking performances run between 5 – 10.30pm and are on 3rd, 4th, 17th and 18th September.  To book your slot  visit  https://www.tickettailor.com/events/burnthecurtain
The relaxed, family friendly performances will be a gentle, warm and extraordinary celebration of Exeter – the perfect antidote to the strangeness of the last twelve months. As director Joe Hancock says; "Seeing people slowly coming back to live performance, and to be back presenting something unexpected in people's favourite spaces is what it's all about. Watching the first group of people walk towards us during our workshops, Wondrous Ramblings, in May, reignited that nervous anticipation you feel just before you meet a new audience."
Burn the Curtain have been joined by incredible artists, leading workshops so that the community can get involved.  Abstract painter Sara Downham-Lotto has enabled people to make beautiful prints and paintings of elements of nature, ceramicist Sarah John has been taking the lead on making clay nuns (inspired by Mincinglake's former convent), local sculptor James Lake works with cardboard and is constructing something secretive for the performances and Mama Tokus has been uplifting groups in gospel song. Alexander Warn has been involving people in animation workshops, and the products of Juliette McElligott'smetal workshops will form a decorative part of the Imaginarium.  Multi-media creative Mike Hartley will be bringing his wonderful Yesterday and Tomorrow Machine (made from recycled junk and bike parts) as well as running animation workshops.
There's still time to get involved! Mike's workshops are on Saturdaty 21st August, 4-8pm and Sunday 22nd August, 4–6pm at the Cygnet Theatre for ages 8+ and the results will form an integral part of The Imaginarium. 
To reserve your free space on the workshops contact kerrie@burnthecurtain.co.uk and don't forget to book your tickets for the performances in Mincinglake, Riverside and Ludwell Valley Parks this September.  https://www.tickettailor.com/events/burnthecurtain
The Imaginarium of Us is supported by public funding from the National Lottery through Arts Council England and the Exeter Canal and Quay Trust.