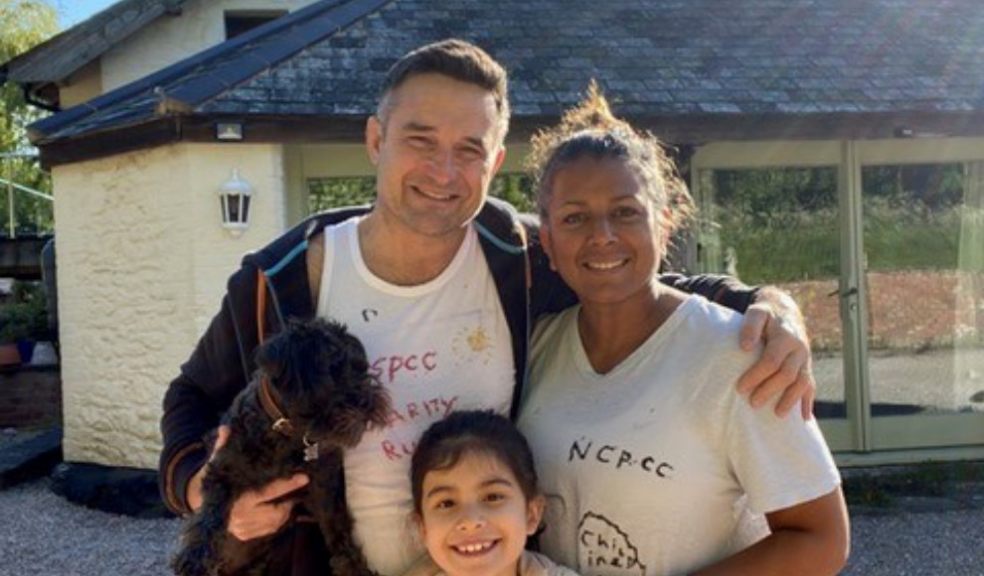 Seven-year-old girl's lockdown challenge to help keep children safe
A Devon primary school girl is determined to help other children during the pandemic after realising that not all children would be safe at home whilst schools are closed.
Daniela had been enjoying quality family time since schools were shut, but decided to come up with a way to help other children who might be feeling sad and so set herself a fundraising challenge to raise funds for the NSPCC.
She has roped in her parents, Annelise and Nigel, and dog Roxy to help with the challenge – running one kilometre a day from their home in Kenton for 30 days as part of the NSPCC's Run30 challenge.
Daniela, who attends school in Exminster, said: "I wanted to fundraise for the NSPCC because I have been hearing that some children have not been having a good time in lockdown because their parents aren't very nice."
The children's charity's Run30 challenge encourages people to run, walk or jog 30k in 30 days to help raise funds.
Daniela has been quick off the mark so far, making sure her own Run30 team are set to leave their home, donning her home-made t-shirts, each morning for the challenge.
Just days into their challenge, and they've raised more than £1,000.
"I'm feeling very happy. I feel confident, and we may even carry on running for the rest of lockdown," added Daniela.
"My family and friends are speechless at my challenge, but they have been supportive and generous and given lots of money. I hope that by raising money I can help other children be happy in their lives."
Daniela's mother, Annelise, is no stranger to the work of the NSPCC, having volunteered for Childline, before moving to Devon six years ago. For the last 18 months, Annelise has been volunteering for the NSPCC's Schools Service, delivering safeguarding assemblies and workshops in the county's primary schools.
The service offers its free 'Speak out. Stay safe' programme to every primary school, helping children to learn about the different types of abuse in an age appropriate way and identify trusted adults they can speak to should they ever have a worry or concern.
"It is a charity I believe strongly in as I believe all children have the right to be heard and to feel safe and sadly this is not the case for many," said Annelise.
"The fact that Daniela is raising money for NSPCC makes me so proud of her.  I love her specially designed t-shirts too!"
Nigel added: "I am very proud of Daniela for supporting a charity that Annelise has been involved in for many years.  She is really keen to get up first thing in the morning and get us all motivated to complete the challenge."
This academic year, between 1 April 2019 and 31 March 2020, 'Speak out. Stay safe' assemblies and workshops have been delivered to more than 16,000 children in 92 primary schools in Devon and Torbay.
The NSPCC, which relies on public support for 90% of its income has been encouraging members of the public to sign up to its #Run30 Challenge for #TeamNSPCC.
The money raised will help support NSPCC services, including Childline which has seen an increase in contact from children who feel anxious and scared about what's happening.
Childline counsellors have answered calls from children trapped in homes that aren't safe, and they've also spoken to children with suicidal thoughts and feelings, who feel they have no one else to turn to.
"I really want to get out of the house and be somewhere safe and happy. I'm scared that my parents will get angry and hurt me more if I tell someone."
Girl who contacted Childline
Supporter Fundraising Manager for the South West of England, Caroline Morgan said: "Fundraisers like Daniela and her family make a huge difference, and we can't wait to see how they get on with their lockdown challenge.
"We rely heavily on donations from the public, and we could not offer the services we do if it wasn't for our supporters. It's amazing what we can do together.
"Sadly, home isn't a safe place for every child, but Childline can be their lifeline and we've been able to adapt quickly to keep our service running so that we can still be here for children."
For more information on how to sign up for the Run30 challenge in aid of the NSPCC visit the NSPCC website and to find out more about Daniela's fundraising activity visit her JustGiving page.
Any adult concerned about the welfare of a child or young person can call the NSPCC helpline for free and confidential advice on 0808 800 5000 or visit nspcc.org.uk
Children can contact Childline for free on 0800 1111 or childline.org.uk 365 days a year, and speak to a counsellor about a worry or concern they may have.