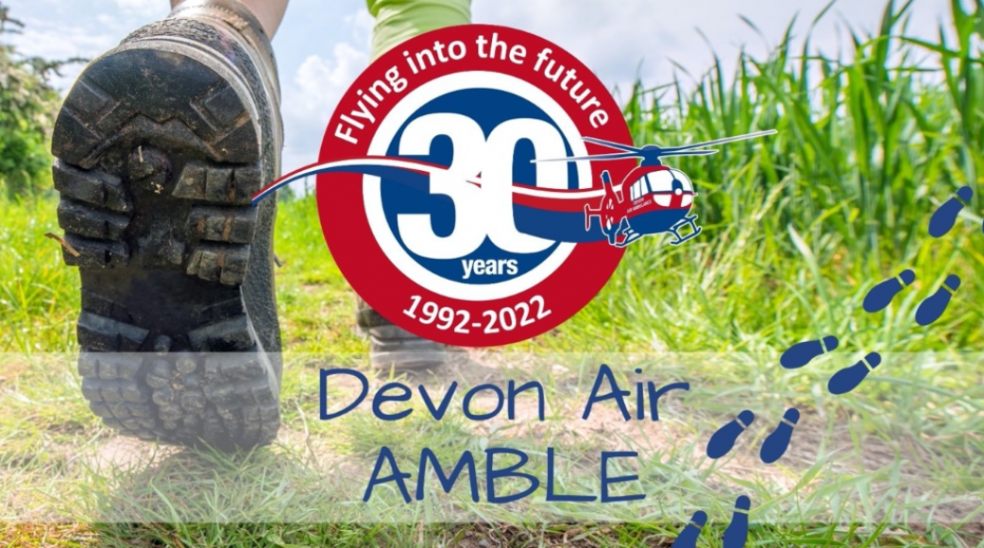 Join the Devon Air Amble Across Devon - from your doorstep!
Devon Air Ambulance is celebrating 30 years of service this year, and supporters are signing up to undertake a 'virtual' tour of beautiful Devon to uncover a little of the charity's history – and future - through storytelling milestones.
Between 1 August and 30 September 2022, supporters are undertaking the 'Devon Air Amble' simply by adding their normal daily steps to a route-tracking app.
The aim is to accumulate enough steps to make their way around the 165-mile route across Devon – that's an average of around 3 miles a day. 
In their own time, fundraisers can travel from point-to-point along the virtual route over the 2-month period while enjoying the great outdoors in their own locality and will discover interesting information and facts about some of the locations plotted along the virtual walk from the moors to the shores. 
Of course, those who are a little more adventurous might wish to follow the route in person with fellow amblers. The money raised through sponsorship will help to keep the crews responding to patients in time-critical situations in communities across the county.
Your support helps to serve a community When every second counts, getting the specialist skills of the Devon Air Ambulance Critical Care Doctors and Paramedics to the scene is paramount. Thanks to kind and generous supporters, Devon's two emergency helicopters and Critical Care Cars enable expert critical care to be delivered to patients wherever they may be.
Devon is a huge county with two epic coastlines, hundreds of villages, and acres of rural wilderness, but this diverse geography can occasionally make getting to patients challenging. Sometimes patients in need of urgent critical care in very rural or remote locations cannot be reached quickly by road so the Devon Air Ambulance crew is tasked to respond by air. If a patient is airlifted, the aircraft doesn't just fly to the nearest hospital, it will fly to the hospital which can best cater for each patient's specific needs. 
The charity's two Critical Care Cars operate when poor weather or essential maintenance prevents the aircraft from flying. These two emergency vehicles are adapted to contain all the same life-saving equipment as you would find on board the air ambulance and are fitted with emergency blue lights and sirens for rapid response. Sometimes Devon Air Ambulance specialist paramedics or a doctor might arrive at the scene either by helicopter or Critical Care Car, then following a full assessment and treatment of the patient, they might accompany them to hospital in a land ambulance so they can closely monitor them and continue to give the necessary specialist care along the journey.
Jo Rigby, Fundraising Manager at Devon Air Ambulance says: "By taking part in our virtual tour – or Devon Air 'Amble' - across the county and adding up the steps you take every day, you'll not only uncover some interesting facts about of our charity's history, but you and those who kindly sponsor you to complete the challenge, will also be helping to raise lifesaving funds to keep our crews responding to patients who need our urgent help."
Watch the Devon Air Amble Video here and Sign up at daat.org/amble https://www.daat.org/Event/devon-air-amble