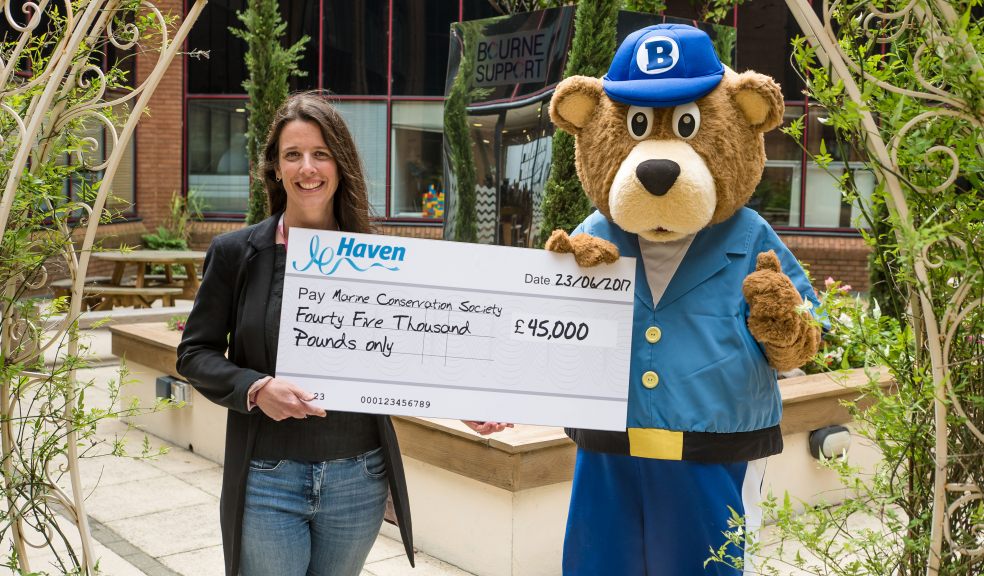 Holiday park raises £5,000 for Marine Conservation Society
Haven are thrilled to announce that Devon Cliffs Holiday Park in Exmouth have donated £5,144 through the sales of 5p carrier bags in Kent. 
Haven has been working in partnership with the Marine Conservation Society since 2016 to help protect the shores and marine wildlife in the UK. Devon Cliffs Holiday Parks' donation contributes to an incredible £45,000 donation from the sales of 5p carrier bag across Haven's 31 coastal holiday parks in England and Scotland.
When the 5p carrier bag charges were introduced across England and Wales it seemed the perfect fit to donate the sales of these carrier bags to the MCS. With Haven's long standing history in coastal conservation and protecting the local environment, teaming up with the MCS will help spread the message about supporting the UK's coast, seas and the marine life that lives within them to a wider audience.
Ellie Whalley, Retail Buying Manager at Haven said: "We are delighted to donate over £45,000 to the Marine Conservation Society from the sales of carrier bags across our 31 holiday parks.
Our donation will help directly tackle the problem of plastic waste in the marine environment, making our beaches a happier and safer environment for holidaymakers and marine life alike, and help us to secure the future of our beaches for generations to come.                    
We are proud of our relationship and the commitment that we have made to the MCS over this past year, and look forward to developing this in the future."
The Marine Conservation Society was first established in 1983, and has since then achieved major success in protecting threatened marine wildlife, growing fish stocks and making UK beaches and seawater cleaner.  Over the past 3 years almost 30,000 volunteers have helped MCS clean beaches around the UK during their year round Beachwatch events, and we hope to see this number grow even further in the future.
Sanjay Mitra, Corporate Partnerships Manager at the MCS says: "MCS is delighted to be partnered with Haven and to receive this donation from them. I'd like to express a massive thanks to them for choosing to support our charity through the carrier bag sales on their parks. With Haven's support this year, MCS will continue to work to ensure less plastic pollution gets into our seas."
To find out more about this holiday or to book visit www.haven.com or call 0333 202 5305