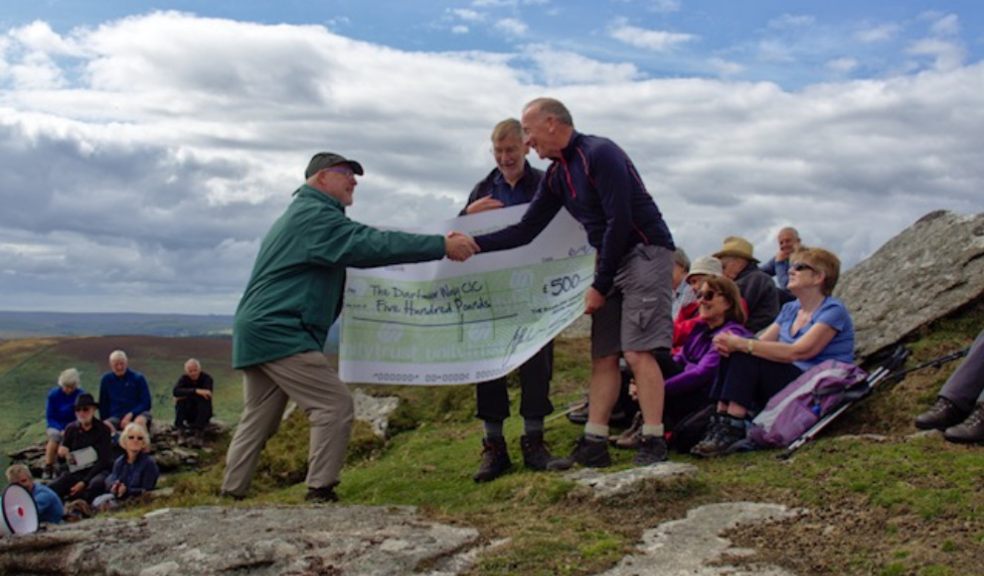 Devon Ramblers celebrate 50th anniversary
On Saturday 7th September Devon Ramblers celebrated the 50th Anniversary of the founding of Devon Ramblers, part of the Ramblers Charity, with an event on Hookney Tor, Dartmoor. Nine walks were led by Devon's local Ramblers groups, each taking a different route to walk to Hookney Tor, which is between Moretonhampstead and Widecombe. Starting points for the walks included Hound Tor and Widecombe. South Devon Ramblers, for example, walked from Widecombe in the Moor to Hookney Tor via the Two Moors Way.
Over one hundred walkers from Ramblers groups converged on Hookney Tor for a lunchtime picnic event where they were addressed by Kate Ashbrook, national chair of Ramblers trustees board, and Dr Rob Parkinson, Dartmoor National Park Authority member.
Andrew Chadwick, chairman of Devon Ramblers said: "We are celebrating the 50th anniversary of the Devon Area of the Ramblers Association, itself formed 84 years ago. We are here to celebrate 50 years of ramblers' fellowship, 50 years of promoting access to the countryside, 50 years of protecting, maintaining and enhancing our public rights of way, 50 years of working with Dartmoor National Park for the public good, 50 years of the great enthusiasm of our volunteers to carry forward the mission of Ramblers UK. Today our membership stands at over 2500 people in twelve groups, spread across the whole of Devon. Between us we offer around thirty led walks per week, all year long."
At the event Devon Ramblers presented a cheque for £500 to Michael Owen from the Dartmoor Way project which is creating a new long-distance trail around Dartmoor.
Michael Owen, Dartmoor Way Project Manager, said "'I am very pleased to accept this donation of £500 from Ramblers on behalf of the Dartmoor Way CIC. The exciting project to create a new long-distance walking trail around Dartmoor, passing through the very beautiful and relatively undiscovered landscape where the Moor meets the rich Devon countryside will benefit greatly from this generous gift."
Kate Ashbrook, national chair of the Ramblers trustees board, said: "I congratulate Devon Ramblers on 50 years of campaigning for walkers' rights throughout the county.  It is thanks to the work of the Ramblers that we can enjoy so many public paths and areas of access land, from the Two Moors Way and the South West Coast Path to those important local paths close to where people live.  Ramblers have fought cases through the courts to save threatened paths, and have joined with other organisations to champion the beauty of the countryside.  With the extensive led-walks programme, Ramblers have brought joy to thousands of walkers over the years.  Long may you continue in your vital work."
Dr Rob Parkinson, Dartmoor National Park Authority member, said: "On behalf of Dartmoor National Park Authority, I am delighted to share and celebrate the 50th anniversary of the Ramblers Association in the Devon Area. This year, 2019, also marks 70 years since the 1949 Act of Parliament was passed which established the family of National Parks in England and Wales that we know and love today. Both our organisations have similar aims and the health and wellbeing benefits we collectively deliver are even more important today and in the future.
Dartmoor is a favourite place for Devon Ramblers groups' regular organised walks. Newcomers are always welcome to try a walk with their local Ramblers group, to find out more Ramblers.org.uk/Devon has details of walks organised by their 12 local groups.