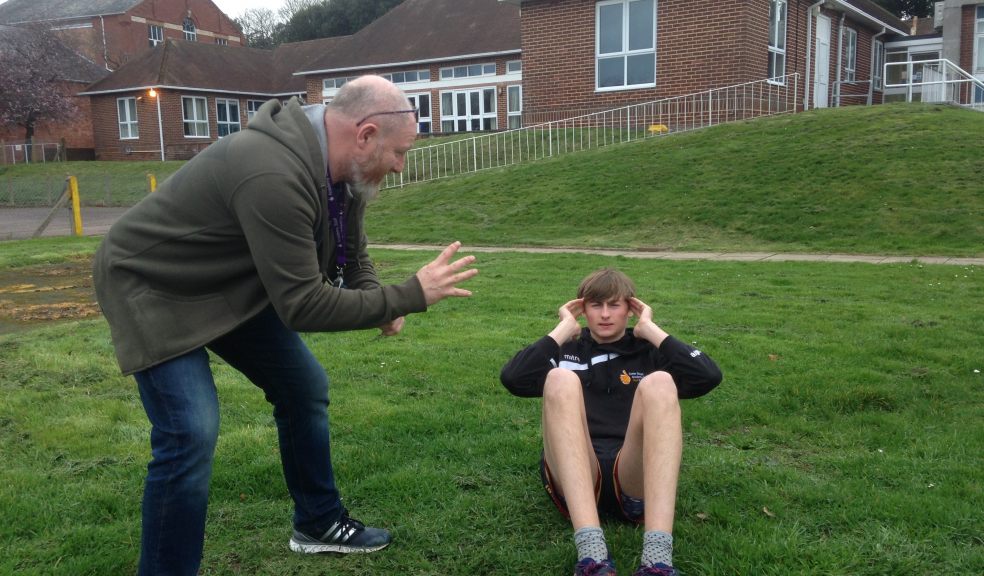 Deaf students show true grit for Escot Mud Run
A deaf student care worker from Exeter Deaf Academy has challenged deaf students to test their grit determination and physical endurance by training them for the Escot Mud Run at Escot Park near Honiton, on Saturday 25 March.
Escot's new obstacle challenge event is organised by South West Military Fitness.
Tony Whiteley, 51, from Honiton works at Exeter Deaf Academy and has entered with a team of Deaf students to fundraise for the Academy.
Tony said: "We are looking forward to the Escot Mud Run and all its obstacles. Our Deafness is certainly not a barrier though. I want to show Deaf young people that they can overcome any obstacle, any barrier, any challenge".
Budding Deaf rugby player William Thomas, 18, is a College student at Exeter Deaf Academy and among those joining Tony in the run.
William said, "It's good for Deaf young people to get involved in challenges like the Escot Mud Run, as we need to show that we can break down any barriers and break out of our comfort zone to try new things! I want to build up my fitness and be a good role model for other Deaf young people in the UK."
William plays rugby for his home team in Llandeilo, Carmarthenshire, Wales, alongside his hearing peers. He has also trained with Exeter Chiefs, Exeter Saracens, Wales Deaf Rugby and England Deaf Rugby.
Deaf student Luka, also an 18-year-old College student at Exeter Deaf Academy is mucking into help. Luka said that he is not worried about becoming "tired, wet and muddy" in the Escot Mud Run and is looking forward to facing any obstacle in his way.
Luka has already raised a third of his £150 sponsorship target. Luka said, "I am a profoundly Deaf 18 year old and I love my time spent at school and college. I want to raise as much money for Exeter Deaf Academy as possible to give something back."
Student Care Worker Tony has been preparing students with regular fitness training sessions.  He enjoys weekly fitness training with South West Military Fitness, who stepped in with organising the Escot Mud Run after the RockSolid Race recently ceased trading.
Tony said, "I joined Honiton Running Club 11 years ago and really enjoyed it. This spurred me on to join a local cycling group and I have been committed to exercise and fitness ever since. I completed the Rock Solid Race last year with a team of 10 Deaf people. I have also taken part in the 'Tough Guy' challenge with a group of Deaf team-mates.
"I will be sharing my experience of these types of events with our Deaf students. I tell our students that conditions could be difficult but they just need to dig in – swimming through mud works best! It also helps that we will be doing this run as a team, so we will be able to pull each other through to the finish."
Tony's partner, Nikki James, a British Sign Language (BSL) Tutor at Exeter Academy will be cheering him on along with her sons aged 17 and 12. Nikki is also passionate about The Deaf Academy and took part in a 15,000ft skydive last year to raise money for the charity based on Topsham Road, Exeter.
South West Military Fitness and Escot Mud Run organiser Peter Hardy said: "I'm really impressed with the way that Exeter Deaf Academy have really got behind this event. The Escot Mud Run is open to people of all abilities and the Academy's involvement goes to show that being Deaf is not a limit to achievement."
Exeter Deaf Academy Deputy Head Geoff Davey, agreed: "Tony and our students are a great example of how Exeter Deaf Academy gets involved in wider events and contributes to the community. Opportunities like this help promote health, well-being and inspires other Deaf students to push themselves. It is important our students are good role models to their peers."
Sponsorship money raised by the Deaf Academy's Mud Run team will support the Academy's New Build Project.  In 2019, the Deaf Academy is relocating from its current site on Topsham Road in Exeter to a new purpose built Academy on the former Rolle College campus in Exmouth. It will be a world-class Academy designed around the needs and abilities of Deaf young people, incorporating space in the heart of the community to bring Deaf and hearing people together.
To sponsor the Deaf Academy's team, visit mydonate.bt.com/charities/exeterdeafacademy or contact the fundraising team on 01392 267019.
Whether you are Deaf or hearing, Exeter Deaf Academy also welcomes others to join their charity team in the Mud Run. Free places are up for grabs in the 5k or 10k distance. To join the Exeter Deaf Academy's charity team visit www.exeterdeafacademy.ac.uk/mudrun
They are also looking for volunteer marshals. To volunteer, email fundraising@exeterdeafacademy.ac.uk or phone the fundraising team on 01392 267019.