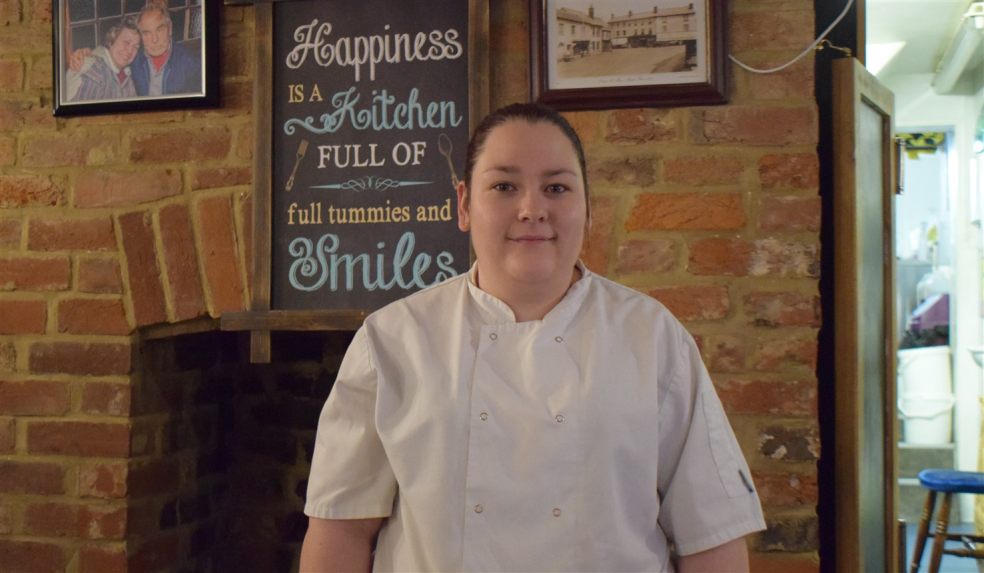 New chef rings the changes at Ottery's Volunteer Inn
A talented young chef has joined the team at The Volunteer Inn in Broad Street, Ottery St Mary.
At just 23, Gemma Youlden has already made her mark on the range of meals available, with diners singing her praises.
Very much a local, Gemma grew up in Alphington and attended The King's School before leaving in 2012 to pursue a career in catering.
She undertook an apprenticeship with HIT Training, successfully completing Levels 2 and 3. Before joining The Volunteer Inn, she had stints as a chef at a variety of establishments including The Greyhound in Fenny Bridges, Woodbury Park and Lakeview Manor.
She says "I absolutely love cooking - it really is my passion.
"I particularly enjoy seeing what our suppliers have available so I can devise our weekly specials around these ingredients."
Gemma's style is very individual. "I often research online for ideas, taking a basic recipe and putting my own twist on it."
Landlord Mike Down said: "We've given Gemma a free rein in designing our new menu which launches in January. She's committed to providing more seasonal dishes which has had a positive impact on our specials offering."
One of Gemma's favourite ingredients to cook with is locally sourced game and her trio of game sausages has proved very popular with diners.
Future plans for an expanded menu include a selection of homemade pies and Gemma has been busy trialling different recipes with customers, including vegetarian options including sweet potato and beetroot. She is also hoping to introduce a vegan menu.
The Volunteer Inn is about to expand the kitchen ready for the pub's new extension in April, after a successful planning proposal was passed late in 2019. Gemma is very excited about having a bigger kitchen to work in, saying that the extra space will enable her to make even more ingredients from scratch, such as fresh pasta and ice cream.
For Mike and landlady Jacqui, Gemma's appointment is the final element of their new pub team which now includes bar manager Dale Strawbridge. "Now we have all the right people in place, we're confident in experimenting more and implementing change across the business to take us to the next level," he explained.