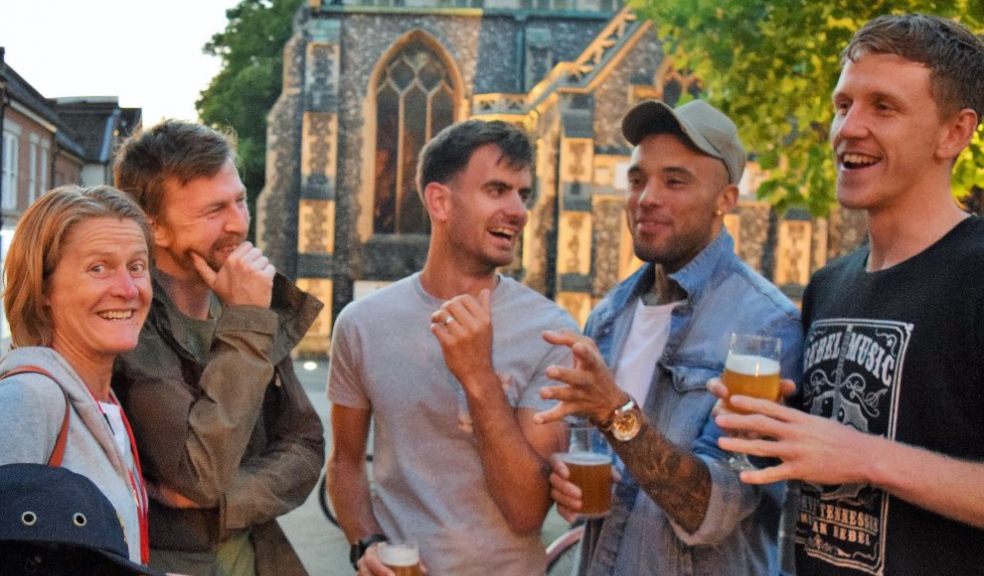 Devon support for World's Biggest Ale Trail
Seaside strolls. Stunning views. Backstreet, hidden gems. Fresh-tasting, quality beer. Those after exploration this summer, need look no further than the Heavitree Ale Trail.
The route now forms part of the country's most popular beer journey – the World's Biggest Ale Trail. Devon pub company Heavitree have created the adventure for local people to educate their taste buds at the same time as having fun discovering new places. 
"This is an ideal way of exploring city, town and countryside, all while enjoying some of the region's finest beers," says trade director of Heavitree Brewery, Terry Wheatley. "The great thing is, it's open to all. No qualifications are required other than a love of adventure and a taste for great beer!
"To join in, all you have to do is download the free, easy-to-use CaskFinder App, then register on the Heavitree Trail. There are 21 pubs on our scheme, mostly in the south of the region, with one outlier in Barnstaple. We're giving away great prizes for 10 pub visits and even more for completion of the trail.
"Once you're on our trail, you're also automatically part of the World's Biggest Ale Trail. This gives the opportunity to visit a further 9,000 pubs across the UK whose beer has been quality-checked and accredited by Cask Marque. Amazingly, you can win prizes on that too!"
The Heavitree Trail lasts until the end of September, which includes Cask Ale Week (19th– 29thSeptember). The World's Biggest Ale Trail has no time limit. 
According to the Ramblers, every year in the UK, over 2 billion adult days are spent on walking as a leisure pastime. Cycling is also increasingly popular. 
Cask Marque director Paul Nunny explained: "The trails can be completed over a long period of time – so you can make an occasion of a pub visit by cycling or walking there whenever you like. What the trails are doing is giving you a theme: something more tangible than a series of ad hoc pub visits; something with more purpose; something shareable. Something that might contribute towards your 10,000 steps a day!"
The CaskFinder App takes into account the fact that we live in recorded times where people thrive on numeric goals for leisure, pleasure and health – as well as for work. The App's top 100 Ale Trailers have averaged 2,000 pub visits each! 
The initiative brings benefit to town centres and villages, driving footfall and trade into their midst.   Trailers use the CaskFinder map to meander through the streets, alleyways, and trail pubs. Along the way they can appreciate the history and culture; discover interesting shops; drink good quality beer; socialise with friends and even win prizes. 
More than 180,000 beer-lovers have downloaded the CaskFinder App, giving them access to detailed information on more than 10,000 beers. Even music superstar Ed Sheeran has been recently spotted participating in an ale trail. 
To join the Heavitree adventure and win amazing prizes: 
Download the CaskFinder App.
Register on the Heavitree Trail.
Scan the pub's QR code after buying a pint of beer.
Scan 10 different QR codes to receive a St Austell gift pack (two bottles of beer and a pint glass). 
Scan 21 codes to complete the Heavitree Trail and receive a case of St Austell Tribute or Bath Ales Gem and enter a draw to win a one-night stay at The Cricket Inn, Beesands. 
Other Cask Marque prizes to be won on the World's Biggest Ale Trail include: bottle openers, t-shirts, branded pint glasses, fleeces, personalised certificates, pens, hats, drink coasters and the opportunity to attend a beer-tasting course.  
"So, what are you waiting for?" asks Paul. "Download the app and get exploring. Enjoy the seaside strolls. Enjoy the stunning views. Enjoy the backstreet, hidden gems. Enjoy fresh-tasting, quality beer and enjoy becoming part of the Ale Trail journey."
The Heavitree Trail runs until Monday, September 30. The World's Biggest Ail Trail  For further details of the trail go to https://cask-marque.co.uk/cask-finder/