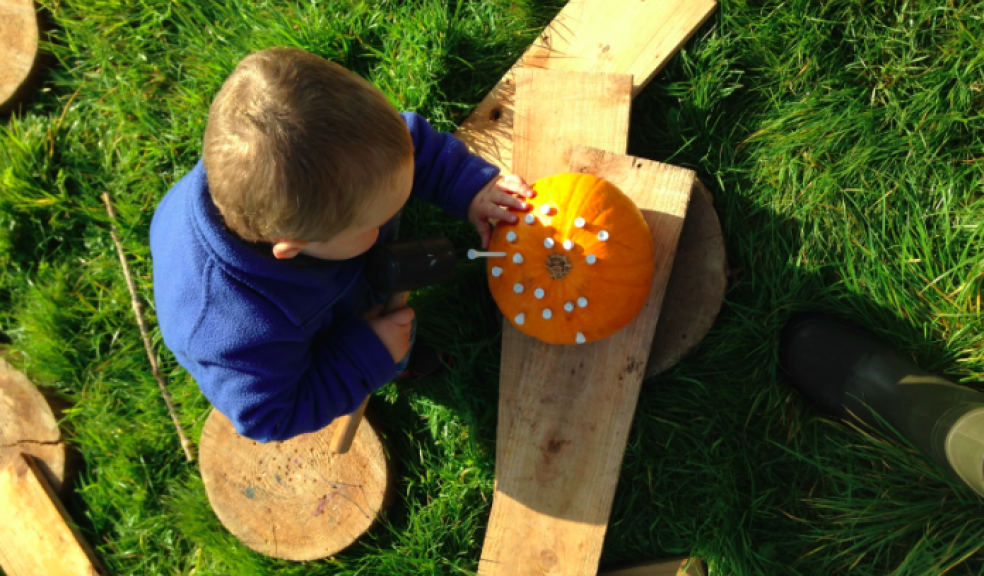 Risky play activity sessions helps children to explore boundaries
East Devon's Countryside Education Ranger helps children centres and families to benefit from fun but challenging outdoor play sessions
Countryside Education Ranger Penny Evans has been busy holding a number of outdoor risky play sessions throughout October for groups of preschool children and parents from the Axe Valley Children's Centres. Risky play is about providing opportunities for children to encounter or create uncertainty, unpredictability and potential hazards as part of their play. However, it doesn't mean putting children in danger or serious harm.
The play sessions have been taking place in the gardens of Axe Valley Children's Centres in Axminster, Seaton and Honiton with two Stay and Play groups for under fives, a Toddle-tastic group for children between one to two years and two Bumps to Babies Buddies groups for under ones and their parents.
The Children's Centres were keen to explore the concept of risky play with their under five's groups. Opportunities for risky play and playing outdoors have declined in recent years due to concerns over safety. However, research has shown that risky play allows children to manage risks for themselves, extend their limits, develop motivation and learn new life skills.
During the sessions children used log slices and planks to create stepping stones, slopes and steps to climb on and jump off. A large net was used to make a swinging hammock between two trees, while ropes and buckets were turned into pulleys and wrapped around trees. Trowels were provided for digging in the mud. Everyone participated with enthusiasm  and seemed to enjoy trying the new activities.
The Seaton Toddle-tastic group loved exploring the natural environment at Seaton Wetlands and found plenty of interesting objects to look at, from spinning sycamore seeds to tickly feathers.
Alix Hamilton, Services and Outreach Coordinator at Axe Valley Children Centres said: "Penny's  sessions never fail to engage and delight our young service users. The group from the Seaton Toddle-tastic group spent time simply throwing sticks and stones off a bridge. This fun activity allowed them to learn about cause and effect, as well as creating all important speech and language opportunities."
In Axminster and Honiton, the Bumps to Babies Buddies groups included sling or buggy walks - parents without carriers for their babies were lent slings by the children's centre. The walks took everyone through fields and footpaths in the glorious autumn sunshine, there were also plenty of blackberries to keep everyone going.
Alix Hamilton, who joined the walk in Axminster, said: "Penny always ends her sessions with a nurturing cup of hot chocolate, heated on her now signature storm kettle.  As the mums enjoyed  their drinks and chatted about their week, Penny provided an array of natural items for the babies to explore. Items such as sticks, rosemary sprigs, shells and driftwood demonstrated that there is no need for expensive toys to create opportunities for babies to explore, learn and develop. Our mums (and staff) always leave Penny's sessions feeling recharged and re-energised. She is an invaluable resource to us at the centre and we know are very lucky to be able to utilise her expertise.''
Several Mums commented on how good it was to break up their day with time outside andhaving conversations with other parents. Charlotte Thomas, one of the mums who attended the Stay and Play in Honiton said: "Seb had a brilliant time playing with Penny the Education Ranger in the mud and finding caterpillars. It's always great to get him outside and have fun with nature."
Education Ranger, Penny Evans said: "I always enjoy the sessions I run with the Children's Centres. It is so rewarding to see young families enjoying playing together and exploring outdoors. There are so many health and wellbeing benefits to spending time outdoors for both children and adults, which brings an added sense of satisfaction to my work. I hope that these sessions support families to grow in confidence to get outside more so that they may reap the benefits for years to come.''
Councillor Pauline Stott, who chairs the Housing Review Board said:
''Many children today are losing the wonderful experience of life spent outdoors and the times of making dens in hedges and climbing trees seems almost gone. I believe that the partnership between the Children's centres and the Education Rangers from the Countryside service is vital to helping our tenants and young families get the best outdoor activities for their children. There is so much to learn about our countryside that stays with one for ever and helps the next generation to appreciate it. I hope we can help many more families experience the fun of the outdoor life.''
These sessions were part of a wider outreach project engaging with the community and their local green space run by East Devon District Council Countryside team in partnership with East Devon Homes.
To find out more about the service East Devon District Council Countryside team provide to communities in East Devon contact the Countryside team via email: countryside@eastdevon.gov.uk or phone: 01395 517557.